>
>

Count to 20 Worksheets
Count to 20 Worksheets
Kids first learn to count to 10, then they learn to count to 20, and at every stage of these counting exercises, they need practice materials to learn how to count faster and easier. Count to 20 worksheets can help kids master counting from 1 to 20, with or without supervision. Counting to 20 worksheets can help teachers, parents, and learners alike.
Benefits of counting 1 to 20 worksheets
With a counting to 20 worksheet, a kid can practice counting to 20 at home in a fun and engaging way. Counting 11 to 20 worksheets contain fun rhymes and images that keep kids stuck on the worksheets as they power through counting exercises.
Is Your Child Struggling With Math?
1:1 Online Math Tutoring
Let's start learning Math!
Parents who want to study with their kids but struggle with resources can get the counting worksheets and hand them to kids while they finish their day. Teachers can use counting worksheets 1-20 to set assignments for their students to practice at home and return to class after mastering the math concept.
Finally, kids can easily use counting worksheets 1 20 to remember what numbers are between 11 to 20. The more kids use the worksheets, the more their brains are open to understanding the counting concept better, which makes them successful math students.
Download counting 1 to 20 worksheets PDF
The goal of worksheets is to keep kids engaged in the lesson while they practice, and you cannot achieve this goal if the counting worksheet is plain and uninteresting. Download counting to 20 worksheets with colorful images and objects from math websites to keep your kids engaged in the process.
Problems with Сounting?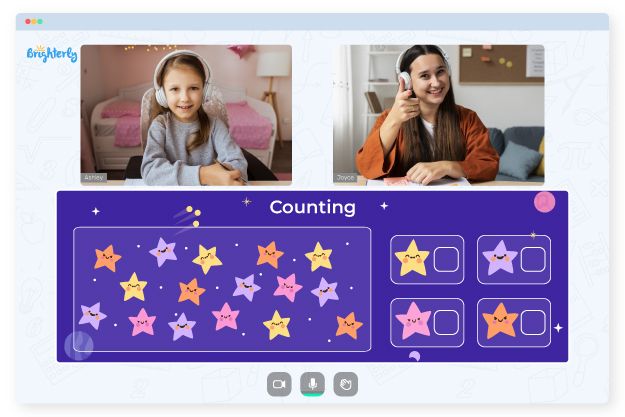 Is your child having a tough time with counting?

An online tutor might help.
Kid's grade
Grade 1
Grade 2
Grade 3
Grade 4
Grade 5
Grade 6
Grade 7
Grade 8
Could your child use a little extra help with counting? Consider an online tutor.
Book a Free Class