10 minutes read
May 17, 2022
Everything You Need to Know about Game Based Learning and Its Types
Teaching

Children have short attention spans; one minute they are focused on you, and the next moment they are distracted by the bird they see out of the window. It almost requires a miracle to keep kids concentrated on anything for a long time, except it's extremely interesting.
When teaching children, you have to use creative methods to help them concentrate. A simple way to make kids pay attention to the lesson is by introducing game-based learning to your teaching process.
What Is Game Based Learning?
Game-based learning is a teaching system where games are embedded within kids' learning activities. Game-based learning is also a practice of creating educational games based on subjects or lessons to help kids easily assimilate the concept of that lesson. This learning strategy is usually defined by specific components that promote excellence and healthy competition.
The components include a leaderboard, badges, point systems, quizzes, discussion boards, or chat rooms. A teacher can use these components to set classwork or assignments for their kids.
Game-based learning can either be digital or non-digital as long as the end goal remains to stimulate children's minds to understand a concept as they play a game. For the success of a game-based learning system, gameplay, rules, and strategies must help students understand a given idea. A game isn't suitable for classroom learning if it doesn't teach a specific notion or if it hops back and forth between concepts.
Game based learning examples include math games and spelling games, which are integral to the formative years of learning fundamental math and English. Other game-based learning examples are card games, puzzle games, board games, etc.
Game based learning versus gamification
There is some confusion about the difference between game-based learning and gamification. The game based learning definition is simple; it is an educational system that uses games and physical activities to teach concepts. Game based learning is primarily designed to teach specific skills.
On the other hand, gamification is a bit more complex than game-based learning. It requires the application of game mechanics in a different (non-game) context to achieve the desired learning outcome.
Is Your Child Struggling With Math?
1:1 Online Math Tutoring
Let's start learning Math!
Benefits and Drawbacks of Game-based Learning
Since its inception, game-based learning has elicited different reactions from parents and teachers. While one side of the divide sees it as a welcome approach to make kids learn faster and better, the other side sees only the negatives. While there are seemingly more benefits than drawbacks, both opinions are valid and we will be looking at why.
Benefits of game based learning
Game-based learning has some significant benefits for educating children. These advantages are not just beneficial for the students; they make a teacher's job more efficient. Here are some benefits of game-based learning:
Game-based learning stimulates the brain by opening the door to multiple solutions to one problem, giving children a better understanding of the concepts.
It fosters conversations around concepts, making it possible for children to have a new fun-based idea to discuss in every class.
Lessons laced with games and exercises simplify learning due to familiar devices used in the process. The more time a child spends on their tab learning a concept using games, the simpler the idea becomes for understanding.
Game-based learning improves retention as it applies the law of repetition. A child will repeat a game level until they complete it, and in the process of repeating, a kid builds memory and retention skills. More importantly, the concept which is the basis for the game remains in a child's mind, helping them succeed faster whenever they face similar obstacles.
Drawbacks of game-based learning
As anything else, game-based learning does have its disadvantages. The drawbacks of game-based learning are similar to what you'd expect from kids who get to play often. You could always work around them, but we need first to know them. Here are some of the drawbacks of game based learning:
It can afford children too much screen time.
Game-based learning can become addictive and make a child refuse to learn any other way.
Its ease can fool tutors into thinking this approach should replace traditional learning, whereas it should be supplementary.
6 Types of Game-Based Learning
The world of game-based learning is vast, with different parts open to exploration. The end goal of any game-based learning system is to involve children and help them learn lessons from the game.
There are different game-based learning types, so there is a chance that the one teacher A uses works differently from the one teacher B uses. Here are six types of game-based learning:
Is Your Child Struggling With Math?
1:1 Online Math Tutoring
Let's start learning Math!
Digital game-based learning
Digital game based learning approach is topping this list because it is the most popular one. Digital game-based learning involves the use of devices to play games that are often attached to educational concepts that a teacher wants students to learn.
Digital game-based learning platforms are the easiest to access because of the availability of digital devices to everyone. For instance, on a word game-based learning platform, a child will learn what words sound like, how to spell them, and what they mean. Teachers will also often leverage challenges in those digital games when giving students homework.
Traditional game-based learning
Traditional game-based learning, which existed before digital game-based learning, has somehow been usurped by technology. This learning strategy uses classic exercises to teach children educational concepts in the classroom. Many adults will remember playing some games when they were younger while learning math formulas, English pronunciation, etc.
Most teachers prefer to use traditional game based learning in the classroom because it is less distracting and very engaging. Over time, the games have evolved, and some of those we remember no longer exist because educational standards have changed. However, new physical games have emerged to replace those forgotten, and they are just as effective.
Board games
Board games require concentration and critical thinking. For example, monopoly is a game of chance and shrewd financial decision-making which could make or mar the player's in-game progress. It teaches math concepts like money, addition, subtraction, and counting.
Scrabble is another board game that could help improve a child's mental capability, spelling, and aptitude for learning new words. Board games are perfect for situations where a teacher wants to carry every child along. There are so many board games you can use for game-based learning; the list is non-exhaustive.
Puzzle games
Puzzle games require heavy use of logic and critical thinking. Games like Sudoku are math puzzle games that need you to look for clues, make calculations, and understand sequences to get the answers right. In like manner, we have word puzzle games whose solutions are embedded in riddles and questions which you must understand and answer.
You can fuse these puzzles with lessons in your school's curricula. Depending on the course, you can get kids to do puzzles with central themes on your subject. The strategy will help students understand concepts that would have taken you a while to explain in class while enjoying the process.
Simulation games
Simulation games have been around for a while, but they only recently became a part of the learning system. In simulation games, children dive into a virtual world where they have to reenact real-life experiences and problems and then solve them. In this alternate world, children can solve problems relating to their studies while having some fun.
Simulations are among the most relatable games for kids that get students emotionally invested in the game and learning process. This attachment will ensure you don't have to force the kids to learn. The result is an ideal system for parents who homeschool their kids and teachers in charge of a large class.
Role-playing games
In RPGs, students pick a character and live through that character's experiences in games. They have to answer questions as if the challenges directly affect them before they can progress in these games. An example of a role-playing game is Prodigy.
Prodigy uses the math curricula for 1st to 8th graders. Each child has to pick an adventure, and in that adventure, they must solve a math problem to proceed to the next level. Other RPGs are also interactive, and they foster a healthy competition between students of different grades and learning capacities.
Conclusion
The game based learning theory has repeatedly proven how much each child improves when you introduce games to their learning. While it does have downsides, game-based learning is undoubtedly a great way to ensure that your children get the best from their classes. At the end of each term, when you see your students' results and improvements, you will thank yourself for using this teaching system.
Winter Break Math Camp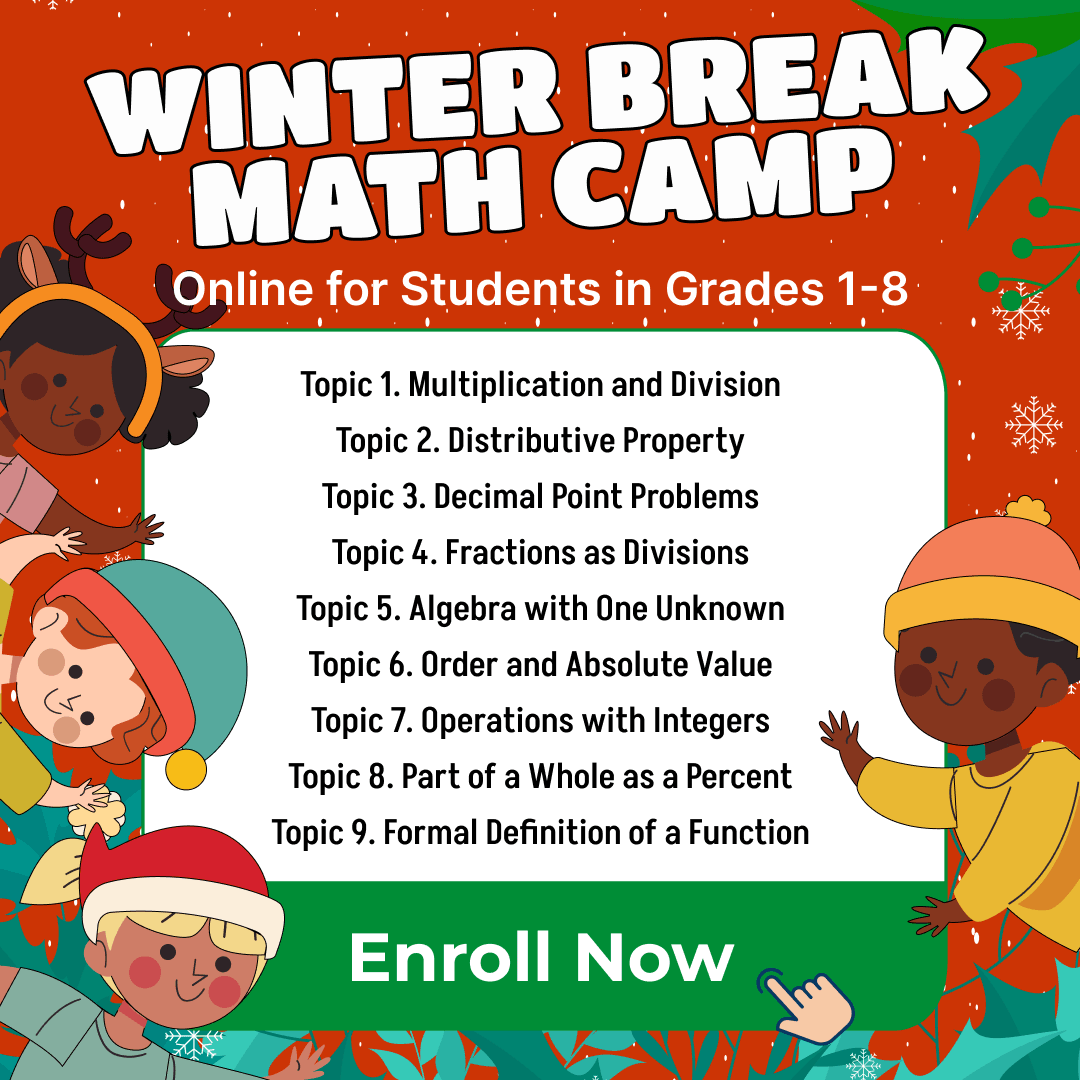 Boost Math Skills this Winter Break at our Camp, Perfect for Students in Grades 1-8!
Kid's grade
Grade 1
Grade 2
Grade 3
Grade 4
Grade 5
Grade 6
Grade 7
Grade 8
Winter Break Math Camp
Enhance Math Skills with Our Program, Perfect for 1st-8th Graders, Aligned with School Curriculum!
Apply Now