8 minutes read
May 25, 2022
The Benefits of One on One Tutoring for Kids' Development
Teaching

Schools have changed significantly over the years, both in terms of structure and the process of learning. After-school support to boost kids' performance has become more necessary.
Knowing that extra help will set their kids on the path to mastery of school subjects, parents enlist professional tutors. So, if you are looking to do the same, you should know what to expect. This article explores one on one tutoring and its benefits.
What Is One on One Tutoring?
One-on-one tutoring is a form of learning involving one child and a tutor. A teacher needs to have a thorough understanding of weaknesses and strengths of a child to set up goals to match. This form of education can be either online one-on-one tutoring or in-person lessons.
Knowing a child's abilities, tutors draw up lessons and tasks to suit their student's needs. If a child has challenges with understanding a subject, an instructor can brainstorm possible reasons for the situation. If the problem is caused by the lack of basic knowledge, a tutor may review available solutions with the parents. Tutors may also provide additional materials and exercises to challenge kids and help them succeed.
Is Your Child Struggling With Math?
1:1 Online Math Tutoring
Let's start learning Math!
Benefits of One on One Tutoring
Kids learn differently; therefore, knowing a student is crucial in developing an efficient tutoring plan that will benefit them. Below are some pluses of using one-on-one online tutoring services.
Allows for a personalized learning experience
The aim of one-on-one tutoring is to focus on one kid at a time. To ensure that a child achieves the set learning objectives, tutors must tailor individual strategies to meet their student's needs.
Personalization encourages the choice of the best learning tactics that will suit particular students. The approach can significantly enhance a kid's learning process as they begin to experience success in terms of outcomes and comprehension of essential concepts.
Establishes a secure learning environment
With one-on-one math tutoring, a teacher can create a learning environment where a child will be more relaxed and willing to learn. Working with a tutor one-on-one will let students study at convenient speeds without classroom distractions or fear of social shame that many children experience. One-on-one math tutoring is even more effective for kids having difficulties with math.
Teaches students to understand problems, not just solve them correctly
One-on-one tutoring sessions will allow your child to experiment with different tactics, ask questions, and work toward particular objectives. While one-on-one tutoring, kids will become more confident in their abilities, they can make mistakes yet focusing on solving the issue rather than obtaining a correct answer.
Tutoring services, like one-on-one tutoring online platform Brighterly, focus on the most effective methods and tactics for teaching kids. By perfecting their strategies, Brighterly makes a student more interested in education. That way, a child becomes more self-confident and eager to learn and takes the positive attitude to the classroom and other collaborative learning situations.
Promotes the mastery of concepts
Any one-on-one tutoring service worth its salt will continually perfect a youngster's mastery of each concept before moving to another topic. This approach promotes knowledge and understanding and pushes kids to develop a positive attitude toward learning, which leads to success in school. Additionally, one-on-one tutoring enables a tutor to assess a kid's ability and put in measures to help a kid learn.
Provides informative input to the user
When children are engaged in one-on-one tutoring, they naturally develop a rapport with the educator, which makes them more focused, helps develop self-confidence, and most importantly, encourages to learn quicker. One-on-one tutoring is an excellent way for children to improve their academic performance and learn more intensively than in the regular classroom.
The chance to study one-on-one with an expert will excite children, especially in areas where they need help. Instant feedback tutors get from the kids will help professionals adjust their teaching approaches. On the other end of the table, youngsters will receive immediate and frequent suggestions and guidance during one-on-one sessions.
Provides an outlet for kids
Even for adult students, a school environment can be challenging, which affects learning. The complexity of a subject may be caused either by the content or the tutoring approach adopted by the school teacher. One-on-one tutoring provides an outlet for children. A personal tutor can share the burden with their students and lend ideas to help kids complete assignments and projects.
Is Your Child Struggling With Math?
1:1 Online Math Tutoring
Let's start learning Math!
Guarantees an in-depth learning experience
With so much to study in a single school year and numerous subjects of high levels of complexity and depth, it may be difficult for instructors to devote enough time to dig deep into topics. You can get a one-on-one tutor to ensure your kid doesn't suffer from the side effects of challenging school programs on their teachers.
There's no rush with a one-on-one tutor; your child can learn topics at a comfortable pace and even spend more time reviewing challenging concepts with their teacher. This slow-but-steady learning system will give a child a high-level understanding of topics.
Provides a broader range of learning opportunities
This benefit is concerned with broadening a child's knowledge on a variety of subjects in general. For example, a student who wants to learn to code may get an online coding instructor. In the same way, a student can get a personal tutor from a "one-on-one tutoring near me service" who can guide them through school problems.
From a one-on-one tutor, your child can learn things that they wouldn't have learned in school. Some of these things may not be related to the subject you hired them for, like how to improve their social lives. But individual tutors will improve your child's knowledge on a broader scale.
Encourages students to ask questions
Asking questions in class is not always the easiest thing for students. Asking questions in a class of 30 students invites attention, something many students want to avoid. Also, some teachers can make a child feel bad for asking a question using silly remarks or harsh replies.
These situations can demoralize students and affect learning. The solution lies with personal tutoring services like Brighterly. Its relatively low one-on-one tutoring prices increase the value-to-cost ratio you will enjoy using the tutors' services.
Guarantees a tutor's accountability
Schools offer some form of accountability but not as much as private tutoring. Since personal teachers work closely with students and their parents, they understand they are answerable to the clients.
This accountability spurs the tutors to put in more time and effort to bring the best out of their students. In the end, students' performance won't be tainted by desperation to outperform others but will instead improve through tailored learning.
Conclusion
One-on-one tutoring introduces you to a world of passionate and inspirational experts capable of guiding your kids to academic success. The benefits are apparent, and the ones above should be enough to help you decide if this form of education perfected by platforms like Brighterly is suitable for your child.
Math Catch Up Program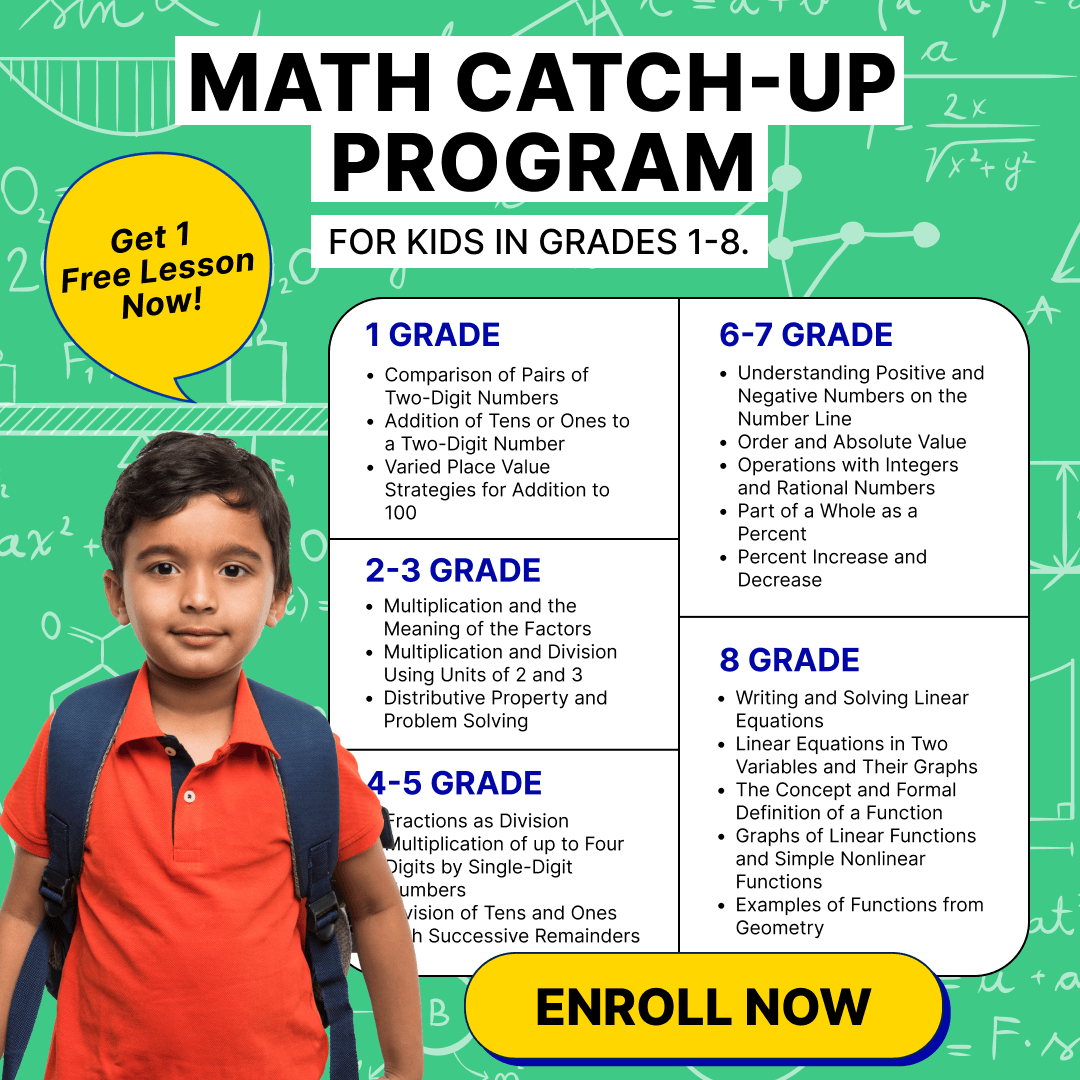 Learn Math Simple - Fast - Effective

Overcome math obstacles and reach new heights with Brighterly.
Kid's grade
Grade 1
Grade 2
Grade 3
Grade 4
Grade 5
Grade 6
Grade 7
Grade 8
Simple - Fast - Effective
Overcome math obstacles and reach new heights with Brighterly.
Select Your Grade