28 minutes read
July 13, 2022
Fun and Simple Math Games for Kids
Reviews

Math requires high mental activity. It's often the reason why many children feel reluctant to study this subject. But you can make learning funnier with dedicated math games and applications.
Keep reading to discover simple math games for kids for outdoor, in-class, and indoor implementation.
Why Do Math Games Help Study Math?
Math games provide children with the following benefits:
Increased Attention Capacity
Play-based learning works because children love educational games that offer entertainment in the first place. Children immerse themselves in natural learning conditions by playing games, unleashing their curiosity about the world around them.
As young minds are excited about the games, they channel 100% of their attention to these entertaining activities.
Improved Math Skills
Math games teach numbers with fun. In essence, these are math exercises in unusual contexts that enhance children's numeric fluency, mathematical reasoning, and logical thinking. Math games improve math skills depending on their specifications:
Math operations – addition, subtraction, multiplication, and division.
Measurement units – weight, distance, speed, temperature, etc.
Spatial skills – geometric shapes and figures.
And other skills.
Better Learning Experience
Children often feel uneasy about mathematics due to negative learning experiences at some point in the past. Consequently, some of them are reluctant to do math homework.
Math games carry an entertaining aspect while reducing typical school expectations, like grades.
By playing math games, children get into a more enjoyable learning environment that limits potential negative aspects students may encounter while doing regular homework.
Broad Math Practice that Targets Many Learning Styles
Children learn differently – some perceive textual information better, while others prefer explanatory visuals. Scientists call these differences learning styles – visual, auditory, kinesthetic, and reading/writing. Free online math games complement all learning styles:
Visual – captivating animations and pictures.
Auditory – sound accompaniment.
Kinesthetic – game actions require mouse clicking and button pressing.
Reading/writing – textual information follows game actions.
5 Online Math Games
Check five learning hubs with captivating kids' math games:
Brighterly.com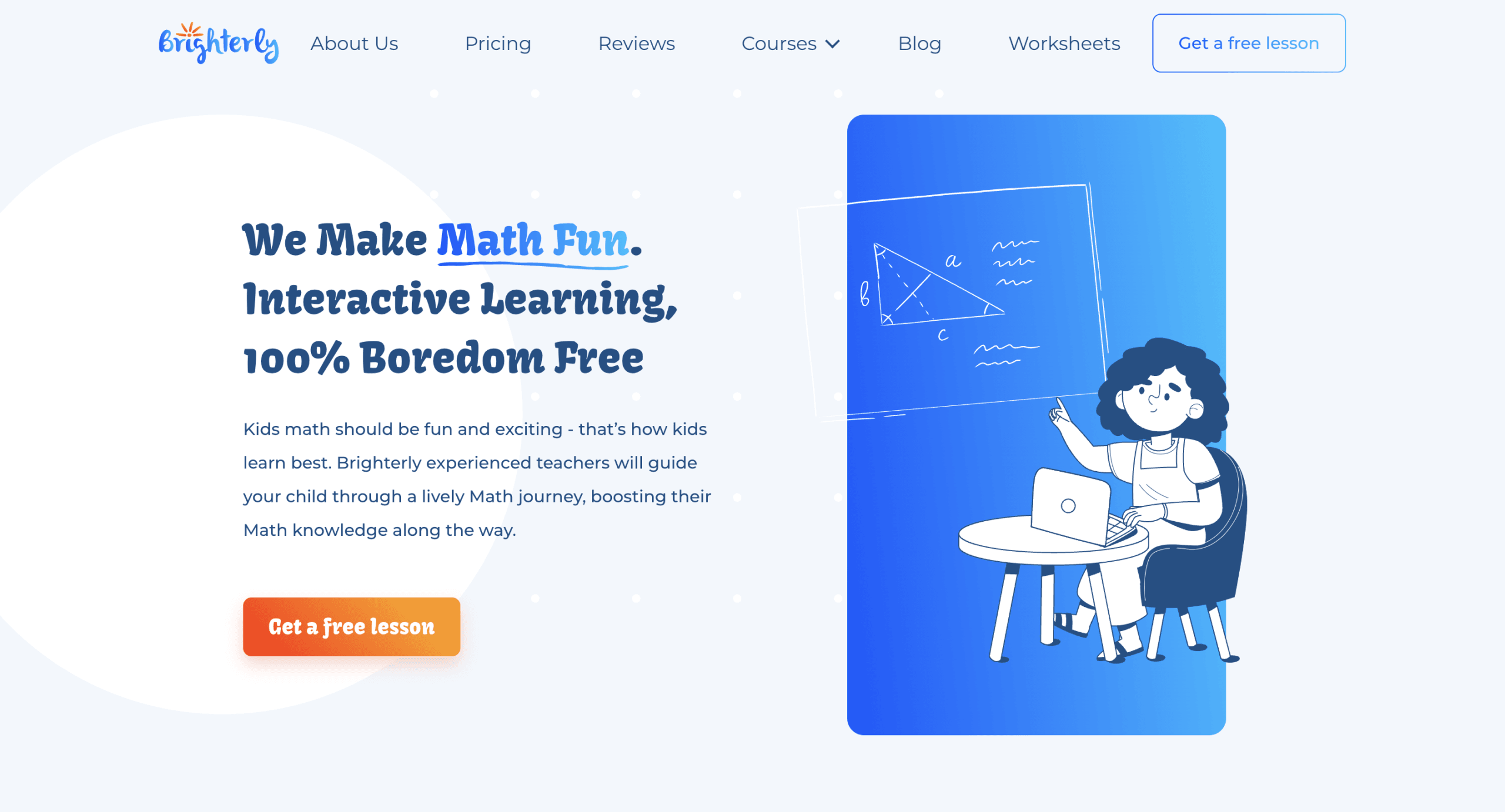 Brighterly is an educational platform for PreK-5 students that offers play-based learning and gamification of math studying. At Brighterly, parents can enroll students in 1-to-1 math courses. Check how Brighterly can help your child.
Play-Based Math Classes. Brighterly applies play-based teaching approaches to make math studying a more enjoyable experience:

Interactive math games with tutors.
Math puzzles, riddles, and quizzes.
Developmental STEM activities.

Math tutors at Brighterly integrate these activities into play lessons within the courses that are accompanied by regular theory and assessment classes.

Math Printables. At Brighterly, you can download free printable math worksheets for PreK-5 students. These learning materials contain fun math puzzles that complement a positive learning experience.
Mathplayground.com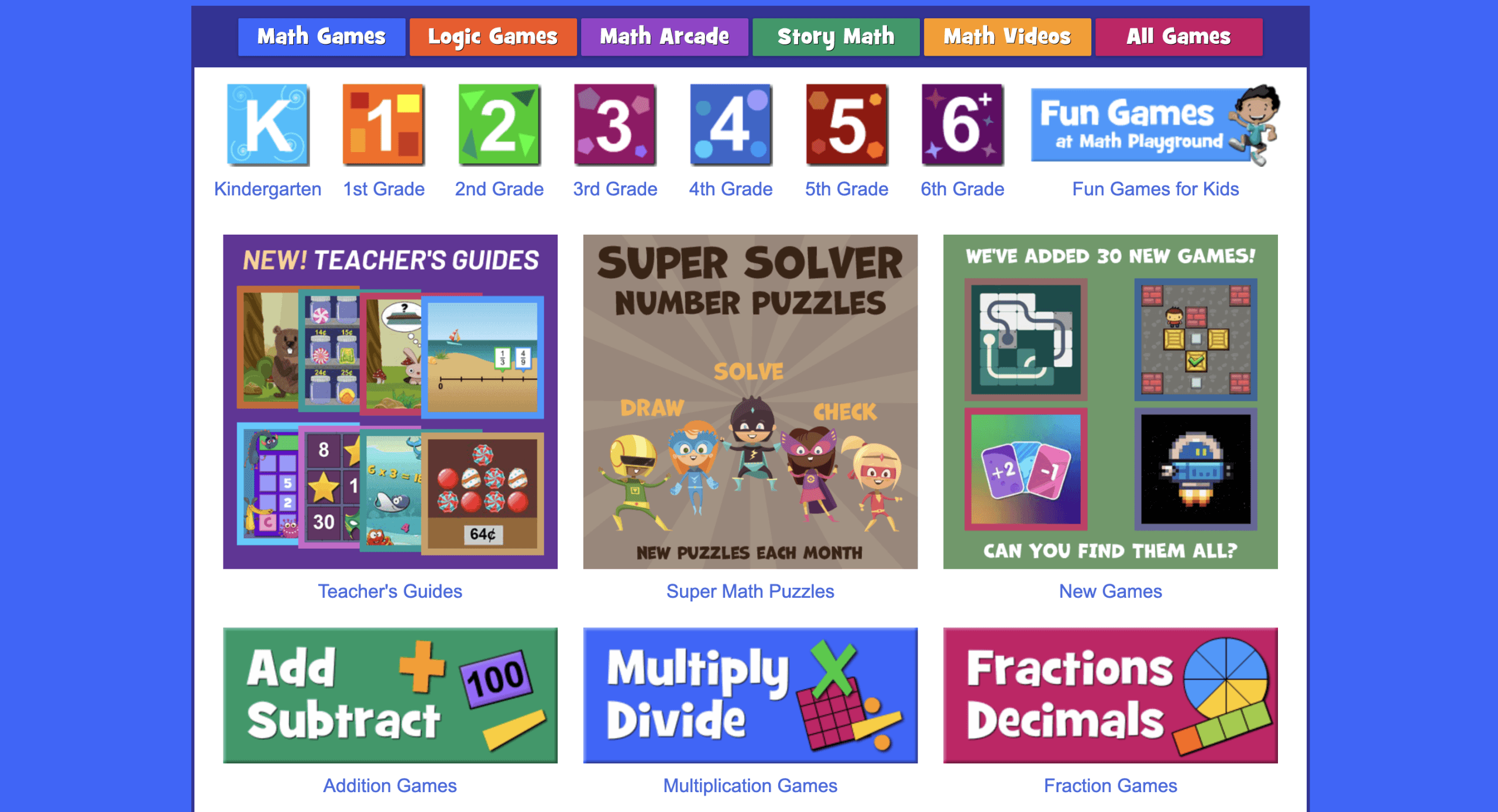 Math Playground is a collection of K-6 math games, puzzles, educational videos, and printables. Check what features this platform provides:
Online Math Games for Kids. Math Playground features dozens of K-6 math facts games targeting the following topics:

Math operations and algebraic thinking.
Number operations in base ten.
Measurements.
Geometry.
Logic and problem-solving.
Math word games.

Themed Math Games for Kids. Children can also play math games that center around particular topics – addition, division, measurements, math words, etc. Math Playground offers these games for K-6 students.
Math Learning Resources. Besides math learning games, your children can also enjoy worksheets, puzzles, and educational videos on math topics.
How Much Does Math Playground Cost? You can access most math games for free. It will be entirely free from September 1, 2022 thanks to unparalleled support from the members and subscribers.
Pbskids.org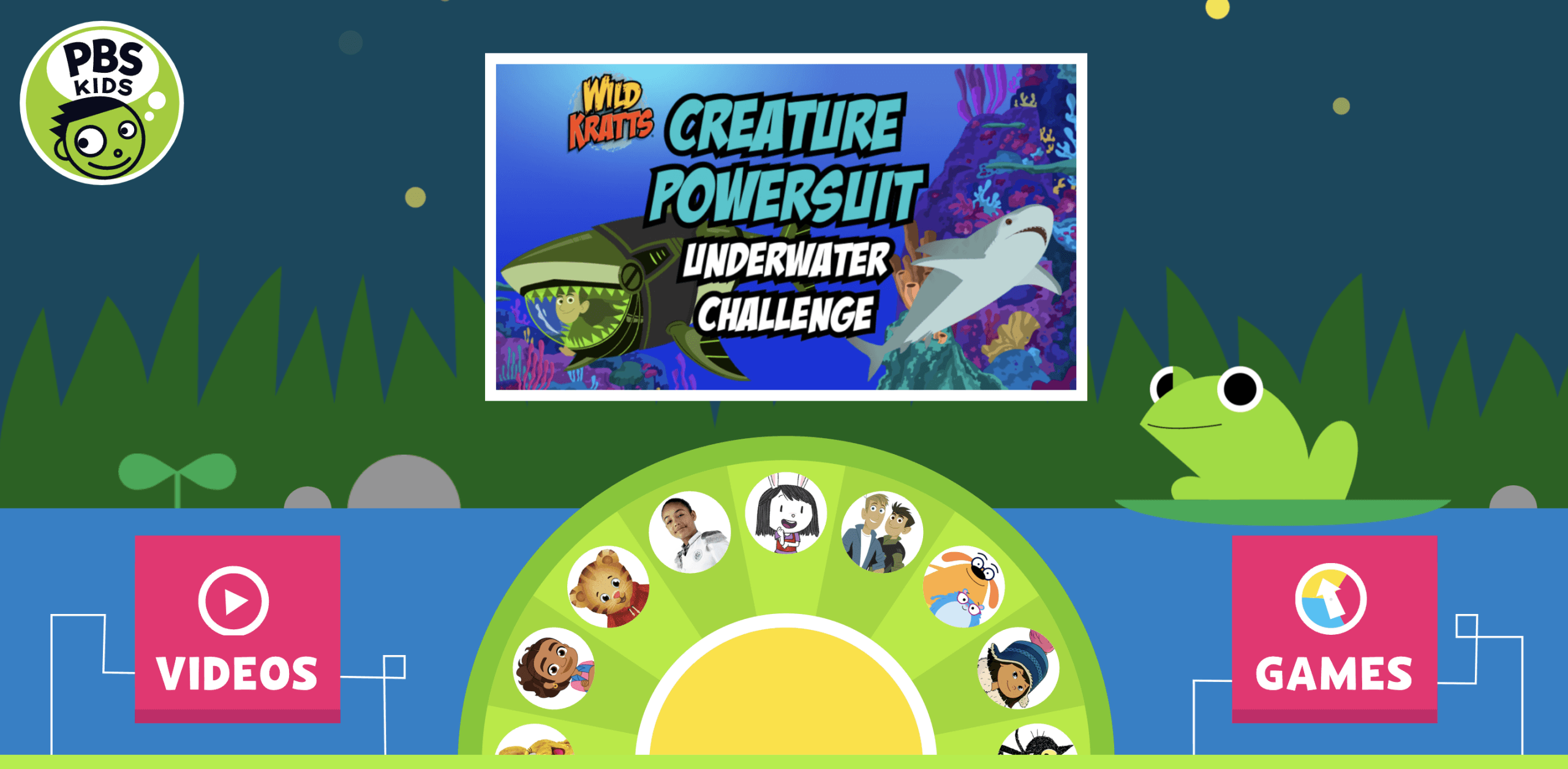 PBS Kids is an educational website that features animated videos and games with cartoon characters. Check how PBSkids.org can help your child:
80 + Fun Math Games. Your child can play over 80 fun animated educational games about math and nature. Children will solve math problems with animated TV characters to move through the gameplay.
Educational Videos and Podcasts. Your child will access a collection of educational videos and podcasts about science, nature, math, logical thinking, and more. PBSkids.org adds new content regularly so children and parents can enjoy limitless learning opportunities.
Xtramath.org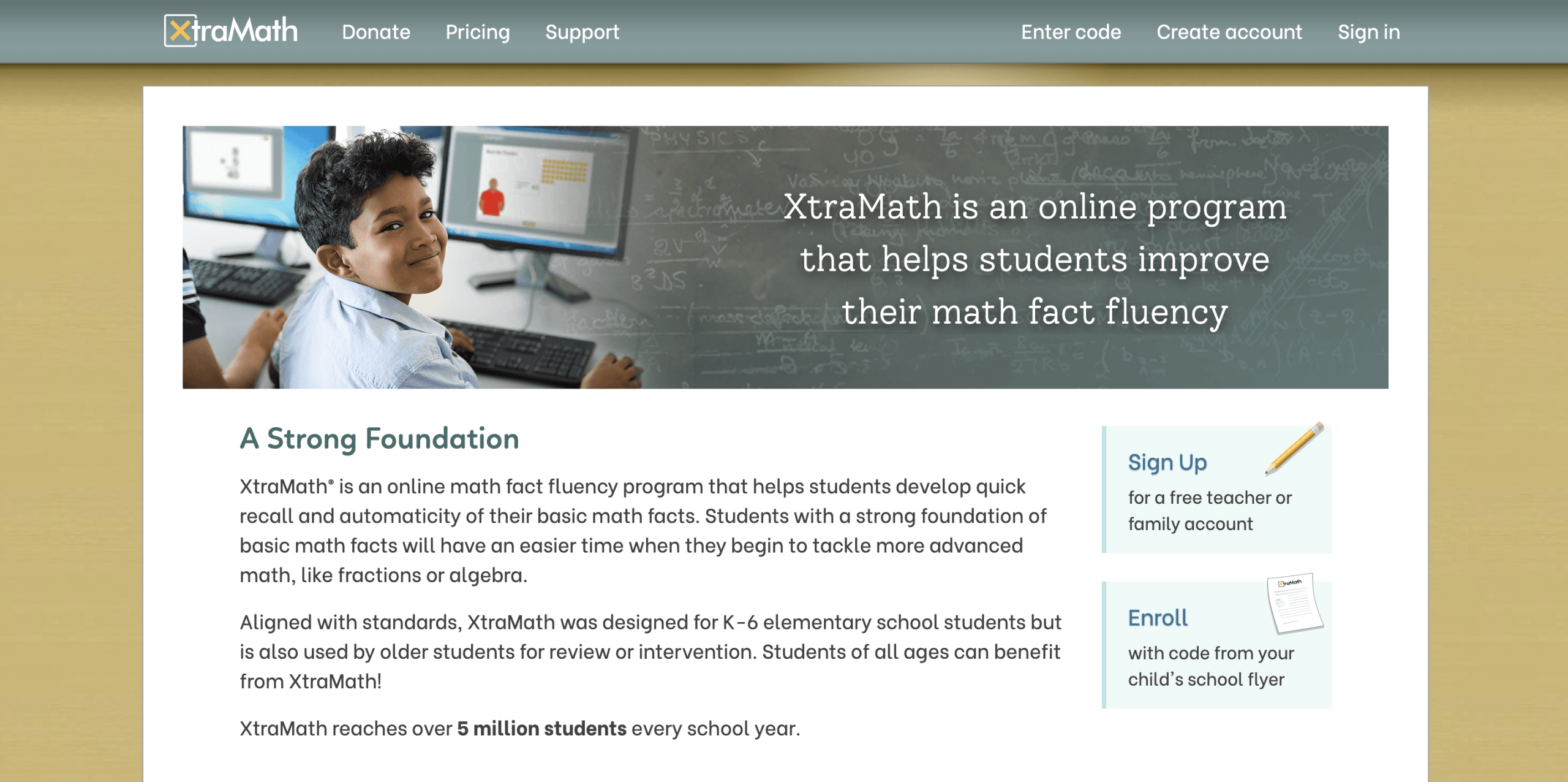 Xtramath is an online math program that can enhance children's understanding of math concepts. Check how it works:
Teachers and Parents Sign Up. Xtramath is for homeschooling and group studying in the class. Teachers and parents should sign up on the platform to access educational content. Once you sign up, you can set up a teacher's page and add students to the virtual classroom.

Students Begin Practicing Math. Xtramath provides math learning sessions for about ten minutes each. The session begins with an educational video that explains a math topic.

Once the video finishes, students start solving math exercises. Upon completion, a student gets notified about their progress in the Fluency Matrix section.

How Can Xtramath Help Your Child? Xtramath will suit students with some math background, and it can become an addition to the homeschool math program or regular homework. As Xtramath developers suggest, their math sessions are great for using once a day as an extra math practice to recall studied topics and refine math skills.
Funbrain.com
Funbrain is a math resource hub established in 1997. It offers educational games, reading resources, videos, and printables for PreK-8 students. Check below how Funbrain can help your child:
Free Math Games Online. Funbrain features over 80 versatile maths games with customizable difficulty levels for children of all grades. Children can solve math problems with fun animated characters in different settings.
Math Videos, Books, and Comics. At Funbrain, children can access dozens of educational videos, books, and comics about nature, science, and math. You can pick the one corresponding with your child's age and grade from a scrollable resource feed.
Math Zone. Math Zone is a part of the Funbrain network dedicated to math specifically. It features a collection of high-quality math games for PreK-8 students. Select titles from the scrollable feed – it features both games tied to specific grades and universal activities.
5 Math Board Games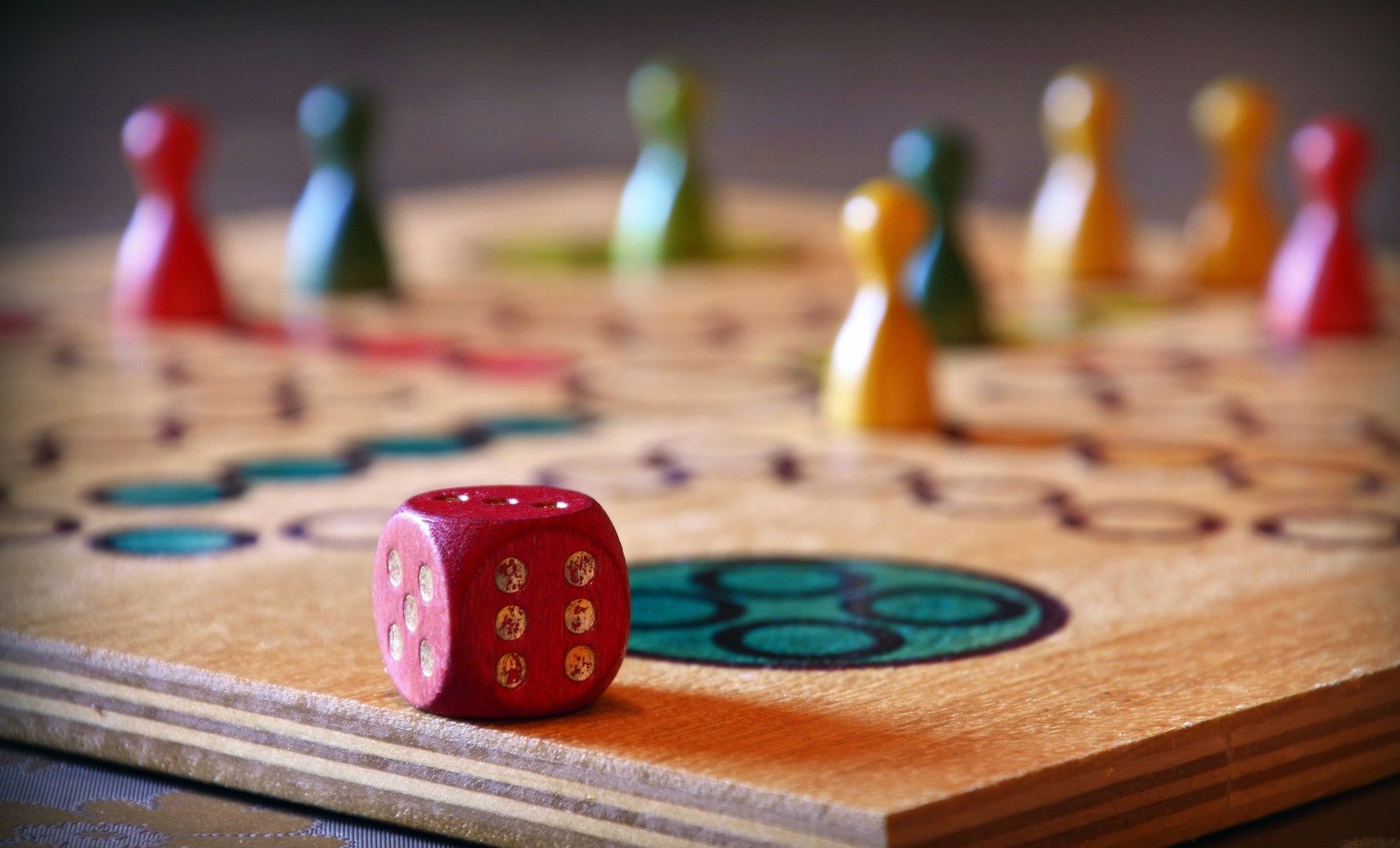 Online math will suit individual learning the most. But you can also introduce your kids to these five board math games to work on their social skills:
Bingo!
Bingo has been a classic gambling activity. But if you remove the financial risk, this game will become an excellent math teaching tool for kids.
Check how to play a math Bingo game:
Get a Bingo play board and share copies with your children.
Fill the board with random numbers.
Make these numbers answers to math problems.
Give children play boards.
Draw math problems and let children solve them.
Children should fill the spaces on the board while solving math problems.
When children fill five spaces horizontally, diagonally, or vertically, everyone calls "Bingo!"
You reward children for winning the game.
Why Play Bingo for Math?
Bingo targets addition, subtraction, and multiplication skills as you can turn the playing board into math equations.
Here are a few tips to make this game funnier:
Make rewards. Playing Bingo for the sake of playing might be funny a couple of times. Afterward, children might lose interest in this activity. You can keep them interested with progressive rewards. Check a few ideas:
Sweet prizes.
Extra video game time.
A Disneyland trip or a picnic.
Introduce difficulty levels. Challenge children with progressive game difficulty. Let the first difficulty level revolve around addition equations. Dedicate the second one to subtraction, the third one to multiplication, and the last one to division.
The approach will help you keep children engaged and make them anticipate more sensible rewards at the end of each level.
Monopoly
Monopoly will become a perfect addition to your math routine as it develops reasoning skills and mathematical fluency:
Throwing dice strengthens addition skills.
Counting turns enhances addition and rote counting skills.
Money management improves children's sense of decimals, counting to 100, and currencies.
Why Choose Monopoly?
Besides developing fundamental math skills, this game introduces kids to basic concepts of business and money allocation. Additionally, this team game teaches kids essential social skills and team play.
Sum Swamp
Sum swamp is a fun math board game perfect for homeschooling, extra math practice, and in-class activities.
Its gameplay features resemble Monopoly and other board games:
Players should go through the swamp and solve math challenges along the way.
It's a turn-based game that requires dice throwing for turn-taking.
It features several trick places that send players forward or backward.
Players should solve math equations to proceed further. Wrong answers result in no further movement.
Why Choose Sum Swamp?
Sum Swamp develops addition and subtraction skills, rote counting, and numeric accuracy. This game also helps little children understand and follow different rules and instructions, preparing them for more complex school activities.
But most importantly, Sum Swamp allows children to practice math in their minds. To successfully play this game, children should at least count to 12.
Is Your Child Struggling With Math?
1:1 Online Math Tutoring
Let's start learning Math!
Prime Climb
Prime Climb is a board math game designed for children aged 10+. The gameplay requires more sophisticated math knowledge.
Prime Climb Game Objective
The game features a board with a giant spiraled circle consisting of individual cells numbered from 1 to 101. The players' objective is to land their game pawns on the 101st spot. The player wins if they do it first.
Prime Climb Game Rules
Players take turns moving their pawns forward. Each turn consists of:
Roll. Players roll the dice to move the pawns, one at a time. For instance, you throw a die and get 4. This one will be for your first pawn. Then, you roll the second die, and it will be for the second paw. Zero counts as ten.
Move. Once you throw the dice, it's time for math. Multiply the number your pawn is standing on by the number you get from a die throw. Afterward, you move the pawns to the resulting number on the board. For instance, your first throw results in 4, and your pawn is on 5. You multiply four by five and move to the 20th position on the board. Repeat the procedure with the second paw.
Bump. This feature is optional. It means you have to get back to the start if your pawns move to the space occupied by another pawn.
Why Choose Prime Climb?
Prime Climb develops multiplication skills and encourages children to apply math skills without pencils and papers. It helps them get used to complex instructions as well. Besides, it develops rote counting and addition skills.
Monster Sock Factory
Monster Sock Factory is a fun maths game for kids designed to enhance counting, addition, and multiplication skills.
The game objective is to help little monsters pack and ship sock packages. The player wins if they dispatch all six sock packages first. The game is for children who begin learning multiplication tables.
Why Play Monster Sock Factory?
This game teaches the basics of multiplication and division as repeated addition and subtraction, respectively. It helps children socialize and play in a team or against each other and follow instructions.
If you search for more board games, check Brighterly's list of board games for math learning.
5 Math Applications for Kids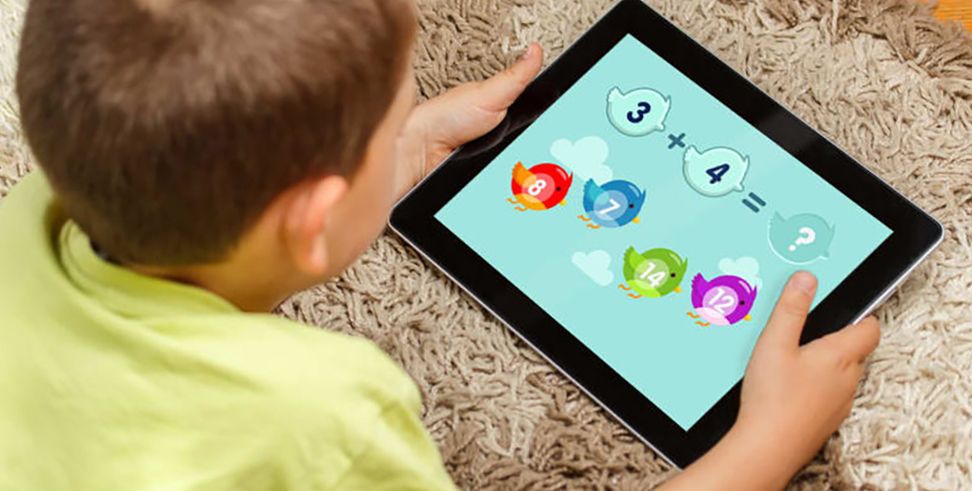 Check these five applications for playing math games online:
Monster Math
Monster Math is a fun game designed to make math captivating for children regardless of their arithmetic proficiency. It suits the K-5 math curriculum. Monster Math has the following features:
Arcade-Style Math Game. The gameplay requires you to solve math equations to move their character through game levels and kill monsters. You can customize the game difficulty to match your kid's pace and knowledge.
Multiplayer Mode. Monster Math is available in multiplayer mode, allowing you to compete with your children. Kids can also refine their math skills by competing against each other.
Mobile Compatibility. Monster Math doesn't feature a Desktop version – it's available on mobile devices only. You can download Android and iOS apps on Google Play and App Store.
Splash Math
Splash Math is a collection of free math games for kids for the K-5 math curriculum available on Android and iOS devices. Check its features below:
Free Math Games to Target Multiple Skills. Splash Math develops over 16 math skills, including fundamental arithmetic operations, money, measurements, unit conversions, place values, decimals, and others. The application offers 4,000+ free math games for kids that over 750,000 teachers use daily to strengthen math skills of over 4 million children.
Math Worksheets. The application offers interactive math worksheets for K-5 students to complement math homework and games.
Cross-Platform Availability. Splash Math is well-adapted to all screens and devices. Your child can play math games on iOS and Android devices, as well as Mac and Windows.
Keiki Learning Games for Kids
Keiki Learning Games for Kids is a collection of 200+ fun math games for kids available on Android and iOS devices. These games develop fundamental math skills – counting, number sense, geometric shapes, and basic measurements.
Is Your Child Struggling With Math?
1:1 Online Math Tutoring
Let's start learning Math!
DoodleMaths
DoddleMaths is a math learning application for primary school. It's available on iOS and Android devices. Check DoodleMaths features below:
Fun Math Exercises. DoodleMaths features over 40,000 diverse math exercises. It will suit homeschoolers and students attending public schools as an extra 10-min-a-day brain workout. Your child can access fun math games online on their tablets and smartphones anywhere at any time.
Versatile Difficulty Settings. DoodleMaths features customizable difficulty levels so that students of various math backgrounds can benefit from the app.
How Much Does DoodleMaths Cost? You can purchase DoodleMaths games at as low as £7.99 per month. The family subscription supports up to five children and costs only £12.99 per month.
Moose Math
Moose Math is a math application for kindergartners and first-graders that enhances math skills in the following topics:
Numbers – the concept of numbers, number words, and counting.
Arithmetic operations – addition and subtraction.
Geometry – geometric shapes and figures.
Measurements – understanding the concept of lengths and their comparisons.
Moose Math has the following features:
Moose Juice. Moose Juice is a cooking game where children help a moose prepare smoothies and cocktails. The game involves measurements, counting, addition, and subtraction aspects.
Pet Bingo. Pet Bingo allows children to solve math problems to open pets that match winning combinations.
Lost & Found. Children can practice their geometry skills by finding, categorizing, and sorting geometric figures.
A City of Pets. Completing different levels of Moose Math games, children unlock items and pets to build their city with fantasy creatures.
Student Performance Control. Moose math provides detailed reports on your student's performance based on game-level completion and involved math skills.
If you search for more math apps, check Brighterly's list of apps for math learning.
5 Best Math Games for Kids to Play in the Class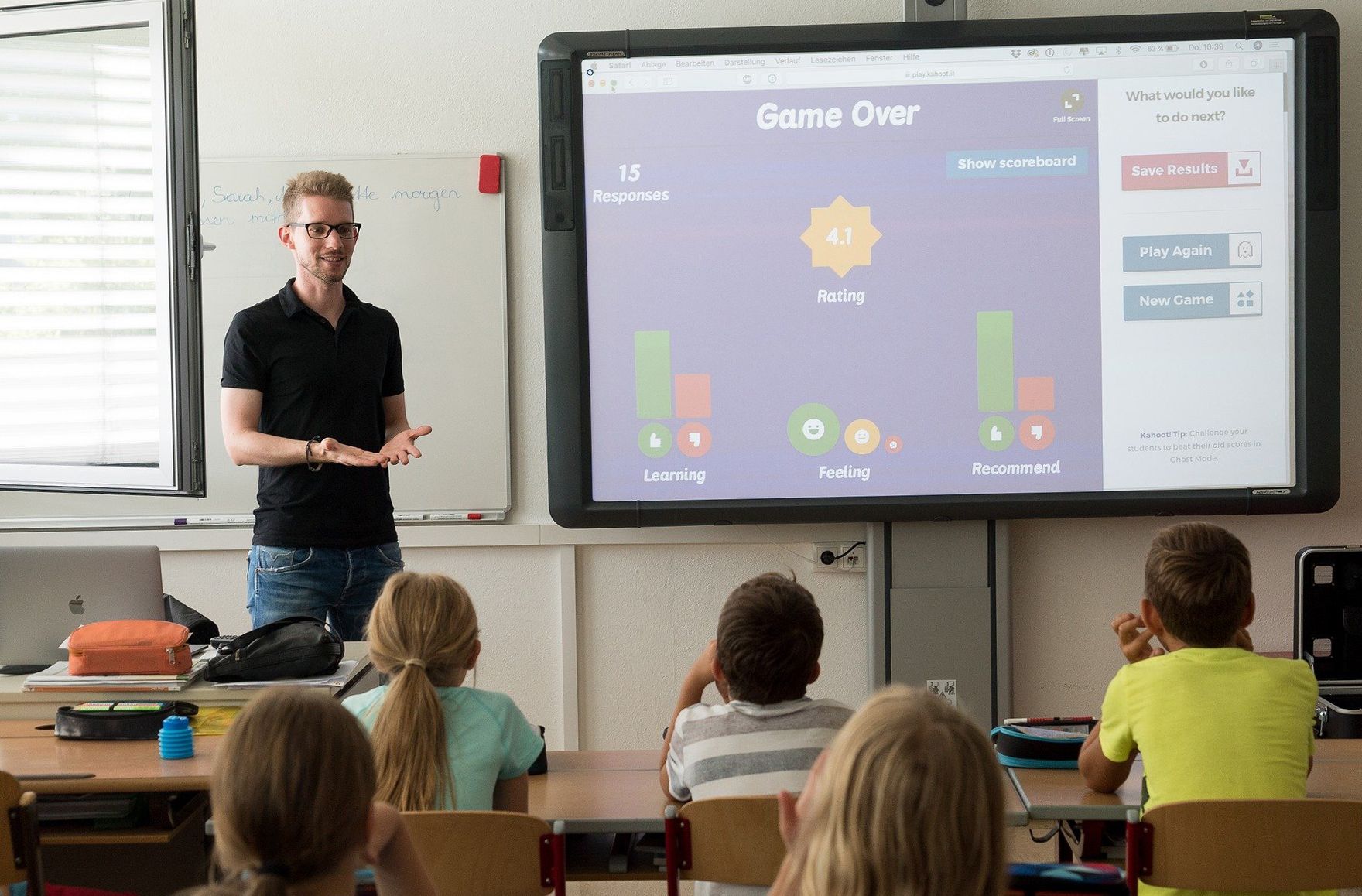 Check these five quick classroom math games:
Math Tic-Tac-Toe
Tic-Tac-Toe is a fun game for two players, and you can make it more challenging with math. It requires:
3×3 grid sheets.
Nine tokens numbered 1-9 for each player. The tokens should differ in color to represent team colors.
Two players should use three tokens to make a total of 15, filling a row on the grid. The player wins if they make it first.
Multiplication Touch
Multiplication Touch is a fun board game you can use as an alternative to traditional math flashcards.
This game includes a custom-made play board designed as a multiplication grid and numbered cardboard tiles. Check how to set up the Multiplication Touch below.
How to Play Multiplication Touch?
Players should follow these rules:
As a referee, place all numbered tiles face down.
At the start, the two players draw ten tiles each.
The players draw tiles and place them in the matching cells on the multiplication mat. To do so, they need to solve the associated multiplication problems.
Players have to put tiles so that they touch each other.
The player wins if they the first to put all tiles on the multiplication grid.
Setting Up Multiplication Touch Play Board
First, you need a play board mat. Follow these steps to make one:
Get a 10×10-inch piece of cloth – it can be a mat or a kitchen towel.
Get a waterproof marker, or better, a cloth dye.
Get a ruler.
Draw a 10×10 multiplication grid on the mat and leave free space on the left and top sides.
It's time for tiles once you complete the mat:
Cut 100 cardboard tiles and number them from 1 to 100.
Get two more 1-10 sets of tiles to label your multiplication grid.
Cut up to four blank tiles.
Is Your Child Struggling With Math?
1:1 Online Math Tutoring
Let's start learning Math!
Math Baseball
Math Baseball is a simple game you can prepare in a few minutes. For this, you need to come up with math problems (simple, moderate, and difficult).
Decide which topic you will practice and write these math problems on paper sheets. Make sure your students answer these problems in their minds within 5-10 seconds.
Then, write these math problems on the paper sheets with answers on the backside (optional). Aim for 16-20 math problems.
Sort these equations by difficulty. For example, 5 + 4 goes to simple, 16 + 22 goes to moderate, and 254 + 328 goes to difficult. These difficulty levels will match single, double, or triple pitches. Simple and difficult problems will cost fewer and more points, respectively.
How to Play?
Draw a baseball field on the chalkboard and create sections to write team points. Divide your class into two teams and ask them to stand in a line (a batting order).
A pitcher will choose a math problem – single, double, or triple. If they answer correctly, the team gets the points.
If the pitcher gives the wrong answer three times, they get disqualified.
Math Facts Race
Math Facts Race is a fun in-class activity for K-3 students, and it doesn't require anything except a few grid sheets.
First, divide your class into two teams. Give each of them a grid sheet. Once you declare math problems (these can refer to addition or multiplication), kids should race to the chalkboard.
They should write numbers in the math grid to reflect the intersections of rows and columns.
For instance, if you declare 5 + 3, a kid goes to the blackboard and fills the cell where column 5 and row 3 intersect.
This exercise allows kids to visualize math equations, practice speed calculations, and improve focus.
Note that children should carefully watch their teammates solve equations. If anyone makes an error, one of their teammates should use their turn to correct it. The team wins if they fill all cells on their math grid first.
Around the Block
Math around the block is a fun, low-budget in-class activity that requires only a ball to practice math skills.
Here is how it works:
First, ask your kids to sit in a circle. You start a game as a referee by passing a ball to a student. Then, you call a math problem, and they need to solve it. When a student answers the problem correctly, they choose another student to pass the ball.
If a student gets the wrong answer, you choose the next student to solve it. If they answer correctly, they decide where the ball goes next.
If you want to discover more classroom math games and activities, check Brighterly's list.
Active Outdoor Kid Math Games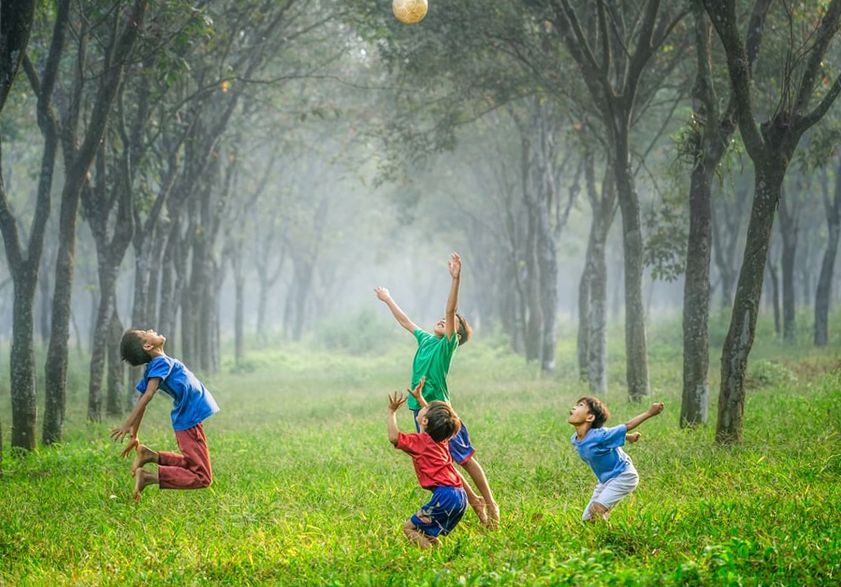 Math apps and board games will help you study math with fun during fall and winter evenings. But what about summer activities? Check these five outdoor math activities:
Math Twister
Twister is a fun outdoor game you can modify to study math.
Setting Up Math Twister
Prepare sticky notes corresponding to Twister mat circles. Write numbers on the sticky notes – these will answer math problems. For more convenience, you can prepare math problems on a separate list – it will be yours.
How to Play?
You are a referee, and you will be the one to spin the spinner and watch your kids clumping on the mat.
Once the spinner stops, you call it: "left hand, 5+3." The player wins if they are the most agile and fast-calculating.
Why Is Math Twister Good for Your Children?
Math Twister is unarguably fun, and it helps children to:
Improve computational accuracy in stressful circumstances (it's a positive adrenaline rush).
Calculate numbers in their minds.
Be more agile.
The Number Line Run
Little kids love running, and it's an excellent chance to use their passion for the sake of math. Your child can practice counting and addition by playing a number line run.
How to Play Number Line Run?
You need a set of crayons or just a single one for this game:
Draw a line on the sidewalk – it's desirable if you make it as long as possible. Let it be 20 feet long.
Mark it with numbers from 0 to 20, 25, 30, 35, and 40 – it's up to you.
Start the race. Call a number and ask a child to run and stop at its mark on the sidewalk line.
Number Line Jump
If your kid is bored about running across the number line, suggest jumping. They will learn to count by jumping until the required number.
You can let them practice skip counting – jumping by two or three. You can also measure jump length. There is plenty of space for game modification.
Is Your Child Struggling With Math?
1:1 Online Math Tutoring
Let's start learning Math!
The Frisbee 500 Game
Frisbee is an active game that requires two players. It doesn't require exceptional athletic skills. Plus, your children can practice math while throwing frisbee without even realizing it.
The Game Rules
The game rules are simple:
There are 500 points in total.
Each throw counts as 10/20/25 points – it's up to you.
If a player catches the Frisbee, they get the points. If not, they don't get any points for the throw.
The player wins if they collect 500 points first.
How to Play Frisbee 500?
To play the game, you need a Frisbee and two crayons. Check how to play:
Two players stand at least five feet in front of each other.
The players throw the Frisbee at each other.
The player gets 10/20/25 points once they catch the Frisbee. If they don't, they lose the throw.
Players write their points somewhere next to their stands.
Repeat until one of you gets 500 points.
This game teaches counting and addition up to 500.
Ping Pong Throwing
You can modify a ping pong game to make it a simple math practice.
The idea is also simple – you get ten cups (you can buy plastic ones) and place them in a row. Get ten pieces of cardboard or paper and number them – there will be answers to math problems. Then, you call a math problem, and children have to throw a ping pong ball into the correct cup.
For this, you need:
Ten cups.
A marker.
Ten square pieces of paper.
A ping pong ball.
Transparent duct tape.
Game Modifications
If you want something more active, you can modify this game a little – draw circles on the playground or a wall and put numbers there. Kids will throw the ball against the wall or in circles on the pavement.
Benefits of the Ping Pong Throwing Game
It's a simple game that encourages children to count numbers and solve simple math equations in their minds. Kids also improve motor and spatial skills while throwing the ball.
You can easily modify the game by adjusting it to addition, subtraction, multiplication, and division tasks. Or, you can tailor it to decimals or measurements – it's up to you.
The Water Balloons Game
To play this game, you need chalk, markers, and up to ten water-filled balloons.
Fill the balloons with water and number them – choose whatever numbers you want. Then, make math problems to these numbers become answers.
Draw math equations on the floor and circle them. Then, ask children to throw the balloons at the appropriate equations.
If you want to discover more outdoor math games and activities, check Brighterly's list.
Final Thoughts
Online math learning can become more exciting if you involve online math games for kids and offline activities. Children can practice essential math skills by playing fun games and enjoying the process.
Brighterly has advanced even further by implementing entertaining activities into the math curriculum. At Brighterly, tutors keep things perfectly balanced – math theory lessons follow fun games that shift into assessment classes, and so on.
If your child needs to work on math better, you can enroll them in Brighterly's math courses. By learning math in 1-to-1 classes, children will enjoy practicing fun math activities and developing numerical fluency.
Math Catch Up Program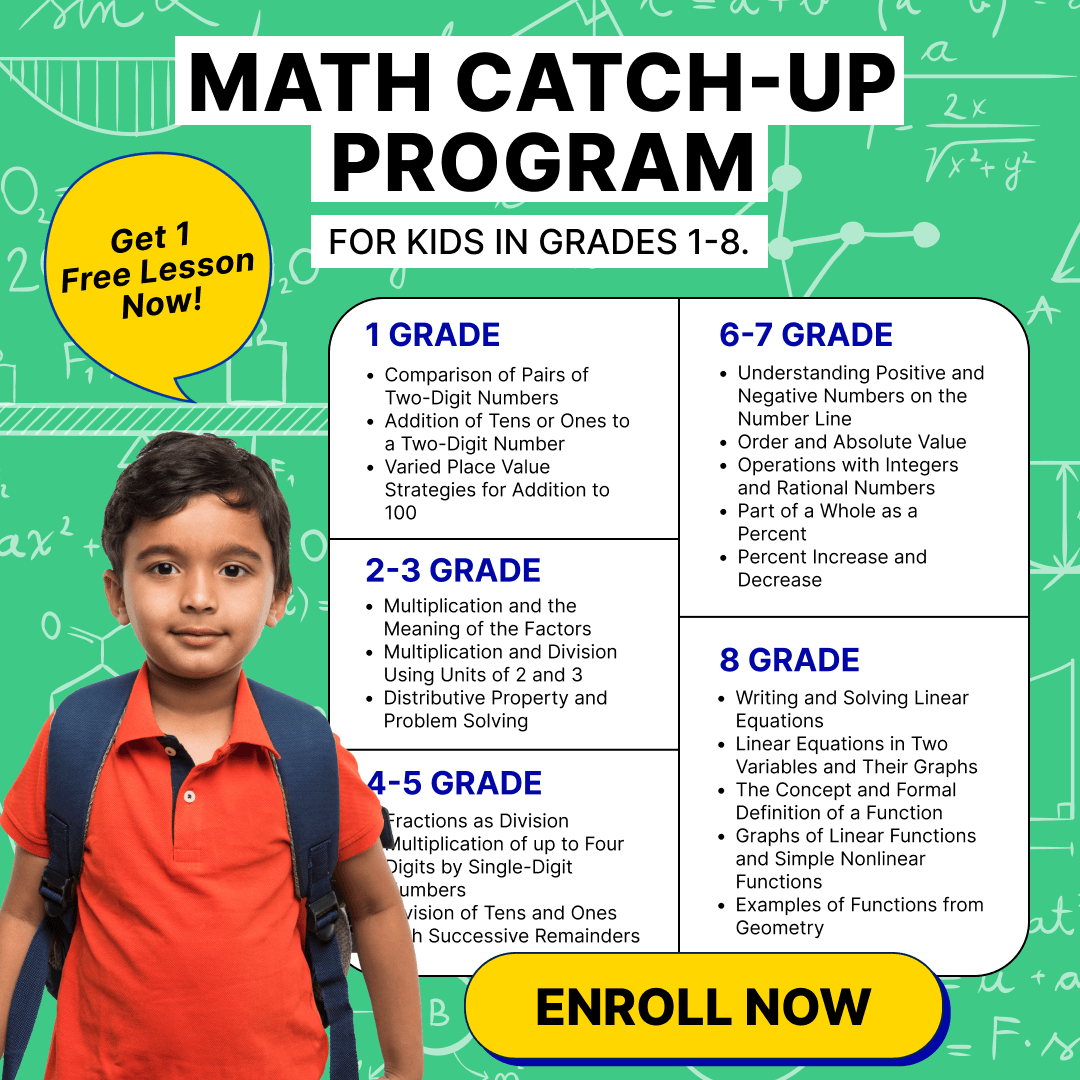 Learn Math Simple - Fast - Effective

Overcome math obstacles and reach new heights with Brighterly.
Kid's grade
Grade 1
Grade 2
Grade 3
Grade 4
Grade 5
Grade 6
Grade 7
Grade 8
Simple - Fast - Effective
Overcome math obstacles and reach new heights with Brighterly.
Select Your Grade