11 minutes read
April 5, 2022
Some Exciting Outdoor Math Games for Your Child
Parenting

Concentrating during a math class can be challenging for kids. But taking the whole learning exercise outdoors is a fun and exciting way to break the learning barrier and have your child enjoy math. Continue reading to know more about outdoor math games for your kids.
Outdoor Math Games
Outdoor games can serve as a way for kids to channel the excess energy they use for jumping, screaming, and running into learning math. Even fresh air and outdoor scenery can be sufficient motivations to play outdoor math games. Here are some outdoor math games for your kids:
The number line game
The number line in math textbooks is similar to the number line game. You can play this game with your child in the driveway or playground. The only things you need for this game are a piece of chalk and an open space.
To play the number line math outdoor activity game, draw squares on the ground with numbers inside. Depending on your child's knowledge of numbers, you can use positive or negative integers on the number line. When dealing with toddlers, direct them to jump on each number while counting aloud.
If you want your child to make a subtraction, say 6 – 3, have them jump on the number 6, then guide them three steps towards the left. For positive integers, they are to move toward the right. This game is exciting and can teach your kids number recognition, addition, subtraction, mental math, etc.
The frisbee game
The frisbee game is one of the most popular outdoor math activities. Get a frisbee, a permanent marker, and paper for recording scores. Write the numbers 1 to 10 along the edge of the frisbee before throwing it. Whoever catches it, will have to solve math problems depending on where their fingers touch.
Games like these can serve as fun outdoor math activities for preschoolers. Younger kids can identify the numbers they touch and collect objects to represent the numbers. For instance, if your child's finger touches 3, 9, 2, and 10, they could add 3 + 9 + 2 + 10 to get 24.
Bowl, sum up, and create!
You need a ball, index cards, cello tape, plastic bottles, paper, and a pen for this game. Write numbers on the index cards before taping them on plastic bottles or aluminum cans. You may then put the numbered bottles far from children in a line.
Then, have your kid throw the balls as if they were bowling. On the paper, they should record the numbers their balls hit and sum them up. This game teaches your child to strategize, reason mathematically, and can even boost their problem-solving skills.
War game
Get items like empty aluminum cans, sticky notes, markers or pens, and a water squirter for the war game. Use the pen to write numbers on the post-it notes, say 1 to 10, and paste the post-its on the cans. Then, arrange the cans in a straight row.
Have your child use the water squirter to take aim and knock over the empty aluminum cans. For every container your child knocks over, they can choose to find the sum, difference, or product of the indicated numbers. This outdoor math activity can help your child with number recognition, addition, subtraction, and multiplication. It is suitable for children of all ages.
Is Your Child Struggling With Math?
1:1 Online Math Tutoring
Let's start learning Math!
Egg race
Outside math activities like the Egg Race require more than one kid to play. The materials you need for this game are eggs, spoons, and baskets. Give each child ten plastic eggs to place on a spoon and race to the finish line.
If an egg drops, they have to go back to the starting point to get a new egg to complete the race. Once any child gets to the finish line, they are to count the number of eggs they successfully took across the finish line and deduct it from the initial number (10). This game is fun and can have your kids solidify their knowledge of subtraction.
Ping pong throwing
The ping pong throwing game is a fun outdoor math activity that can help your child learn counting and number recognition. To play this math game outdoors, you need baskets, ping pong balls or small stones, index cards, and chalk. Get your index cards and use them to label the baskets with numbers.
Call out a number so that your child can write it down with the chalk. When they write the correct number, have your child throw the specified number of balls into the basket. Ping pong throwing can help your kids with numbers identification.
Bounce and Shoot
You need a chalk or number cards, a ball, and a tin can to play the Bounce and Shoot game. Use chalk to write the numbers 1 through 10 on the pavement; you can also mark numbers with cards and put the latter on the pavement. Ask the kids fundamental math problems like, "How much is 10 – 4?" The child should run to the number on the floor, bounce the ball six times, and kick it towards the tin can before going back to have their seat. This game ensures your students understand math questions and are not just guessing answers.
Roll the die
Outdoor math games that involve rolling dice can help your kids with number recognition and understanding of basic operations. To play the Roll the Dice outdoor math game, you need dice and a piece of paper. Then guide the kids as they roll the die and write down the number of black dots they get from every roll.
After a specific number of rolls (like two or three throws) let them add, subtract, multiply or divide the outcomes. For example, a child can roll the die three times and get 6, 2, and 3. Have them sum or subtract the numbers depending on their grade.
Times Table Quest
For the Times Table Quest, get a soccer net, balls, and chalk. Set the soccer goalpost at one end of the playing ground and write numbers 1 – 20 at the opposite end. Ask the children some times table questions like "How much is 2 x 5?"
When a child answers correctly, they should stand on the correspondent number and try to score a goal. Each goal they score should earn them a point. At the end of the game, children should sum up their scores, and the kid with the highest score wins. This math outdoor activity can improve a child's knowledge of times table through healthy competition.
Water Balloon
You need water, balloons, and chalk to play this game. Fill the balloons with water and label them with any numbers you wish. Using the chalk, draw equations on the floor, and the answers should match any number on the balloons. When a child solves an equation and gets the correct result, have them pick and burst the balloon with a corresponding number. You could prepare a worksheet with solutions to predetermine the numbers you can paste on the balloons.
Is Your Child Struggling With Math?
1:1 Online Math Tutoring
Let's start learning Math!
What does the clock say?
To play this game, you need chalk and ample space. Draw a big circle on the playground to represent a clock and add minute marks using different colors of chalk to attract kids. Choose two kids from the lot to be the hour hand and second hand, respectively. For instance, you can call out 6 o'clock, so one child stands on where 6 should be, while the other stands on where 12 should be. You could also complicate the game by asking them to represent half past 9, quarter to 10, etc.
Frog leap
Outside math games may involve jumping and leaping. For this one, you just need a measuring tape and instruction for your kids to jump like frogs from one end to another. After that, they should use the measuring tape to see how far they jumped. This outdoor math game teaches kids measurements.
Math fact? Jump!
For this exciting math activity, you need chalk, flashcards, and a piece of paper with about twenty math equations. To begin, draw grid lines and write numbers in each square. You could do it in a scattered form like 24, 32, 1, 4, 64, etc. so that kids can't guess where any answer falls.
Have two kids compete against each other and make them stay on two opposite sides of the grid line. Put up the flashcard for everyone to see and have the kids solve the equation, then race to the correct answer with both feet inside the square.
Race against the flashcards
For this game, you need masking tape and flashcards. Tape six to ten flashcards on the floor to represent equations like 12 + 42 = X, 13 + 34 =X, etc. Then have your kid call out the answer or write it down.
They can only move to the following mathematical problem after getting the correct answer to the previous one. This game can help kids learn basic math and teach them to work independently.
Conclusion
Brighterly is an online math learning platform with tutors who understand that math does not need to be an enduring task; it can be enjoyable for everyone. So, parents and teachers are encouraged to play math games outside with their children. The platform also suggests exercises that can make kids quickly forget that they are learning math.
Book 1 to 1 Demo Lesson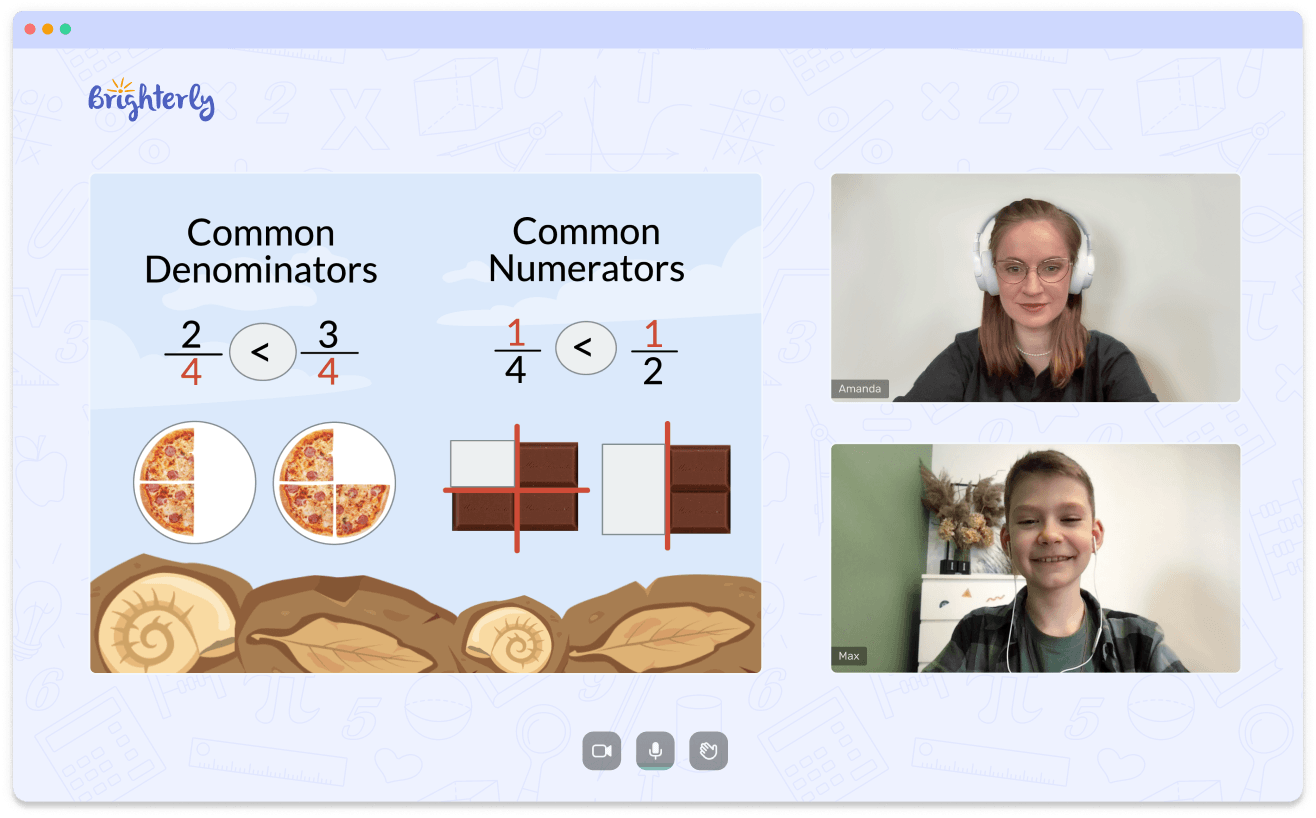 We help children understand Math concepts instead of memorizing.

We will adapt to your child needs to mprove math performance.
Kid's grade
Grade 1
Grade 2
Grade 3
Grade 4
Grade 5
Grade 6
Grade 7
Grade 8
Is Your Child Struggling With Math?
Book 1 to 1 Demo Lesson
Get started