4 minutes read
June 12, 2022
Kindergarten Readiness Checklist
Some parents have kids who have been watching their older siblings, friends, and cousins go to school or kindergarten and come back raving about their teachers and activities they undertook like playing, singing, and more. In such cases, the idea of joining a kindergarten can be an exciting milestone for a child. To others, joining a kindergarten may be a scary step. This article contains information on a kindergarten readiness checklist to help you prepare your kids before they start their kindergarten journey.
Printable kindergarten readiness checklist
You can find a printable kindergarten readiness checklist and use it for taking important notes. Such free printable kindergarten readiness checklist may contain excellent ideas of activities that kids can try before they join kindergarten: learn to paint, identify shapes, and read letters. If you practice with your kid, a transition to a new stage of life may be more seamless when they join kindergarten to begin their formal education.
There are also more straightforward kindergarten readiness assessment checklists for parents to check and note a child's readiness. You can note the skills a kid has already developed and the ones they need to improve on.
Skills Needed
Here is one of kindergarten readiness skills checklists that will help you explore if your kid can join kindergarten.
Language Skills
A child should possess the following language skills:
Use words to express what they want and need.
Make comparisons and know how to differentiate the relationship between first/last, big/little, and under/over.
Communicate in complete sentences to be understood by others all the time.
Writing Skills
A child should:
Write their names and recognize where their names are printed.
Request you to write notes or words to others.
Try to draw, write, or scribble.
Reading Skills
Before a kid joins a kindergarten, try to teach them the following:
Find the first page in their books.
Recognize signs and familiar logos.
Recite the alphabet and differentiate letters.
Recognize their names.
Listen to stories.
Recognize rhyming words (like bat and cat).
Math Skill
Basic math skills for a kindergartener are:
Sorting by size, color, and shape.
Counting objects while pointing at them.
Identifying four shapes: rectangle, circle, triangle, and square.
Counting from 1 to 20.
Identifying basic colors, like red, blue, orange, black, white, yellow, brown, and purple.
Is Your Child Struggling With Math?
1:1 Online Math Tutoring
Let's start learning Math!
Social Skills
Please pay attention if your kid is able to:
Interact with fellow kids.
Pay attention and learn from an adult by following their lead, listening, and watching.
Remember own birthday.
Clean up when they are done playing.
Follow rules and routines.
Ask for help.
Gross Motor Skills
A kid who is ready to go to a kindergarten usually knows:
How to climb stairs.
How to bounce a ball and catch it in the process.
How to hop on one foot.
How to jump with both feet.
How to run.
Fine Motor Skills
Please teach your kid the following skills they will definitely use in the kindergarten:
How to use a pencil and crayon with control.
How to use scissors.
How to copy basic shapes.
How to write actual letters and differentiate marks and shapes.
How to copy basic shapes.
How to join a simple puzzle.
Conclusion
Remember, you can find numerous types of a kindergarten readiness checklist in pdf. But first, help your child to develop good character, try to teach them to read, spend quality time with them, and make memories. These are crucial activities that will make time spent in the kindergarten a special period in your and your kid's lives.
Winter Break Math Camp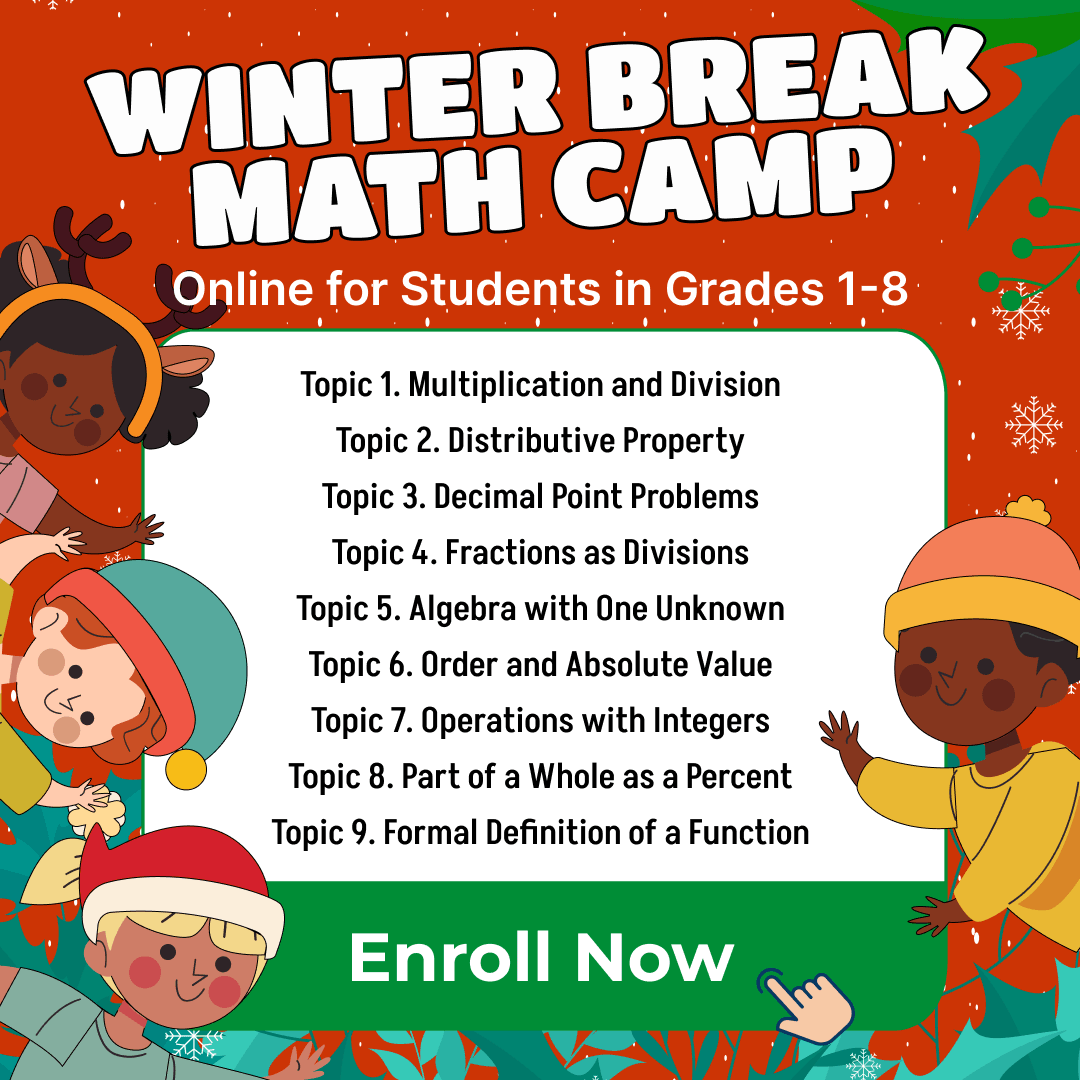 Boost Math Skills this Winter Break at our Camp, Perfect for Students in Grades 1-8!
Kid's grade
Grade 1
Grade 2
Grade 3
Grade 4
Grade 5
Grade 6
Grade 7
Grade 8
Winter Break Math Camp
Enhance Math Skills with Our Program, Perfect for 1st-8th Graders, Aligned with School Curriculum!
Apply Now