>
>

3D Shape Worksheet Kindergarten
3D Shape Worksheet Kindergarten
Shapes are one of the basic topics studied in geometry. Studying with 3d shapes kindergarten worksheets can help younger children succeed in many activities that are necessary for their development. Preschool kids love to learn and often want to learn even though they may not show it. Below are some tips and ideas on how to engage your kindergarteners in the classroom.
Benefits of Using 3D Shape Worksheets for Kindergarteners
You can use free printable 3d shapes worksheets for kindergarteners to help children develop a sense of direction within a given area. As they learn about various shapes, they also develop spatial awareness, which is an essential skill for further studying of math and science.
Another key aspect of learning these 3d shapes worksheet kindergarten is that it helps children develop logic. For example, when kids compare two or more objects, they have to think about how those objects interact with each other and with the area around them.
Is Your Child Struggling With Math?
1:1 Online Math Tutoring
Let's start learning Math!
The key benefit of 3d shapes worksheets for kindergarten is that they allow children to practice identifying shapes in different ways. Offering kids a worksheet where they must fill in the blanks with shapes is an activity that makes kids familiar with the image of each shape. Thus, children will recognize shapes when they see them again on another worksheet or a picture in a book.
3D Shape Worksheet Kindergarten PDFs
The use of 3D shape worksheets helps develop basic motor skills in kindergarteners. They will use their fingers more easily, which also helps become better at other physical tasks. Furthermore, 3D shapes work with many different types of activities and games that you can incorporate into your child's daily routine.
More Shapes Worksheets
Troubles with Geometry?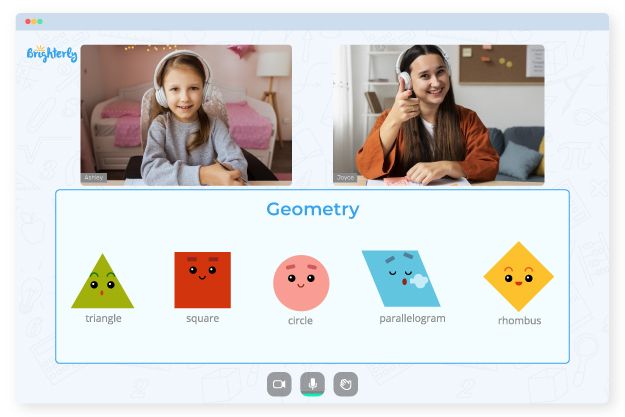 Does your child struggle to master the concept of geometry?

Try studying with an online tutor.
Kid's grade
Grade 1
Grade 2
Grade 3
Grade 4
Grade 5
Grade 6
Grade 7
Grade 8
Is your child having trouble understanding geometry basics? An online tutor could provide the necessary guidance.
Book a Free Lesson