>
>

Shapes Worksheets Preschool
Shapes Worksheets Preschool
Preschool worksheets are often a starting point for most parents and teachers when explaining kids new concepts. Preschool worksheets are fun and exciting. More importantly, they can be of great use in reinforcing the existing knowledge and gaining new information.
Introducing children to fun preschool shape worksheets will help them better understand the basic principles taught in preschool. Primarily, preschoolers will learn how to cut, fold, and glue triangles, rectangles, and other shapes.
Application of Preschool Worksheets
Preschool shapes worksheets provide an opportunity for a child's growth. When children are very young and impressionable, it is vital to introduce them to activities that stimulate creativity and feed imagination. Thus, you can provide kids with drawings or relevant objects to play with or even coloring books that they can work on independently.
Is Your Child Struggling With Math?
1:1 Online Math Tutoring
Let's start learning Math!
Preschool shape worksheets are fun to encourage and enhance early learning skills. Shapes worksheet preschool can help you teach your child all about color, drawing shapes,sizes, and more. You can print these worksheets from your computer and use them repeatedly.
Not only are preschool worksheets great tools for children to learn and practice new things, but they are also great tools for parents. They can help you know what your child is studying in school so that you can fill the gaps in knowledge if there are any.
Shapes Worksheets Preschool PDF
Printable worksheets for preschool work as a testing tool to see if your child understands certain concepts. Additionally, worksheets can help your child develop skills they might not have learned in school.
Shape worksheets for preschool are great in helping children learn and reinforce basic concepts in an interesting way.
More Shapes Worksheets
Troubles with Geometry?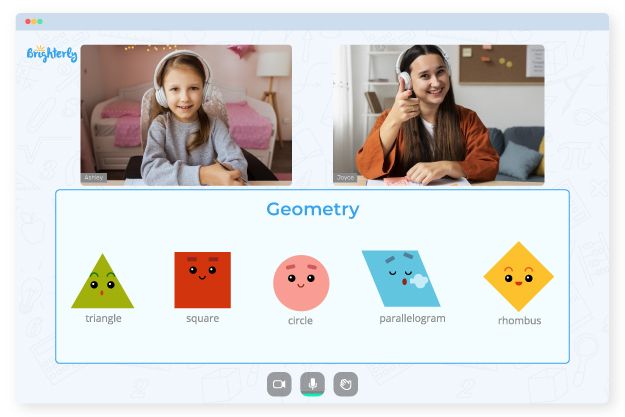 Does your child need extra support with understanding the concept of geometry?

Start studying with an online tutor.
Kid's grade
Grade 1
Grade 2
Grade 3
Grade 4
Grade 5
Grade 6
Grade 7
Grade 8
Is your child finding it challenging to grasp the basics of geometry? An online tutor could be of help.
Book a Free Lesson