>
>

Counting Kindergarten Math Worksheets
Counting Kindergarten Math Worksheets
Counting is a fundamental skill that children begin to acquire in early childhood. It is a complex, multi-stage process that young minds learn by heart before they can move further to addition and subtraction.
You can use additional learning resources to help your child prepare for school and learn counting smoothly. At Brighterly, you can access counting kindergarten worksheets to enhance your child's counting skills and ensure they excel in school math. These tools offer creative interactive counting drills that boost kids' understanding of this topic.
Benefits of Counting Worksheets for Kindergarten
Kindergarten counting worksheets offer several advantages:
Kindergarten Counting Worksheets Make Fundamental Math Easy
Kindergarten worksheets use visuals to explain math to children – fun pictures and illustrative counting examples that align with the common core standards. Instead of numbers, counting drills focus on animals, fruit, toys, and other things kindergartners can easily relate to. Fun and straightforward visuals make counting an easy task for kindergartners.
The Use of a Counting Worksheet in Kindergarten Develops Fine Motor Skills
Little children develop large muscle groups faster than smaller ones. Finger muscles require extra development through exercise – writing, working with clay, assembling LEGO parts, etc. Working on counting worksheets, children learn to hold a pen and coordinate their fingers to circle the correct answers, draw lines, and write numbers. These drills help young students improve their fine motor skills and enroll in school with confidence.
Is Your Child Struggling With Math?
1:1 Online Math Tutoring
Let's start learning Math!
Kindergarten Math Counting Worksheets Help Children Learn by Themselves
Pupils have to work under little supervision during the class – teachers are unable to hover over every student individually. Therefore, parents have to prepare their children to do unassisted work before school. Worksheets will come in handy. By completing math drills in worksheets, small kids learn to process information and apply new knowledge under minimal supervision. They develop decision-making skills and the ability to work independently.
Download Counting Math Worksheets for Kindergarten in PDF
You can rest assured that your child gets professional learning resources if you address Brighterly. At Brighterly, you can get free kindergarten counting worksheets available in PDF. Download any worksheet in a few clicks – no sign-up or subscription is required.
Counting Worksheets
Need help with Counting?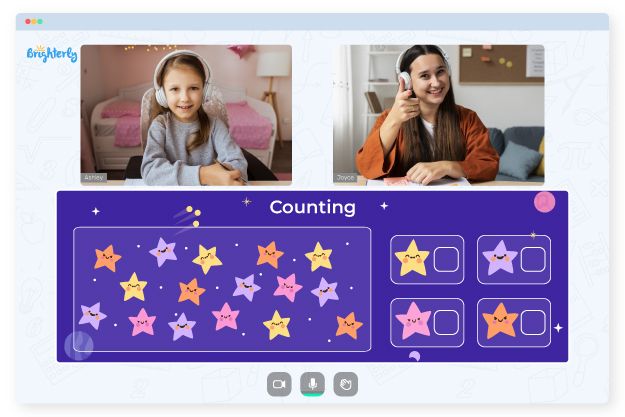 Does your child struggle with understanding counting concepts?

Try learning with an online tutor.
Kid's grade
Grade 1
Grade 2
Grade 3
Grade 4
Grade 5
Grade 6
Grade 7
Grade 8
Is your child having difficulties mastering the basics of math? An online tutor could provide the necessary support.
Book a Free Lesson