>
>

Preschool Counting Worksheets
Preschool Counting Worksheets
Preschool is a smooth transition between kindergarten and elementary school. But young students perform better when they learn new things at their own comfortable pace, especially when learning counting and numbers.
The group setting may not always be comfortable for every child. The good news is that you can help your kid prepare for school by using preschool counting worksheets. At Brighterly, you can access professional worksheets designed to enhance counting skills in preschoolers using fun visuals and mini-games.
Benefits of Using Counting Worksheets in Preschool
Check below why counting worksheets are recommended in preschool:
Counting Worksheets for Preschool Solidify Counting Skills
Worksheets contain illustrative visuals that represent numbered groups of objects. Pictures with numbered fruits, cakes, sweets, and other items help children understand counting with hands-on examples and develop rote counting, counting from a number, and other essential math skills. By repeating numbers, children learn the numbers' order and start counting more confidently.
Is Your Child Struggling With Math?
1:1 Online Math Tutoring
Let's start learning Math!
Counting Preschool Worksheets Develop Attention Span
Young kids can focus on a single activity for a limited time – usually several minutes. Some kids can't sit still – they prefer sprinting around the playground for hours. But school is no joke – it requires children to channel their attention for a much longer time. Preschool helps little kids develop this attention capacity, and worksheets can boost this process.
Brighterly's worksheets use colorful images, counting puzzles, and games that retain kids' attention for longer and help them enhance their attention span. Moreover, you can use sheets with dedicated themes, such as Brighterly's thanksgiving counting worksheets for preschoolers.
PreK Counting Worksheets Promote Numeric Fluency
Printables encourage children to read and write numbers alongside completing assignments. By seeing, writing, and spelling number words, children learn them by heart and develop the foundation for numeric fluency. Plus, kids refine their reading and writing skills which will help them perform better at school.
Download Preschool Counting Worksheets in PDF
Printable worksheets make learning easy for children and parents alike. Your kid enjoys fun counting games and puzzles while you receive free and convenient learning materials for your child. At Brighterly, you can download preschool and pre-k counting worksheets for free in a blink of an eye. Just open the chosen worksheet, download it, and print it.
Counting Worksheets
Need help with Counting?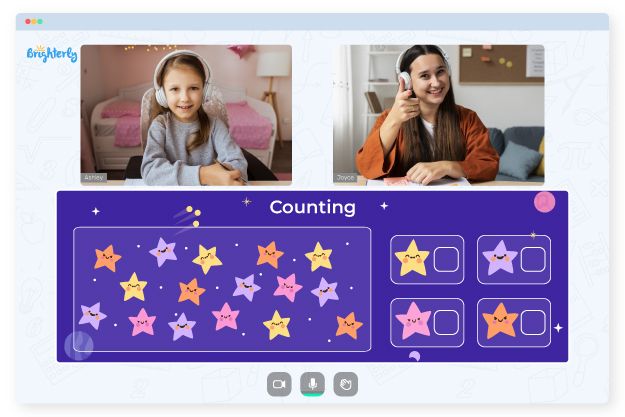 Does your child struggle to understand the basics of counting?

Try lessons with an online tutor.
Kid's grade
Grade 1
Grade 2
Grade 3
Grade 4
Grade 5
Grade 6
Grade 7
Grade 8
Is your child having trouble grasping the fundamentals of counting? An online tutor could be the solution.
Book a Free Lesson