6 minutes read
April 17, 2022
Kindergarten Math Skills Checklist
Parenting
When a child begins to learn math, they acquire skills that will be built as a kid progresses. Such skills not only help them understand more complicated math concepts, but are also essential to a child's day-to-day living as kids will often use the acquired knowledge to get by. A child who fails to get basic kindergarten math skills will have difficulties studying further at school. This article will look into the math skills you should teach your kindergartener to give them a solid foundation for advanced education.
Math Skills for Kindergarteners
What math topics do kindergarteners learn? The answer is simple: kindergarteners learn basic counting, number and shape recognition, single-digit subtraction and addition, etc. These concepts serve as a child's first attempt to build math skills that are required to advance to elementary school program. Here are the major math skills kindergarten kids should possess.
Number recognition and counting
The first and most important thing in the kindergartener's math skills checklist is numbers. To hit their kindergarten math goals, a child must first learn to recognize and count numbers. Learning how to recite the numbers from 1 to 10 is our first and earliest memory of math.
Numbers hold together the entire foundation of math, and without basic knowledge of numbers, a child cannot proceed. Numbers are like letters of the English alphabet because before you can spell a word, you must first know the alphabet and how the letters sound. Similarly, before moving forward in math, you must know how to count from 1 to 10, then to 100, etc. While kids do not have to keep counting endlessly due to the infinite nature of numbers, they have to learn at least the basics which should help them calculate larger numbers.
Counting seems simple from a distance, but it is easy for kids to miss a number or two at the beginning. Children, when they start, may need extra help to remember numbers, which is why math activities and games are vital learning aids.
Addition and subtraction skills
Once a child has grasped the concepts of numbering and counting, they learn more complex math topics like addition, subtraction, multiplication, and division. Each of these skills comes with different difficulty levels that a child must scale. If you were using kindergarten math skills assessment lists to monitor the progress of a child in math, then you would most likely start with evaluation of addition and subtraction skills.
Children start adding and subtracting small numbers, then move to math facts. Math facts are basic calculations with the use of a set of interchangeable numbers. The results you will get from either subtracting, adding, multiplying, or dividing a group of numbers within a family will always be a number within that family.
An easily recognizable one is the 2, 3, 5 families. For instance, 2+3=5, 3+2=5, 5-2=3, and 5-3=2. After this stage, your kindergartener can move to adding and subtracting larger numbers.
Is Your Child Struggling With Math?
1:1 Online Math Tutoring
Let's start learning Math!
Multiplication and division skills
Multiplications and divisions seem harder, but they are just additions and subtractions with extra steps. Kids will have to learn how to add numbers repeatedly to solve multiplication problems. They will also have to learn how to subtract repeatedly for divisions. Each math skill in this section is somehow intertwined. So, finding a way to teach kids multiplication and division while explaining the relationships between the concepts is better than teaching the topics independently.
Shapes and form recognition
Shapes are an integral part of our everyday life, and a kindergarten period is a time when kids learn about shapes. If you ever wanted to ask your child "What do you learn in kindergarten math lessons?", try to think of the first time you heard the word triangle. The chances are that you struggled with the pronunciation and were fascinated with the shape representations.
Teachers use pictorial and creative examples to tell children about common shapes. For example, all kids could watch the shapes on the board and use a colorful dough to create them. The forms they make do not have to be perfect; as a teacher, you just need to know that by their attempts and efforts, children move in the right direction. As they advance in the class, they will learn about more complicated shapes like the hexagon, octagon, parallelogram, and the rest.
Measuring skills
Kindergarten teachers set goals and objectives for each class, and one of such goals is teaching measurement and data. Slowly and with as much simplicity as possible, teachers will introduce kindergarteners to measuring. Measurements explain the 'bigger than, smaller than' (>, <) concept, which may first be confusing for your kindergartener. While learning to measure sizes and lengths, children will also learn to sort, organize, and categorize information.
Measurements may seem like an advanced skill for kindergarteners, but you will see why understanding the basics is essential as kids grow. A kindergartener should at least know what to say when they encounter different heights and sizes. For example, they can ration the volume of food they eat.
Conclusion
What math topics should a kindergartener know? We have listed the core math skills for parents who intend to homeschool their kids or help with homework. To learn math skills, kindergarten children require extra care, so you can register them with Brighterly. This educational platform's tutors are attentive and always opt for innovative ways to help your kindergartener learn with fun.
Math Catch Up Program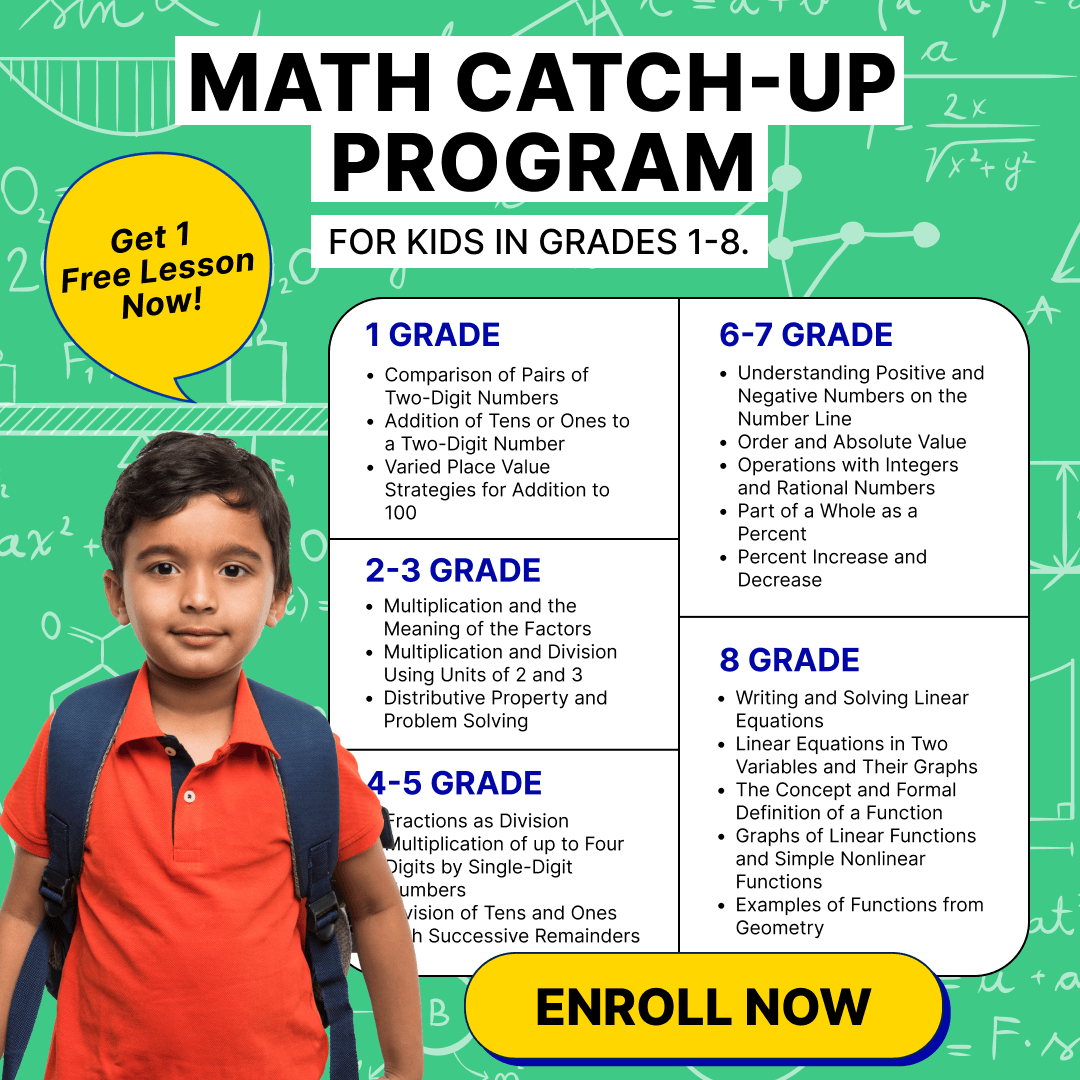 Learn Math Simple - Fast - Effective

Overcome math obstacles and reach new heights with Brighterly.
Kid's grade
Grade 1
Grade 2
Grade 3
Grade 4
Grade 5
Grade 6
Grade 7
Grade 8
Simple - Fast - Effective
Overcome math obstacles and reach new heights with Brighterly.
Select Your Grade