7 minutes read
June 28, 2022
Why Is School So Stressful?
Parenting
Students may begin to develop stress as early as kindergarten. The problem may develop prematurely when kids start feeling pressure from their parents and peers. From an early age, children start to turn their play into serious competition; thus, the joy of learning will bring anxiety, which in turn develops into a struggle to excel. Even the friendships they create will end in social connections to get jobs. This article will dive deep into the reasons why school is so stressful for kids.
What Is Anxiety in Schools?
It is common for children of all ages to develop school-related anxiety. Some forms of anxiety are easy to identify, like when you notice your child is always becoming nervous as they approach the exam period. Other times, the anxiety they experience in class may look entirely different, like developing an upset stomach, learning disorder, or becoming angry and disruptive.
There are many types of anxiety children will develop in school, and some of them may not be easy to detect. That is why school is so stressful for them. The common thing about anxiety is that it locks up a child's brain, making time spent in school hard, stressful, and boring for anxious learners.
7 Things Causing Stress at School
You must be wondering "Why is school so stressful and depressing for your children?" Kids could be experiencing a different form of stress or anxiety, which needs to be addressed before it has negative effects on youngsters. Here are some of the things causing stress to school students:
1. Social Pressure
Social anxiety in school may develop when students begin to compete for their teacher's attention. Kids will also look for opportunities to work competitively or collaboratively with their peers throughout the year to solidify their friendship.
Students who engage in social activities that don't involve their teachers or peers will in most cases be distracted while in the classroom. Some students find it easy to connect with others or are naturally out-going. On the other hand, some may experience social awkwardness that may range from shyness to not fitting in a conversation, which makes kids anxious.
Is Your Child Struggling With Math?
1:1 Online Math Tutoring
Let's start learning Math!
2. Change in Routine
Some events like assemblies or fire drills, when incorporated into the regular school schedule, may interrupt children's normal routine. Such situations can disrupt their confidence.
Why is school so hard and stressful to some students? The reason is in the changes which affect their routine. Before you introduce any changes, it would be best to try and announce them in advance. You can also acknowledge any upcoming change from time to time to prepare kids and not catch them by surprise.
3. Lack of Enough Sleep
You may think that lack of enough sleep is a problem that impacts only adults. But it may influence even school-going children who have jam-packed schedules full of homework, family time, extracurricular, and some downtime daily. Such kids will not get enough sleep.
When children continue to operate under a sleep deficit, they will show signs of poor coordination, moodiness, poor cognitive functioning, and other negative states. Consider encouraging your kids to go to bed early to get quality sleep.
4. Extracurricular Activities
Many students look forward to attending school because they enjoy extracurricular activities like sports, arts, music, and club participation. Most of these activities are competitive and require consistent practice and commitment to teammates and coaches. One has to go for training for some sports even during the off-season, and students will rarely have a break.
Studies show that to develop a high level of skills to win, a person has to spend approximately close to over 10,000 hours practicing. Therefore, students will start experiencing stress as they continue pushing themselves to be the best in their discipline area because their performances are in the public domain. For instance, when an athlete misses to show up for a performance, everyone will blame them for their team's loss.
Stress can lead students to abandon taking part in activities they enjoy. It can also influence their academic performance in case they focus so much on their extracurricular activity.
5. Test Anxiety
Many students experience test anxiety at different levels of their studies, from kindergarten to postgraduate. No matter if a student has prepared or not prepared well for an exam, test anxiety can affect their performance. Both parents and teachers have responsibilities to tell their kids about the ways to reduce test anxiety and help them get better grades.
Is Your Child Struggling With Math?
1:1 Online Math Tutoring
Let's start learning Math!
6. Organization
If students always lose their school items, keeping their backpacks, papers, and other items will become a worrying task accompanied by stress. Why is school so boring and stressful to some students? To answer this question. observe kids and you will find out that some keep rifling through their stack of papers and won't find what they are looking for. Such students need help in organizing things to avoid getting frustrated, especially when they hate school and find it challenging to engage with their studies. Outside help from a family member or tutor can motivate kids to learn strategies for staying organized.
7. Unstructured Time
Unstructured time within a school, like passing periods and lunch, may also contribute to students developing intense anxiety. In a classroom, children may know when to talk or ask questions. But there are times when other people may be present, and some students will have difficulty interacting because they are not used to that type of conversation.
If you discover your child faces a problem having a meaningful conversation in an unstructured situation, please talk to their teachers or a school administrator to help a kid learn to deal with different situations. For instance, instead of a student eating at their cafeteria, a teacher can invite them to eat together in a classroom.
Conclusion
School has so much to offer, but both academic and non-academic activities can lead to students developing stress or anxiety. Parents and teachers can help children mitigate the impact of anxiety by identifying the factors that cause them and coming up with creative solutions to deal with them. The most important thing is to remove as many barriers as possible, thus eliminating their impact on children's learning and allowing them to enjoy the benefits of school life.
Winter Break Math Camp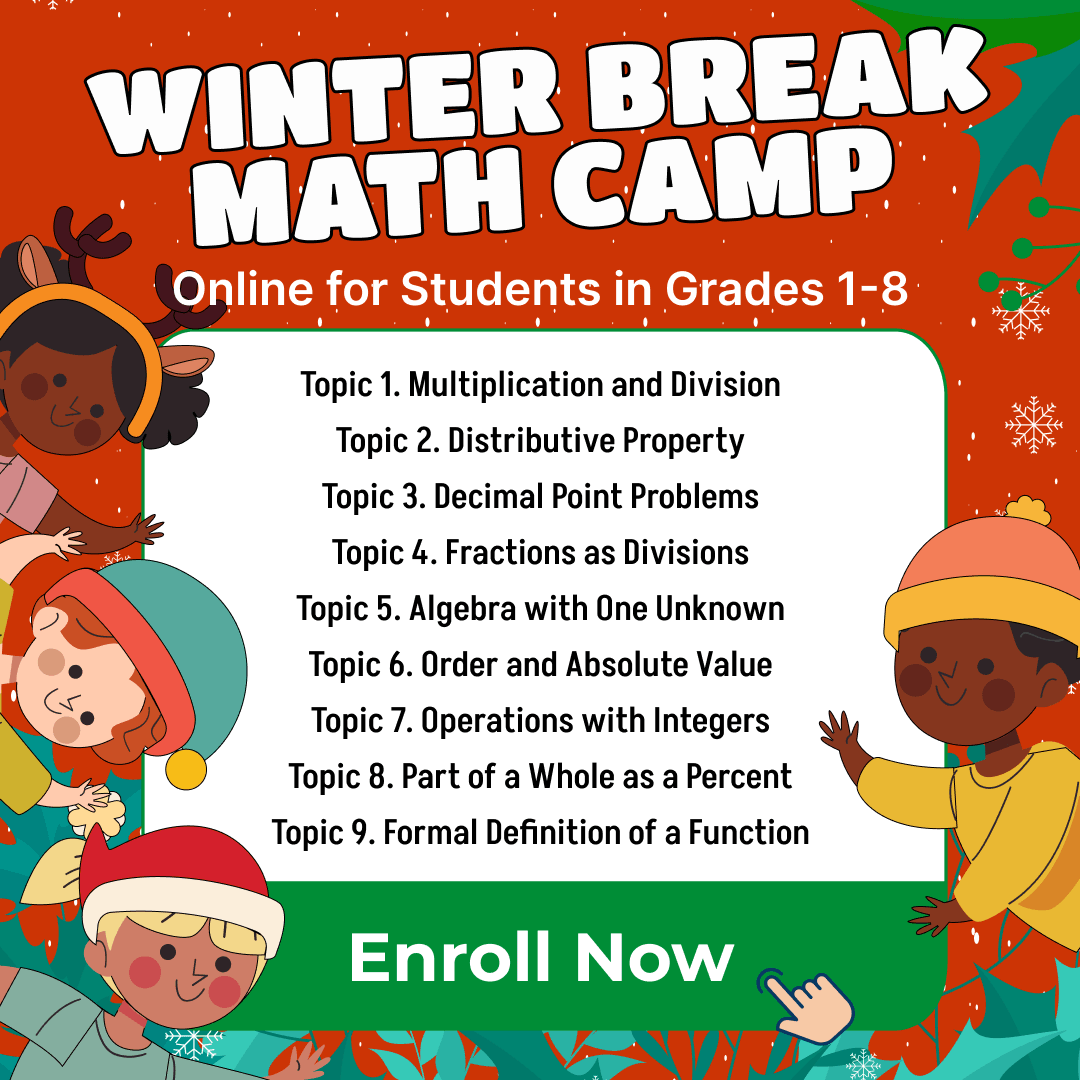 Boost Math Skills this Winter Break at our Camp, Perfect for Students in Grades 1-8!
Kid's grade
Grade 1
Grade 2
Grade 3
Grade 4
Grade 5
Grade 6
Grade 7
Grade 8
Winter Break Math Camp
Enhance Math Skills with Our Program, Perfect for 1st-8th Graders, Aligned with School Curriculum!
Apply Now