>
>

6th Grade Algebra Worksheets
6th Grade Algebra Worksheets
In algebra, expressions are formed by combining symbols with arithmetic. Algebra has a profound effect on many other areas of mathematics and science; hence, it is essential that students, particularly sixth graders, learn to solve these expressions. 6th grade pre algebra worksheets offer a suitable approach to help kids master algebra and related concepts. The worksheets are arranged based on difficulty level — from pre-algebra to standard or elementary and abstract algebra.
Brighterly's free algebra worksheets grade 6
Sixth graders learn algebra through equations, expressions, and sequence of operations.  Brighterly's pre algebra worksheets 6th grade are an excellent starting point for kids to master algebra concepts.
Your sixth-grade kid may master algebraic expressions, equations, and operations with a worksheet easily. Algebra worksheets cover series and sequence, algebraic expressions and operations, and linear equations. Tutors may use these worksheets to set homework for their students; parents may also use them to make their kids practice more. Irrespective of the intention behind using the worksheets, you can rest assured that kids will benefit massively.
Benefits of algebra 6th grade worksheet
Algebra worksheets help make your kids study and master algebraic concepts. Below are some of the worksheets' benefits.
Is Your Child Struggling With Math?
1:1 Online Math Tutoring
Let's start learning Math!
The worksheets are interactive
The sixth-grade algebra worksheets are designed by experts with holistic knowledge of children's learning abilities. Hence, the worksheets are designed to capture children's attention. These sheets offer a dynamic learning approach to pupils by incorporating visual representations of key algebraic ideas.
The worksheets follow state-approved curriculum
Tutors can combine practice with 6th grade algebra word problems worksheet with regular class lessons for the best results. The worksheets offer exercises in a logical progression from simpler to more complex mathematical ideas, allowing pupils to build on their previous knowledge. If these worksheets do not follow the curriculum, the tasks may confuse kids.
The worksheets follow step-by-step learning approach
Sixth grade algebra worksheets comprise a variety of problems to familiarize pupils with the subject better. Teachers and parents may use the sheets to keep tabs on their child's development. As students go through the course material, they encounter relatively simple problems before progressing to complex ones.
Printable 6th grade algebra worksheets
Brighterly's algebra worksheets for sixth graders are printable, which makes it easier for kids to learn. Also, your kids will be able to solve the same questions repeatedly, mastering necessary topics. You can print the worksheets to make them available at any time.
Struggling with Numbers?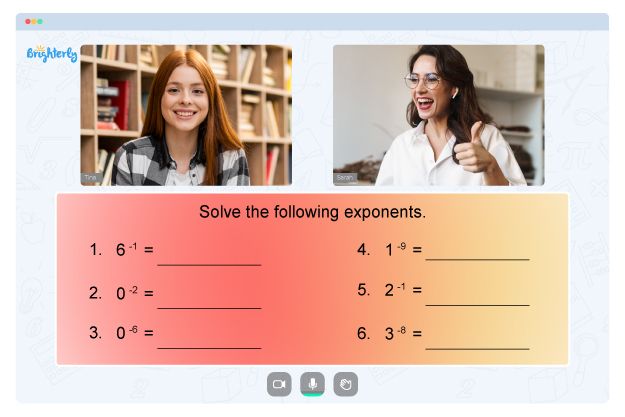 Does your child struggle to understand the fundamentals of numbers?

Try studying with an online tutor.
Kid's grade
Grade 1
Grade 2
Grade 3
Grade 4
Grade 5
Grade 6
Grade 7
Grade 8
Is your child having trouble grasping the concept of numbers? An online tutor could provide the necessary guidance.
Book a Free Class