>
>

6th Grade Multiplication Worksheets
6th Grade Multiplication Worksheets
Since division is just the opposite of multiplication, it is more straightforward to teach after pupils have mastered the former. The foundational knowledge of multiplication that sixth-graders gain is essential for moving on to more complex mathematical operations later. Grasping multiplication is critical for grade six students, and 6th grade math worksheets multiplication presents a perfect approach to make learning seamless.
Brighterly's free multiplication worksheets grade 6 resources
Sixth-grade multiplication worksheets come with numerous benefits for students and tutors. The worksheets comprise word problems and other exercises that can boost kids' multiplication skills.
Practicing by solving a diverse range of problems is the most efficient approach to learning multiplication fundamentals. Using multiplication worksheets 6th grade resources will give kids the knowledge and confidence they need to perfect their multiplying skills and learn other math concepts.
Is Your Child Struggling With Math?
1:1 Online Math Tutoring
Let's start learning Math!
Brighterly's multiplication worksheets are specially designed by top professionals with years of experience in teaching kids. Hence, the organization and design of the worksheets would let any student go through the problems with ease. Also, the attractive format of the multiplication worksheets for 6th graders ensures that kids will not get tired while learning.
The use of worksheets has plenty of benefits for tutors, parents, and students. It lessens the workload of teachers by reducing the time spent on teaching. As kids practice with the worksheets, they will grasp concepts quickly.
Printable multiplication worksheets for 6th grade
You can download printable worksheets from the Brighterly website to help your kids study offline. Since the worksheets are in paper format, kids can repeatedly study, which leads to mastery and expertise. The offline version of the multiplication 6th grade worksheets allows kids to study without supervision of their parents or tutors.
More Multiplication Worksheets
Problems with Multiplication?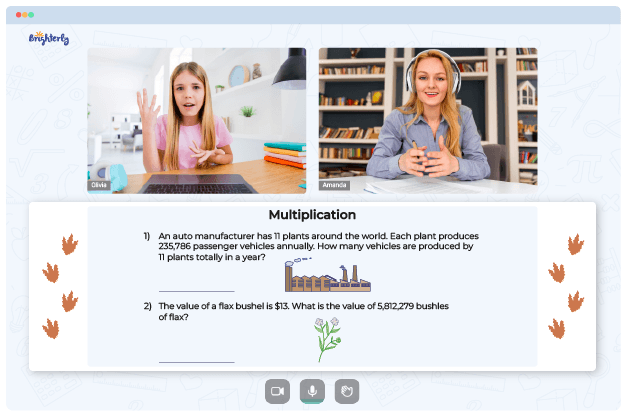 Does your child need additional support with understanding multiplication concepts?

Start lessons with an online tutor.
Kid's grade
Grade 1
Grade 2
Grade 3
Grade 4
Grade 5
Grade 6
Grade 7
Grade 8
Is your child finding it challenging to master multiplication lessons? An online tutor could be the solution.
Book a Free Class