>
>

Addition Worksheets For Kindergarten
Addition Worksheets For Kindergarten
Kindergarten lays the foundation of math skills in children. It's a period when little students discover numbers and acquire fundamental math knowledge. Thus, many parents seek aid to prepare their children better for upcoming school math challenges.
At Brighterly, professional tutors provide kindergarten addition worksheets with pictures to strengthen your student's math foundation. Brighterly's worksheets contain helpful info as well as addition exercises for kindergartners to enhance their math skills.
Benefits of Using Addition Worksheets in Kindergarten
Brighterly's kindergarten worksheets help kids improve math skills and prepare for school in the following ways:
Addition Kindergarten Math Worksheets Teach Children to Learn Independently
School teachers can't dedicate their attention to each student simultaneously, so kids should learn to process new information by themselves. They can do so by doing math tasks unassisted, and math worksheets fulfill this purpose to the fullest.
Children learn to make independent decisions and think logically by working on addition worksheets individually.
Is Your Child Struggling With Math?
1:1 Online Math Tutoring
Let's start learning Math!
Math Addition Worksheets for Kindergarten Train Children's Attention
Little kids have a limited attention span which is insufficient for complex mental activities like math drills. Kindergarten addition worksheets foster children to concentrate on the assignment and produce mental effort for an extended time.
It will become a valuable skill for kids as they need to focus and absorb knowledge most efficiently. This way, kindergartners gradually get prepared for the prolonged mental activity required in school.
Work with Adding Worksheets in Kindergarten Boosts Math Fluency
Kindergartners perform basic addition like 2 + 2, 3 + 3, and so on. They learn to count to 10 and add within this range. Teachers do not require children of this age to solve math equations for hours straight and give them a moderate workload. But sometimes, your kindergartner might not receive enough math drills, enrolling in a school with little understanding of math.
If it's the case, a student will begin to struggle from the first math lesson. Worse yet, your kid will have no idea what their peers are doing in the class if they did not study basics in the kindergarten.
The solution comes in the form of math worksheets for kindergarten. You will safeguard your child from upcoming school struggles by incorporating extra math aid like addition worksheets. Most importantly, your student will get used to math assignments and develop computation skills.
Free Printable Addition Worksheets for Kindergarten in PDF
At Brighterly, you can access free printable addition worksheets for kindergarten developed by professional teachers. These learning materials are designed to foster children's interest in math and improve computation skills and a general understanding of math.
Addition Worksheets
Problems with Addition?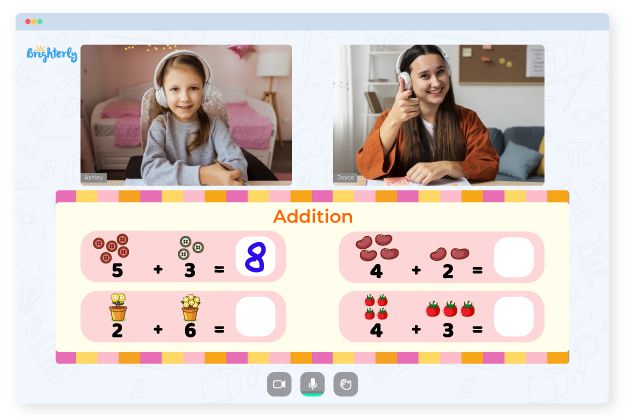 Does your child need additional help with understanding addition concepts?

Start studying with an online tutor.
Kid's grade
Grade 1
Grade 2
Grade 3
Grade 4
Grade 5
Grade 6
Grade 7
Grade 8
Is your child finding it challenging to master the basics of addition? An online tutor could be the solution.
Book a Free Class