>
>

Single Digit Addition Worksheets
Single Digit Addition Worksheets
Math has never been easy, but you can try to make it an exciting subject to learn for your children. Many parents search for quick solutions to help their children understand numbers and math operations.
Brighterly has prepared one-digit addition worksheets for you. These learning materials are designed to help children understand numbers and addition within 10. Accompanied by fun pictures, these assets will come in handy for kindergartners and first-graders.
Benefits of Using Single-Digit Addition Worksheets
Single-digit addition worksheets give several advantages to parents and children:
1-Digit Addition Worksheets Illustrate How Basic Math Works
Students need to practice math concepts over and over again to gain fluency. On the other hand, repetitive drills that never vary even remotely will sooner or later avert even the most excited youngsters. Math worksheets are worth trying if this scenario plays out.
Adding single-digit numbers worksheet can diversify students' routines. Colorful, clear, straightforward, and entertaining exercises will help little students focus on the nature of addition and practice math without tears.
These learning materials will help kindergartners and first-graders solidify the topic and move further to more complex math.
Is Your Child Struggling With Math?
1:1 Online Math Tutoring
Let's start learning Math!
Single-Digit Addition Worksheets Help Identify Knowledge Gaps
Young students learn to think critically and logically to solve problems they haven't met before. Once they learn 2 + 2, they have to apply addition methods to 3 + 3 or 4 + 4. In this case, single-digit worksheets will help you identify whether your child successfully applies learned strategies to new math problems.
Eventually, you will see the gaps in your child's knowledge by accessing their performance. Once you identify when things go wrong, you can fix the problem before it wreaks havoc on your kid's final grades.
Single-Digit Addition Worksheets Are Convenient Learning Resources
You will benefit from these materials if your child needs diversified and entertaining math drills. You can save hours on custom math exercises if you add single-digit numbers worksheet to your child's homework. At Brighterly, you will get professional materials developed according to common core standards.
Free Printable Single-Digit Addition Worksheets in PDF
Homeschoolers understand how painful it might be to search for valuable learning materials for hours straight when everything you click on asks you for a credit card or a subscription. Brighterly releases parents from this kind of headache by developing entirely free single-digit math worksheets accessible in a few clicks. All you need to do is choose a worksheet and print it.
Addition Worksheets
Problems with Addition?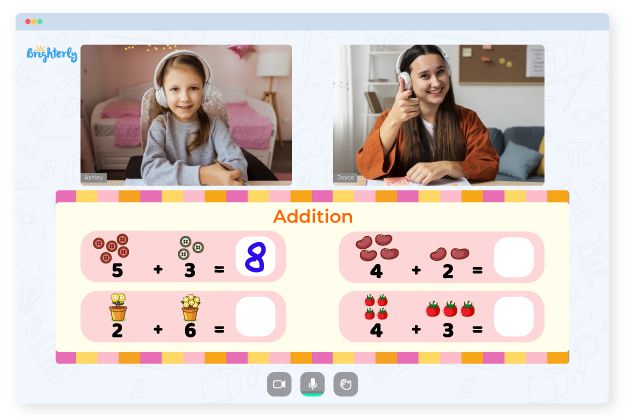 Does your child struggle to grasp the fundamentals of addition? Try lessons with an online tutor.
Kid's grade
Grade 1
Grade 2
Grade 3
Grade 4
Grade 5
Grade 6
Grade 7
Grade 8
Is your child having difficulties with the basics of addition? An online tutor could provide the necessary support.
Book a Free Lesson