>
>

Counting Money Worksheets 2nd Grade
Counting Money Worksheets 2nd Grade
2nd grade counting coins worksheets are powerful tools to acquaint students with the ideas of cash, monetary value, and counting coins. In addition to teaching them fundamentals of multiplication and division facts worksheets also teach students life skills.
About Counting Money Worksheets 2nd Grade
Students can understand various currencies and their respective values by practicing with counting coins worksheets 2nd grade. They can learn to distinguish between notes and coins and comprehend their various denominations. Kids can get to know about different nations' exchange rates and currency symbols.
Is Your Child Struggling With Math?
1:1 Online Math Tutoring
Let's start learning Math!
The Benefits of Counting Money Worksheets for Second Grade
Counting coins worksheets for 2nd grade are an organized and coordinated way to deal with different cash-related questions. Students can establish a solid foundation in fundamental money concepts by using 2nd grade counting money worksheets, which assists them in their subsequent financial endeavors.
The fact that counting coins worksheet 2nd grade offers a variety of question formats is one of the most significant benefits of these tools. The worksheets' format allows kids to think critically, not just duplicate processes to arrive at generic solutions.
Struggling with Money in Math?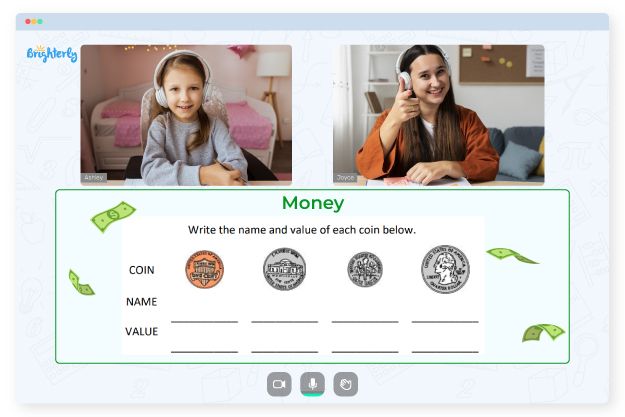 Is your child having a hard time mastering money in math?

An online tutor could be the answer.
Kid's grade
Grade 1
Grade 2
Grade 3
Grade 4
Grade 5
Grade 6
Grade 7
Grade 8
Does your child need help with understanding money in math? Try studying with an online tutor.
Book a Free Class