>
>

Elapsed Time Worksheets
Elapsed Time Worksheets
Because time lets us manage our daily activities effectively, it is a fundamental concept. We wouldn't be able to plan our meals, manage our work and personal lives, or schedule our appointments if we didn't have time. Therefore, elapsed time is an essential concept to teach children. Elapsed time worksheets are tools that make teaching this concept easy for tutors and exciting for students. 
In this article, we will discuss what elapsed time worksheets are, how to utilize them, and their advantages.
About Elapsed Time Worksheets
Elapsed time number line worksheets are valuable teaching tools for children to learn about time and how it passes. The sheets can assist children in developing the essential life skill of calculating elapsed time which they will use throughout their lives. Moreover, elapsed time worksheets can assist children in fostering their critical thinking abilities and thinking capacity.
Time elapsed worksheets can be used in instructive settings, including homerooms, mentoring meetings, and self-teaching conditions. In addition, the elapsed time worksheet can be modified to meet the requirements of children of various learning styles and grade levels. Elapsed time worksheets free are cost-effective and accessible as well as assist kids who struggle with figuring out time progression.
Teachers and parents can use various teaching methods to ensure that kids understand the idea of time passing. They can, for instance, illustrate the concept of elapsed time to children through real-world examples. They also contain visual aids like clocks, timers, and calendars to help children understand the concept of elapsed time and see how time moves.
How to Use Elapsed Time Worksheets
When teaching children about elapsed time, it is essential to start with simple examples that they can easily understand. That way, the elapsed time worksheet PDF can build their confidence and lay the foundation for more complex problems. An example is asking them to calculate the time between two consecutive hours, such as 1:00 p.m. and 2:00 p.m. or 2:00 p.m. and 3:00 p.m.
Alternatively, try real-life examples. For instance, you might ask them to calculate the time since they woke up and had breakfast or started working on a project. Children can better grasp the time's relevance and importance by relating the concept of elapsed time to real-world scenarios.
Is Your Child Struggling With Math?
1:1 Online Math Tutoring
Let's start learning Math!
Providing feedback to your kids or students as they work on elapsed time worksheets PDF is also essential. For example, if they make a mistake, show them where they went wrong and explain how to do it correctly. This approach can help kids better understand the concept and avoid making the same mistake. Positive reinforcement, such as praise for a job well done, can also help build children's confidence and motivate them to continue learning.
Benefits of Using Worksheets on Elapsed Time 
Free elapsed time worksheets can effectively improve a child's time management abilities. By teaching children how to calculate the time between two events, elapsed time worksheets help them plan and manage their time more effectively. It is a critical life skill that can benefit in many areas, from academics to personal relationships.
Elapsed time worksheets can also further develop a child's overall math abilities. Calculating elapsed time requires deductive reasoning and math-related skills such as addition, subtraction, and multiplication. By practicing these skills, children can improve their overall math proficiency, which can help them excel in other areas of their academic and professional lives.
These worksheets enhance a child's attention to detail. For example, solving elapsed time problems requires children to pay close attention to specific details, such as start and end times and the units used. By practicing these skills, children can improve their ability to focus on details and apply them to other areas of their lives.
Need help with Time in Math?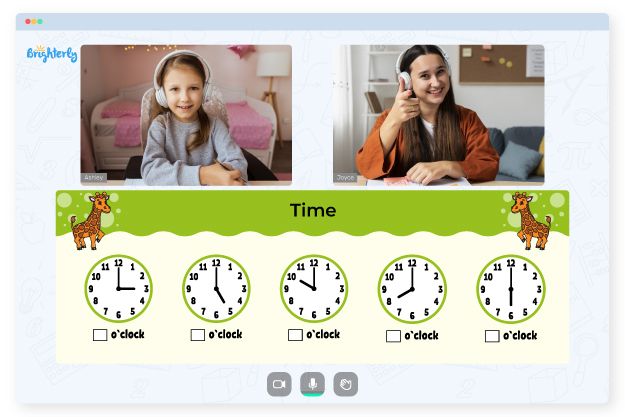 Is your child having trouble understanding time in math fundamentals?

An online tutor could provide the necessary guidance.
Kid's grade
Grade 1
Grade 2
Grade 3
Grade 4
Grade 5
Grade 6
Grade 7
Grade 8
Does your child need extra help with mastering time in math concepts? Start lessons with an online tutor.
Book a Free Class