Rectangle Worksheets
Kids learn about rectangles in grade school, and with each grade, they learn other complex parts of solving problems around a rectangle. Teachers, tutors, and parents alike have to help the kids gauge their knowledge of the rectangle after classes and ensure that they practice using the rectangle worksheet.
Benefits of using the rectangle worksheets for preschool
Preschool is an important stage of children's educational lives, as it is when their math foundation begins, and it determines how well they can understand math concepts as they grow. Here are some of the benefits of using rectangles worksheets for preschool.
They help kids practice
Using the rectangle worksheets, preschool kids can often practice at home to get the idea of solving rectangles better.
Is Your Child Struggling With Math?
1:1 Online Math Tutoring
Let's start learning Math!
The more time they spend on the rectangle worksheets, the better they get at recognizing and solving the problems around rectangles. Using the rectangle tracing worksheet, they can quickly learn how to draw rectangles.
They are fun
These worksheets are also fun, and they keep the kids engaged after school, improving their remembrance of rectangular shapes, and making it easy for them to point objects out in real life.
Download rectangle worksheets PDF
There are many printable rectangle worksheets available for download on the internet. Instead of going through the trouble of preparing one as a teacher, you can download one off the internet.
Printable rectangle worksheets for preschool kids come in different types and colors. Some come with objects on them that make them fun and engaging for the kids. You can also get those with answer keys at the back so the kids can correct themselves if they are wrong and go back to solving again.
Problems with Geometry?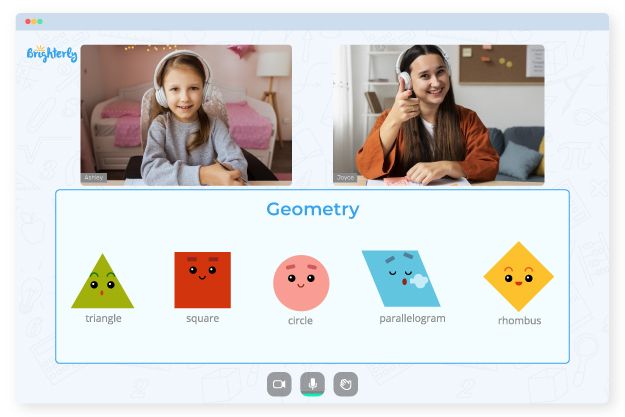 Does your child struggle to keep up with geometry lessons?

An online tutor could be the answer.
Kid's grade
Grade 1
Grade 2
Grade 3
Grade 4
Grade 5
Grade 6
Grade 7
Grade 8
Is your child finding it challenging to grasp geometry? An online tutor could provide the necessary help.
Book a Free Class