>
>

Liquid Measurement Chart – Definition with Examples
Liquid Measurement Chart – Definition with Examples
Welcome to Brighterly, where learning is both a journey and a joy. Today, we dive into the fascinating realm of liquid measurements. As we navigate the ebb and flow of this topic, we'll introduce you to the concept of a Liquid Measurement Chart, a powerful tool designed to bring clarity to the sometimes murky waters of volume and capacity. Here at Brighterly, we believe in a holistic learning experience that combines education with entertainment, transforming complex concepts into easily digestible chunks of knowledge. We've crafted this guide not just to impart information, but to spark curiosity and inspire a lifelong love for learning.
Our interactive Liquid Measurement Chart is more than a static table of equivalents—it's a dynamic learning resource that encourages active engagement. We've included vivid visuals and real-world examples to make this learning journey relatable and fun. Whether you're trying to figure out how many cups make a gallon or how to convert liters to quarts, this chart has got you covered. So, buckle up and get ready for an adventure into the world of liquid measurements with Brighterly, where learning meets fun and practicality.
Liquid Measurement Chart
A Liquid Measurement Chart is more than a handy tool—it's the key to unlocking the mysteries of volume and capacity. This chart serves as a bridge between various units used to measure liquids, acting as a translator between gallons, quarts, pints, cups, and even tablespoons and teaspoons. Understanding this chart not only simplifies daily tasks such as cooking or conducting science experiments, but it also fosters a sense of curiosity about the world around us. How much juice can a gallon jug hold? How many teaspoons are there in a cup? The answers to these questions and many more lie within the realm of the Liquid Measurement Chart. As an interactive learning resource, it invites learners to explore and discover the intricate relationships between these different units of measurement. With its clear, concise structure, it transforms complex concepts into easy-to-understand visual representations, creating an engaging and effective learning experience.
Unit Conversion
Unit Conversion is a fundamental concept that permeates almost every aspect of our lives. From cooking to shopping, from science experiments to art projects, the need to convert measurements from one unit to another is ubiquitous. It's the process that lets us know that 4 cups of water are equivalent to about 0.95 liters, allowing us to follow a recipe accurately even if our measuring jug only indicates liters. But Unit Conversion isn't just about making everyday tasks more manageable—it's also about understanding that different ways of measuring the same thing can coexist. It's a concept that fosters adaptability and flexibility, promoting a deeper understanding of the world around us. Whether it's converting miles to kilometers or gallons to liters, understanding unit conversion is a step towards a more connected and comprehensible world.
Units of Liquid Measurement
The world is a vast tapestry of cultures and traditions, and this diversity extends to the way we measure liquids. From the Metric system, where volumes are measured in liters and milliliters, to the US customary units that include gallons, quarts, pints, cups, fluid ounces, tablespoons, and teaspoons, to the Imperial system with its fluid ounces, pints, quarts, and gallons—the Units of Liquid Measurement are as varied as the world itself. Each of these units has its place and purpose, whether it's in the kitchen, the pharmacy, the factory, or the laboratory. By understanding these different units, we can better navigate the world around us and appreciate the variety and diversity that enriches our global community.
Solved Examples on Liquid Measurement Chart
Mastering the concept of liquid measurements and unit conversions can be a bit tricky, but we're here to make it simpler with a few solved examples.
Example 1: If a recipe calls for 2 pints of milk, but you only have a gallon jug, how much of the jug should you use?
Solution: Using our liquid measurement chart, we know that 1 gallon equals 8 pints. Therefore, 2 pints equals 1/4 of a gallon. So, you would need to use a quarter of your gallon jug for the recipe.
Example 2: If a science experiment requires 500 milliliters of water, but your measuring cup only has markings for cups, how many cups of water should you use?
Solution: Here's where the metric system comes into play. We know that 1 cup is approximately equal to 237 milliliters. So, to convert 500 milliliters to cups, we divide 500 by 237, which gives us about 2.11 cups. So, you would need just a bit more than 2 cups of water for the experiment.
Practice Problems on Liquid Measurement Chart
Now it's time to put your newfound knowledge to the test. Here are a few practice problems for you to solve.
You're making a large batch of lemonade that calls for 4 quarts of water. If your jug holds 1 gallon, how many jugs of water will you need?

Your science teacher asks you to measure out 1 liter of a chemical for an experiment. You only have a measuring cup that measures in cups. How many cups of the chemical do you need to use?
Remember, practicing these problems will help you master the concept of liquid measurements and unit conversions. Keep practicing, and you'll be a pro in no time!
Conclusion
We've journeyed far and wide through the world of Liquid Measurement Charts and the Commutative Property, and we hope it's been an enlightening adventure. As we navigated these waters, we didn't just learn about units of liquid measurement and mathematical properties—we also discovered how to make sense of the world around us in a more quantitative and structured way.
Here at Brighterly, we are committed to turning learning into a captivating journey filled with discovery and understanding. We aim to help you not only learn about the world but also interact with it confidently.
Understanding liquid measurements and the principles of conversion not only simplifies tasks such as cooking or conducting scientific experiments, but it also equips us with a new lens to view and make sense of the world. Remember, math is more than just numbers and equations—it's a language that defines our universe, and the more fluent we become, the more empowered we are to navigate our surroundings.
So, let's celebrate this accomplishment. You've broadened your horizons and deepened your understanding. But remember, this is just the beginning. Keep exploring, keep questioning, and keep growing. We, at Brighterly, are thrilled to be a part of your learning journey. Until our next adventure, keep shining bright!
Frequently Asked Questions on Liquid Measurement Chart
What is the purpose of a Liquid Measurement Chart?
A Liquid Measurement Chart serves as a visual guide that simplifies the process of converting between various units of liquid volume. It's particularly useful in cooking and baking, where precise measurements are crucial for the success of a recipe. These charts typically include conversions for gallons, quarts, pints, cups, and smaller units like tablespoons and teaspoons in the US customary system, or liters and milliliters in the metric system. Additionally, these charts can be a valuable tool in educational settings to help students better understand and visualize the relationships between different units of measure.
What does Unit Conversion mean?
Unit Conversion refers to the mathematical process by which a given measurement is recalculated or translated from one unit to another. It's crucial to understand that this process doesn't alter the actual quantity or amount of the substance being measured—it simply represents the same amount in a different unit. For example, 1 liter of water can also be expressed as 1000 milliliters. The substance (water) and its amount (1 liter) remain the same, but the unit of measurement is converted from liters to milliliters.
What are the most common Units of Liquid Measurement?
There are two primary systems for measuring liquids: the US customary system and the metric system. In the US customary system, liquid volume is typically measured in gallons, quarts, pints, cups, fluid ounces, tablespoons, and teaspoons. The metric system, used almost universally outside of the United States, measures liquid volume in liters and milliliters. Each system is appropriate for different contexts—for instance, the metric system is commonly used in scientific research, while the US customary system is often used in everyday situations in the United States, such as cooking or grocery shopping.
How does the Commutative Property apply to Liquid Measurements?
The Commutative Property is a fundamental principle in mathematics stating that the order in which you add or multiply quantities does not affect the final result. In the context of liquid measurements, this means that if you are combining different volumes of liquid, the order in which you combine them doesn't change the total volume. For example, if you pour 1 cup of water into a bowl and then add another 2 cups, you'll end up with the same amount of water (3 cups) as you would if you reversed the order and poured the 2 cups in first and then added the 1 cup.
Information Sources:

ThoughtCo: How to Convert Units of Measurement
BBC Good Food: Conversion Tables for Cooking
Scholastic Study Jams: Units of Measurement
Struggling with Measurement?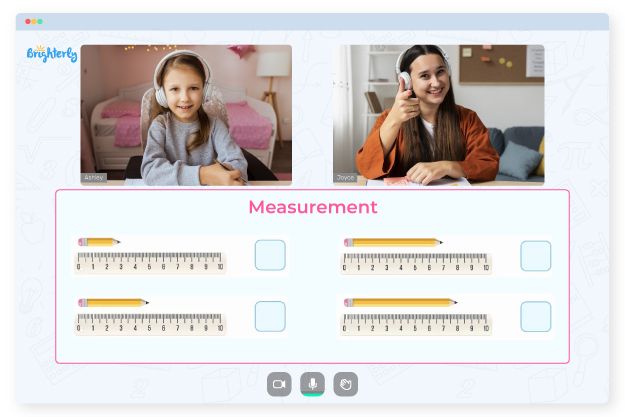 Does your child struggle with mastering measurement basics?

Try learning with an online tutor.
Kid's grade
Grade 1
Grade 2
Grade 3
Grade 4
Grade 5
Grade 6
Grade 7
Grade 8
Is your child having difficulties with understanding the basics of measurement? An online tutor could provide the necessary help.
Book a Free Class