>
>

6th Grade Inequalities Worksheets
6th Grade Inequalities Worksheets
Solving inequalities may be challenging for kids in sixth grade. However, you can make it exciting with printable free inequalities worksheets 6th grade.
These resources will strengthen kids' abilities and prepare them for school tests and other aptitude evaluations. It will also enhance their essential skills like problem-solving and critical thinking abilities.
Printable Inequality Worksheets Grade 6
You can find the engaging inequalities worksheets for 6th grade on the Brighterly website. By solving the questions on the worksheets, kids will learn time management since most of the tasks are timed.
Is Your Child Struggling With Math?
1:1 Online Math Tutoring
Let's start learning Math!
Inequalities 6th grade worksheet has a stepwise design; therefore, kids will proceed from simple to more complex tasks. In the first phases of the worksheet, students work on elementary problems involving addition and subtraction of numbers in inequalities. Printable 6th grade math inequalities worksheet helps students make connections between abstract ideas and concrete everyday circumstances.
Problems with Inequalities?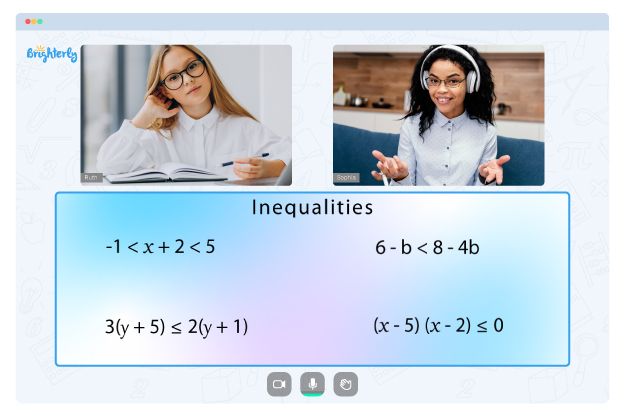 Does your child need extra assistance with mastering the concept of inequalities?

Start learning with an online tutor.
Kid's grade
Grade 1
Grade 2
Grade 3
Grade 4
Grade 5
Grade 6
Grade 7
Grade 8
Is your child finding it hard to understand math inequalities? An online tutor could be of help.
Book a Free Lesson