>
>

7th Grade Integers Worksheets
7th Grade Integers Worksheets
Whole numbers, negative numbers, and zero are all examples of integers. Some kids still mistake fractions and decimals to be integers while doing their math, so it's essential to help a kid understand the concept. Check out how a 7th grade integers worksheet can help youngsters learn better.
Why Do Brighterly Tutors Use Adding Integers Worksheet 7th Grade?
Brighterly's tutors use 7th grade integers worksheet grade 7 to help students understand how integers work. Instructors use an integers worksheet grade 7 PDF to introduce students to every computation involving positive or negative numbers.
Is Your Child Struggling With Math?
1:1 Online Math Tutoring
Let's start learning Math!
Using subtracting integers worksheet grade 7, students can better grasp numbers in a shorter period. Finally, students can get acquainted with an integers worksheet grade 7 and excel in their schoolwork.
How to Use 7th Grade Integers Worksheets in a Fun Way
Students will consider integer worksheets grade 7 as a fun alternative to textbooks since they see colorful images and do exciting activities. Before long, students will get acquainted with an adding and subtracting integers worksheet 7th grade and have a better shot at learning.
7th Grade Math Worksheets
Troubles with Equations?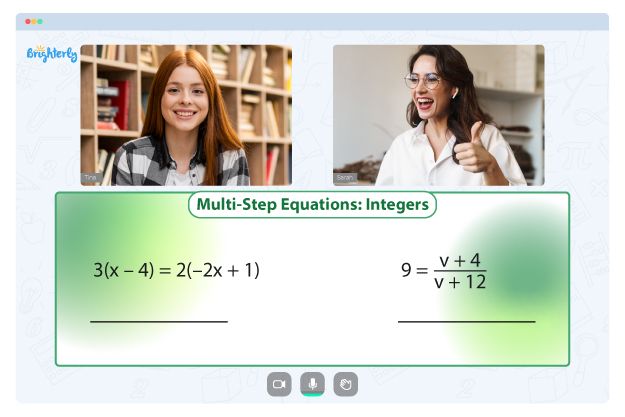 Is your child finding it challenging to understand of equations?

An online tutor could be the solution.
Kid's grade
Grade 1
Grade 2
Grade 3
Grade 4
Grade 5
Grade 6
Grade 7
Grade 8
Does your child struggle to master equations? Try lessons with an online tutor.
Book a Free Lesson