>
>

Volume And Surface Area Worksheets Grade 7
Volume And Surface Area Worksheets Grade 7
Everything three-dimensional takes up some amount of space, the amount of room contained by its boundaries. Are you introducing the concept of volume and surface area to your student? Find out how volume and surface area worksheets grade 7 can help you.
Why Do Brighterly Tutors Use Volume and Surface Area Worksheets?
Brighterly is an online platform with tutors enthusiastic about teaching math to students using games, worksheets, and other hands-on activities. Using 7th grade volume worksheets, volume and surface area worksheets grade 7, students get to learn that all of an object's exposed surfaces add up to what is known as its surface area.
1:1 Math Lessons
Want to raise a genius?
Start learning Math with Brighterly
Let's start learning Math!
How to Use Volume and Surface Area Worksheets in a Fun Way
With volume worksheets 7th grade, students understand that doing math can be fun and exciting. Most kids shy away from math because they consider the subject tasking and monotonous. 7th grade surface area and volume worksheets with answers can expose students to a new system of learning where they work on their practice questions until they get a solution similar to the one in their books.
7th Grade Math Worksheets
Book 1 to 1 Math Lesson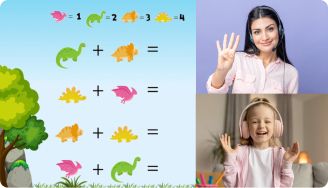 Specify your child's math level

Get practice worksheets for self-paced learning

Your teacher sets up a personalized math learning plan for your child
Grade 1
Grade 2
Grade 3
Grade 4
Grade 5
Grade 6
Grade 7
Grade 8
Book 1 to 1 Math Lesson
Get a free lesson