>
>

Addition on a Number Line Worksheet
Addition on a Number Line Worksheet
The addition on number line worksheet is excellent for helping children learn basic math skills like addition and counting. Number lines are a great way to introduce addition to kids; you can start by teaching your students how to add two numbers. Students will, without a doubt, master counting while learning the concept visually. Learning with the worksheet will lay the groundwork for future math success, especially regarding addition.
Benefits of number line addition worksheet
Some kids need physical representations of numbers like worksheets to learn. Resources like the number line addition worksheets from Brighterly are a perfect approach to help your students understand addition and improve their counting skills. Top tutors with experience grounded in math and teaching kids design these worksheets.
Is Your Child Struggling With Math?
1:1 Online Math Tutoring
Let's start learning Math!
The sheets contain real-life images kids can relate to. Therefore, aside from learning to count and add, they will know how to apply these skills in real-life situations. Hence, their problem-solving and critical thinking abilities will improve with the continuous use of the worksheets.
The beauty of adding on a number line worksheet is that you can use it at any point in a child's development. You can introduce the worksheet to your students of age 4 or 5 and even in preschool. However, the resource is best for students transitioning from counting/adding with physical items to written addition.
Printable addition number line worksheets
As a parent, you can download the printable number line worksheet to assist your kid in learning to count and add. The printed version of this worksheet helps students become more confident with independent learning. Repeated practice with the worksheet will lead to mastery of the concept and further boost a child's self-confidence.
Problems with Addition?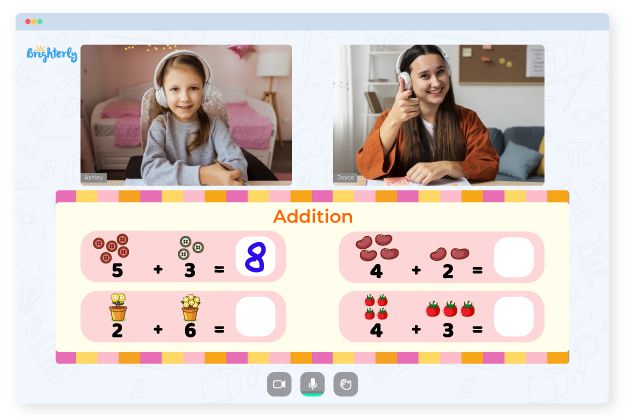 Does your child have difficulty with the basics of addition?

Try studying with an online tutor.
Kid's grade
Grade 1
Grade 2
Grade 3
Grade 4
Grade 5
Grade 6
Grade 7
Grade 8
Is your child having a hard time with addition? Start learning with an online tutor.
Book a Free Class