>
>

Exponents Worksheets Grade 8
Exponents Worksheets Grade 8
If you are teaching 8th grade students, you will need resources to help them learn easier, and an exponents worksheet grade 8 is the perfect resource tool for your eighth graders.
Benefits of 8th grade exponents worksheets
Here are some of the benefits of exponents worksheets 8th grade:
They help eighth graders prepare for school
You want your 8th graders to be prepared for the next grade, right? Exponent worksheets 8th grade would help your kids study over the break, and when they resume school, they have a fair knowledge of how exponents work.
Is Your Child Struggling With Math?
1:1 Online Math Tutoring
Let's start learning Math!
They helps teachers teach effectively
Teachers can use exponents worksheets grade 8 PDF to set classwork or home assignments to monitor their students' growth. With exponents worksheets for 8th grade, teachers can show kids all the angles from which they can approach exponents.
Students can also use exponents worksheets grade 8 with answers PDF to know when they are failing and correct themselves.
Struggling with Numbers?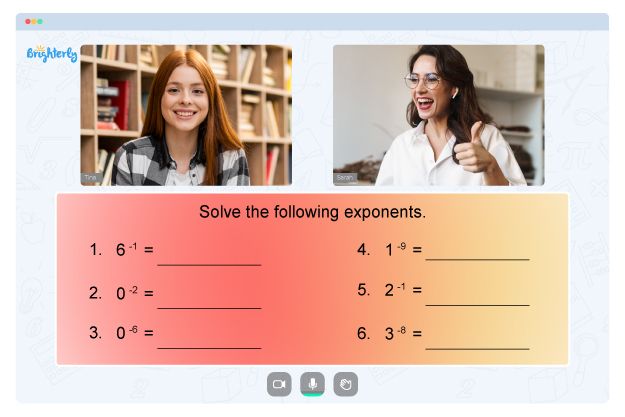 Does your child struggle to master numbers concepts?

Try studying with an online tutor.
Kid's grade
Grade 1
Grade 2
Grade 3
Grade 4
Grade 5
Grade 6
Grade 7
Grade 8
Is your child having trouble understanding numbers? An online tutor could provide the necessary guidance.
Book a Free Class