>
>

Subtraction Worksheets For Grade 1
Subtraction Worksheets For Grade 1
Subtraction is the second math operation children learn as early as in kindergarten or the first grade, but it's a little more complicated than addition. Hence, parents and teachers should pay more attention to their students' performance as often, subtraction seems complicated to kids, especially when it comes to large numbers.
At Brighterly, you can download subtraction worksheets for the first grade as a viable addition to homeschooling or just regular aid in math homework.
Brighterly's subtraction worksheets contain exercises designed to improve children's performance and enhance their computational fluency.
First-grade worksheets focus on subtracting one-digit numbers and subtraction techniques that make this operation easier for students.
Benefits of Using Subtraction Worksheets in Grade 1
While worksheets are optional and it's up to you to use them, these learning assets provide several benefits to students:
Subtraction Worksheets for Grade 1 Facilitate Math Skills
Subtraction with regrouping, rounding, carrying out, and more – these strategies cause many children to cry over their workbooks. While students learn these concepts in the second grade and later, they may experience difficulties due to untreated knowledge gaps that appeared in the first grade.
Is Your Child Struggling With Math?
1:1 Online Math Tutoring
Let's start learning Math!
So, it's crucial to involve as many teaching methods as possible to diversify the learning process and build a solid foundation of basic math skills. 1st-grade subtraction worksheets will help you achieve the goal as they provide drills designed to strengthen children's understanding of subtraction.
Subtraction Worksheets for First Graders Facilitate Decision-Making Skills
Schools often heavily rely on passive learning when only a handful of students perform in the class while the rest of the class lags behind. Inactive students can't develop sufficient decision-making skills. These kids are often afraid of making mistakes and shut down when they face the smallest difficulties.
As a parent, you can't influence everything that happens in school. But you can track your child's performance at home and improve their decision-making skills with worksheets. Left unassisted with the task at hand, a student begins to seek solutions to solve math problems, acting independently. As students see the results of their actions, they become more confident and feel less anxious about math.
Subtraction Worksheets with Pictures for the 1st Grade Enhance Children's Attention Span
Many children feel bad about homework because these dull drills kill their interest in math. While subtraction worksheets are similar to regular homework in nature, they wrap math drills into bright illustrations. Colorful worksheets don't avert children as much as lifeless black-and-white equations. Such features help children focus more on exercises and increase their attention span.
Free Printable First-Grade Subtraction Worksheets in PDF
At Brighterly, you can receive professional subtraction worksheets for the first grade for free. Just choose the worksheet you need, download the PDF file, and print it for convenient use. Involve worksheets at your discretion to increase your kid's math performance.
Subtraction Worksheets
Trouble with Subtraction?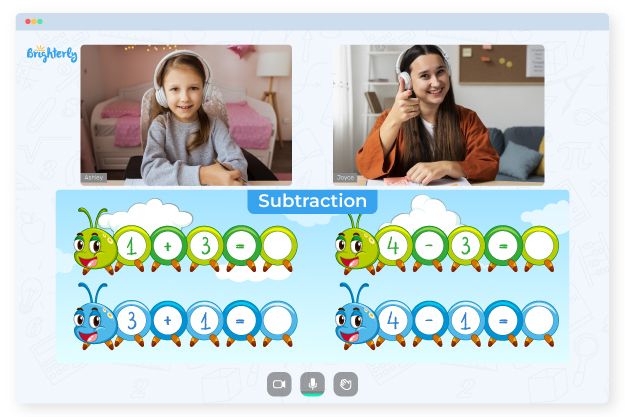 Does your child need extra support in understanding subtraction?

Start lessons with an online tutor.
Kid's grade
Grade 1
Grade 2
Grade 3
Grade 4
Grade 5
Grade 6
Grade 7
Grade 8
Is your child finding it tough to understand subtraction? Try learning with an online tutor.
Book a Free Lesson