>
>

Subtraction Worksheets For Kindergarten
Subtraction Worksheets For Kindergarten
Kindergarten is way more important than some parents might think. It's a period when children discover the concepts of adding something to something and taking away something from something.
Many teachers consider it essential to ensure kindergartners understand math operations correctly. Thus, parents can use additional learning materials at home, including worksheets.
At Brighterly, you can download professional math worksheets to help your kindergartener with subtraction since this math operation appears to challenge kids more than addition.
Brighterly's subtraction worksheets for kindergarten contain entertaining exercises that introduce children to the nature of subtraction.
Benefits of Using Math Subtraction Worksheets for Kindergarten
Worksheets appear to have several advantages for children:
Kindergarten Subtraction Worksheets Improve Children's Understanding of the Topic
Coloring subtraction worksheets for kindergarten serve as an excellent addition to your kid's homework. They allow children to practice more diverse math exercises, which improves their understanding of the topic.
Is Your Child Struggling With Math?
1:1 Online Math Tutoring
Let's start learning Math!
Subtraction Worksheets for Kindergarten Prepare Children for Increased Mental Effort
Everyone recognizes that adults get exhausted from mental work. However, hardly anyone considers math learning as mentally draining as an office job.
But little children have to adapt to the ever-increasing workload when enrolling in school just like adults have to balance between burnout and productivity. It means you have to prepare your child for the increased mental effort they will have to produce every day at school, and math worksheets will help you achieve that objective smoothly.
Parents who provide their children with learning assets alongside regular homework see their students perform better in the first grade. Kids will get used to extra math load and won't be too tired in the first grade.
A Subtraction Kindergarten Worksheet Will Enhance Children's Attention Span
Little kids are bad at doing something boring for a long time. That's why you won't make them excited about plain math drills. On the contrary, interactive worksheets will retain children's attention for much longer due to pictures, fun stories, verses, and more.
Free Printable Kindergarten Math Subtraction Worksheets in PDF
Many learning materials like worksheets are paid. But not at Brighterly. Here, you can download printable math worksheets for free. You can select any worksheets you like and print them in a few clicks.
Subtraction Worksheets
Need help with Subtraction?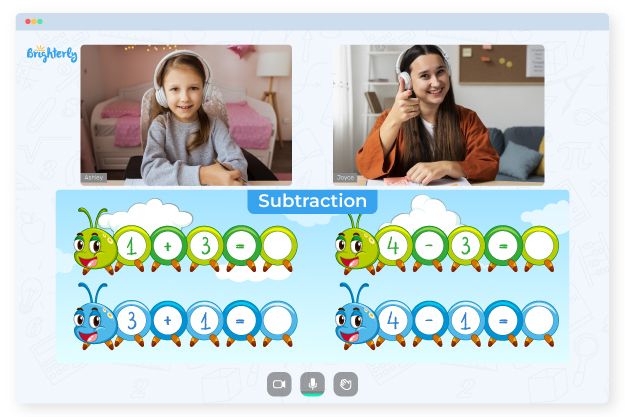 Does your child need additional assistance with understanding subtraction basics?

Start learning with an online tutor.
Kid's grade
Grade 1
Grade 2
Grade 3
Grade 4
Grade 5
Grade 6
Grade 7
Grade 8
Is your child finding it challenging to master subtraction lessons? An online tutor could be the solution.
Book a Free Lesson