>
>

2nd Grade Subtraction Worksheets
2nd Grade Subtraction Worksheets
Subtraction is one of the first math concepts children learn as they grow up. However, teaching subtraction to preschoolers can be a hassle, even though the operation is pretty straightforward.
You can make the process easier by using subtraction worksheets for grade 2 as teaching materials. But what exactly do you gain from these worksheets? Let's find out.
Benefits of second grade subtraction worksheets
Teachers' most significant challenge with 2nd graders is information retention. But appropriate resources may eliminate that issue. With 2nd grade math worksheets, subtraction becomes more manageable for kids, improving their retention of knowledge.
Is Your Child Struggling With Math?
1:1 Online Math Tutoring
Let's start learning Math!
These tools are also handy and replaceable. You don't have to worry about your child scuffing their worksheet up; you can easily print new ones. This accessibility ensures uninterrupted learning.
The most alluring benefit of 2nd grade subtraction worksheets is their affordability. You can download them for free on math tutoring platforms like Brighterly. So, if you are on a budget and still need teaching aids for your second-grader, these worksheets will be handy.
Printable subtracting worksheets for 2nd grade
Once your kids have begun learning subtraction with 2nd grade math worksheets, you may want a resource bank to keep the worksheets coming. Luckily, you can download and print the sheets easily. The printable nature makes these worksheets easy to duplicate and ensures your kids express themselves without fear of damaging the tool.
Subtraction Worksheets
Problems with Subtraction?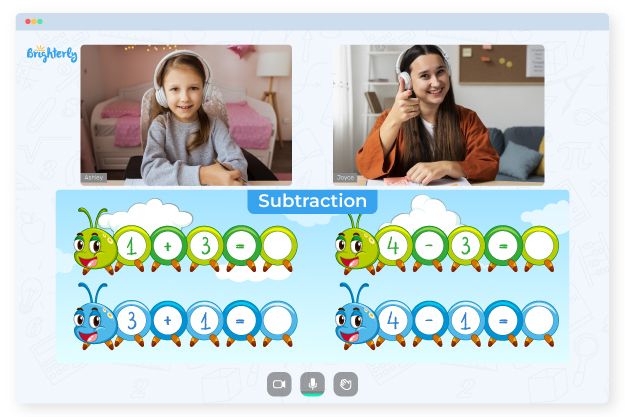 Is your child struggling with understanding subtraction concepts?

An online tutor could be the answer.
Kid's grade
Grade 1
Grade 2
Grade 3
Grade 4
Grade 5
Grade 6
Grade 7
Grade 8
Does your child find subtraction to be a difficult concept? Try learning with an online tutor.
Book a Free Lesson