19 minutes read
March 14, 2022
50 Best Mathematics Books for Kids
Reviews
You can improve children's mathematical thinking by using books that fuse math principles with illustrations and narratives. These books teach kids to count and read simultaneously and help fan the flames of curiosity, sparking an interest in the subject. And the key to teaching kids is getting them to want to learn the concepts you present. So, this article provides brief description of 50 of the best math books for kids.
Why invest in math books for kids?
If you are interested in helping children learn mathematics, a textbook may not be as effective as you think. That is why authors of books for children meticulously write entertaining texts to help students catch up. A math book for kids can help your child learn at a comfortable pace and understand ideas they did not grasp in the math class. These books also provide examples and activities that students may use as a guide.
Reading a math picture book is more entertainment-driven than learning-driven activity for younger kids. So, if you are interested in entertaining your kids in a way that teaches them, consider getting free math books for kids or buy them. Discover fifty amazing kids math books that can help your younger and older children enjoy math.
The best mathematics books for kids
One Big Pair of Underwear by Laura & Tom Lichtenheld

In this learning book, the two bears, three yaks, four goats, and six cats all have the same trait: they hate sharing. However, the authors use the characters to teach children the concept of counting. By helping the characters share underwear, kids build their counting skills.

The Curious Hats of Magical Maths: Vedic Mathematics for Schools Book 1 by James Glover

This Vedic math book for kids introduces your child to fresh and time-saving approaches to dealing with numbers. Your kid gets detailed explanations of math techniques in the book along with relatable examples and exercises.

The Curious Hats of Magical Maths: Vedic Mathematics for Schools Book 2 by James Glover

Volume 2 of the Vedic Mathimatics book for kids is a follow-up workbook in the Curious Hats of Magical Maths series. The book uses the 100-year-old Vedic system to teach young minds to calculate written problems faster. The curious hats represent 16 rules (sutras) that guide math principles and mental workings.

Feast for Ten by Cathryn Falwell

The story in this book describes the process of a family's grocery shopping and supper cooking. Follow along as they count down from 1 to 10 while preparing dinner. The colorful collage visuals and lively read-aloud text make this book a fun read.

Let's Sort by Color (21st Century Basic Skills Library: Sorting) by Lauren Coss

If you are looking for sorting books for kids, get Lauren Coss' Let's Sort by Color. This book teaches students to identify and categorize items. Your kid will learn to recognize and read words, as well as sort things based on their most essential characteristic – color.

1 Big Salad: a Delicious Counting Book by Juana Medina

This book allows you to leverage your child's love for food to teach them to count. The salad elements like avocado deer and radish mice that your child will be counting are in one salad. Medina's imaginative vegetable sculptures are sure to delight your kids.

Kindergarten Math Workbook: Kindergarten and 1st Grade Workbook Age 5-7

This book is one of the best kids math workbooks to help your child learn the fundamentals of mathematics in kindergarten, including number identification, addition, subtraction, decomposition, and more. The assignments provide a perfect mix of entertainment and education.

Word Problems by Kumon Publishing

Kumon's Word Problems is perfect for youngsters who want to succeed in arithmetic. This workbook uses creative methods to teach youngsters to solve word problems and encourages them to use their critical thinking skills to solve real-world problems.

I Spy Numbers by Jean Marzollo

I Spy Numbers can help toddlers and preschoolers count and solve basic arithmetic. The book guides young readers through simple pictorial clues and rhyming riddles. Also, it has twelve fun-filled interactive layouts that guarantee to thrill your child.

Anno's Counting Book by by Mitsumasa Anno

Math books for children that focus on counting use pictures to attract readers, and this one has watercolor images. It depicts a landscape that changes seasons, months, and years during the day. When children read, they count while comparing and categorizing what they see.

Is Your Child Struggling With Math?
1:1 Online Math Tutoring Let's start learning Math!

Quack and Count by Keith Baker

Watch a family of seven energetic ducklings slip, slide, jump, and dive as they prepare to fly for the first time. The author uses kids' love for animals to create a math book they'll love. Quack and Count simplifies counting using rhyming language and vivid collage pictures.

Summer Bridge Activities Workbook

This book ensures kids learn various topics from writing to math, social studies, scientific experiments, and fitness exercises. The numbering of each page by the days of the week can help children and parents keep track of their progress and achieve their monthly learning objectives.

Ten Black Dots by Donald Crews

In this book, you have ten black dots to manipulate as you deem fit. Deceptively simple picture child math books like this one help children develop visual learning abilities, explore their creativity, and practice counting numbers.

Summer Brain Quest: Between Grades 4 & 5 by Bridget Heos and Claire Piddock

Make the most of your summer vacation with a customized, interactive adventure. It begins with a guide to a workbook full of tasks that focus on reading comprehension, writing, decimals, fractions, and more, all illustrated with bright images.

"How Many Jelly Beans?" by Andrea Menotti

"How Many Jelly Beans?" is a book that uses a fun and simple approach for youngsters to learn about big numbers. The author understands that kids learn faster with visual references, so they collaborated with an illustrator to include vibrant images and extra-large dimensions.

Sir Cumference and the Dragon of Pi by Cindy Neuschwander

Sir Cumference and the Dragon of Pi is one of the most intriguing kids books about math. In the book, Sir Cumference transforms into a fire-breathing dragon by a potion, and Radius has to help him change to his original self. To find the cure, your child, representing Radius, has to solve a puzzle in the castle by figuring out the magic number.

Round Is a Tortilla: A Book of Shapes (A Latino Book of Concepts) by Roseanne Thong

Shapes abound in this colorful picture book that introduces youngsters to everything from ice cream carts to ground stones. The writing style is intentionally funny, and the illustrations will reinforce the shapes present in every child's day with colorful graphics.

How Many Bugs in a Box by David A. Carter

This math book is a great way to teach young children about nature and counting while having a lot of fun at the same time. Lifting the boxes reveals bright, humorous bugs that burst out, run, eat, and even swim.

Give Me Half! (MathStart 2) by Stuart J. Murphy

The story and funny images in this book from the award-winning MathStart series delight young readers. Educators and parents alike will appreciate how the book's contents make comparisons a breeze, as well as the actual demonstrations of how arithmetic works.

How Do Dinosaurs Count to Ten? by Jane Yolen

Bring the kids along for the ride as your favorite dinosaurs entertain them with their goofy antics. This book assists the youngest readers in learning to count from 1 to 10 with simple, rhyming text and hilarious images.

One Is a Snail, Ten is a Crab: A Counting by Feet Book by April Pulley Sayre and Jeff Sayre

To get to the goofy crabs, idling dogs, insects, and snails that are eager to help you count from one to one hundred, just follow the sign to the beach. This book transforms learning to count into a journey that children will be eager to start.

Ten Little Monkeys Jumping on the Bed by Annie Kubler

You and your child can count along as monkeys bump their heads while bouncing on the bed. Singing along with this well-known rhyme can help kids learn to count. It has formats suitable for toddlers, preschoolers, and nursery classrooms separately.

Full House: An Invitation to Fractions by Dayle Ann Dodds, and illustration by Abby Carter

Innkeeper Miss Bloom enjoys welcoming guests at the Strawberry Inn. She hosts a colorful variety of individuals throughout the day, filling the hotel's rooms. A midnight supper at the Strawberry Inn may be as simple as dividing one wonderful cake among five ravenous guests and one adoring hostess.

Fractions in Disguise: A Math Adventure by Edward Einhorn

In this book, George Cornelius Factor's mission is to find any treasured fraction missing. Reducing the fraction to its lowest common denominator, the Reducer—a half calculator and half gun—removes the disguise and exposes the actual shape of the fraction.

Mouse Count by Ellen Stoll Walsh

This book introduces counting forward and backward to kids. A beat accompanies the drawings, and you practically hear the background music. The goal of the snake character in the book is to count the mice he intends to use as food.

Is Your Child Struggling With Math?
1:1 Online Math Tutoring Let's start learning Math!

100 Days of Money, Fractions, & Telling the Time: Humble Math

This book is the equivalent of a hundred days' worth of practice in money, math, and time-telling. Usually, children require extra guidance in these three areas of arithmetic. This book will ensure that children understand each of the three concepts without the boredom of repetitive classroom lectures.

Fish Eyes: A Book You Can Count on Paperback by Lois Ehlert

This concept book is a visual pleasure from start to end. An interactive die-cut page and vividly colored fish educate young children to fundamental addition and counting. You can count from 1 to 10 by looking at the brilliantly colored fish.

Geometry (Baby's Big World) by Alex Fabrizio

Geometric shapes are all around us, from the bridges to the swimming pools and sports we play. Since it combines straightforward language with cheerful visuals, this geometry primer makes even the most difficult concepts more approachable for young minds.

Counting Crocodiles by Judy Sierra and illustration by Will Hillenbrand

In this book, sour lemons are all Monkey can eat. Monkey has to endure the crocodile-infested seas to make it to the banana tree. But to succeed, your child needs to prove that Monkey is brave and clever by counting to ten quickly.

Sir Cumference and All the King's Tens: A Math Adventure by Cindy Neuschwander

Find out more about place value in this amusing arithmetic adventure with humor, puns, and problem-solving. Math is made exciting and approachable for everyone in this new Sir Cumference episode, which will please fans of the series.

The Grapes of Math by Greg Tang and Harry Briggs

Mathematician Greg Tang reveals the tricks of the trade that helps him come up with some of his most innovative solutions. The vivid and welcoming graphics of Harry Briggs offer the ideal setting for these cutting-edge games that kids enjoy.

One Odd Day by Doris Fisher and Dani Sneed

This hilarious saga is about a youngster who wakes to discover that everything around him is odd. To him and your child, exciting facts, activities, and art all serve as a fantastic introduction to the notion of odd and even numbers.

Hungry for Math: Poems to Munch On by Kari Lynn Winters and Lori Sherritt-Fleming

This book is a collection of poems for children. The focus is on numbers, arithmetic, time measurement, patterns, counting, symmetry, etc. In one of the songs, a young boy is always eager for arithmetic, and he always has a snack ready.

The Greedy Triangle by Marilyn Burns

This picture book can help kids sharpen their early arithmetic abilities. You can use a triangle to find a shape-shifter in the area who is unsatisfied with his current situation. Kids will have a blast in this brightly colored introduction to shapes and fundamental arithmetic concepts.

Equal Shmequal (Charlesbridge Math Adventures) by Virginia Kroll

Mouse and her companions must use common sense math to compete in a tug-of-war match. The images depict Mouse and her animal pals attempting to weigh, measure, and equalize their teams. The book will teach your child to compare sizes and understand basic relativity.

Even Steven and Odd Todd by Kathryn Cristaldi

Even Steven has a penchant for even-numbered objects. His cousin Odd Todd comes to visit for a few days. This book introduces the concepts of even and odd numbers. It also includes a segment for fun and games.

Spaghetti and Meatballs for All by Marilyn Burns and illustration by Debbie Tilley

The Comforts are hosting a get-together with their extended family. Marilyn Burns' book uses comic relief to get kids thinking about area and perimeter. By reading this math book for kids, your child will learn measurements.

A Place for Zero by Angeline Sparagna LoPresti and illustration by Phyllis Hornung

Take a journey with Zero through multiplication as he learns his place in the universe. A Place for Zero merges arithmetic and wordplay, making math less frightening and more enjoyable to understand. It also helps your child brush up on their reading and literary skills.

How Much Is a Million? by David M Schwartz and illustration by Steven Kellogg

With this book, kids can appreciate how large a million is. It simplifies challenging math concepts for young minds, especially those related to money and counting, in a pleasant and entertaining style.

Go Figure!: A Totally Cool Book about Numbers (Big Questions) by Johnny Ball

If you want to see the wonder of numbers without having to hunch over a textbook, check out Go Figure! This math book for kids analyzes numbers through historical accounts and explains why certain things exist in specific numbers. The book also has exercises like brain-teasers and magic tricks for youngsters to attempt.

Is Your Child Struggling With Math?
1:1 Online Math Tutoring Let's start learning Math!

Math Curse Hardcover by Jon Scieszka and Lane Smith

Have you ever had a day when everything seemed to be going wrong? Let your child follow the little girl's saga in this math book and use simple calculations to break the curse.

365 Penguins by Jean-Luc Frontal

Due to the movie Penguins of Madagascar to Happy Feet, penguins are among kids' favorite animals. In a large format and with lots of opportunities for counting, 365 Penguins is sure to become your child's favorite winter read.

If You Were a Plus Sign by Trisha Sue Speed Shaskan

If you were a plus sign, what would you be able to do? This funny and instructional picture book will get your child's attention as they navigate through a day in the life of a plus sign.

The Action of Subtraction by Brian P. Cleary and illustration by Brian Gable

This book is a countable rhyming book that illustrates what it means to subtract one number from another. The authors brought their A-game; so, if your child struggles with simple subtraction, help them get started with this book.

If You Were a Minus Sign by Trisha Sue Speed Shaskan

What would you do if you were a minus sign? Discover even more answers in this fantastic book. This book will have your kid relishing the opportunity to subtract numbers, objects, foods, etc.

Hot Air Balloons by Dianne Irving

Before you fly a hot air balloon correctly, you need to pump in the right volume of hot air. This text will interest readers while simplifying essential formulae with bright visuals, simple practice questions, and clear mathematical diagrams.

Mystery Math: A First Book of Algebra by David A. Adler

Every door in the spooky haunted home has a secret behind it. Simple multiplication, division, subtraction, and addition are at your disposal for resolving these mysteries. Teach your child to get through the haunted house by solving math problems.

Eureka! Challenging Maths and Numerical Reasoning Exam Questions for 11+ Book 2

Students preparing for exams encounter problems like limited time and tricky math problems. Luckily, this book helps students and their time-crunched parents prepare for the most challenging math tests.

Animals on Board (MathStart 2) by Stuart J. Murphy

This book from the MathStart series uses illustrations of animals to teach young minds to count. The author helps children of all ages fall in love with math by portraying calculations as effortless. First-grade, second-grade, and third-grade students will benefit from using Animals on Board to learn addition.

Domino Addition by Lynette Long

Children can learn arithmetic and addition in a fun and simple way using dominoes thanks to this brightly colored counting book. There are black and white dominoes on bold backgrounds for each number from 0 to 12. Reading Domino Addition feels like playing a game, which is why your child will love the book.
Conclusion
The books on this list bring maths to life through poems, stories, and illustrations. They teach real-world applications of math, which will help your child understand and remember the ideas and formulas. So, if you want your child to enjoy learning math, get them a couple of the books recommended above.
Math Catch Up Program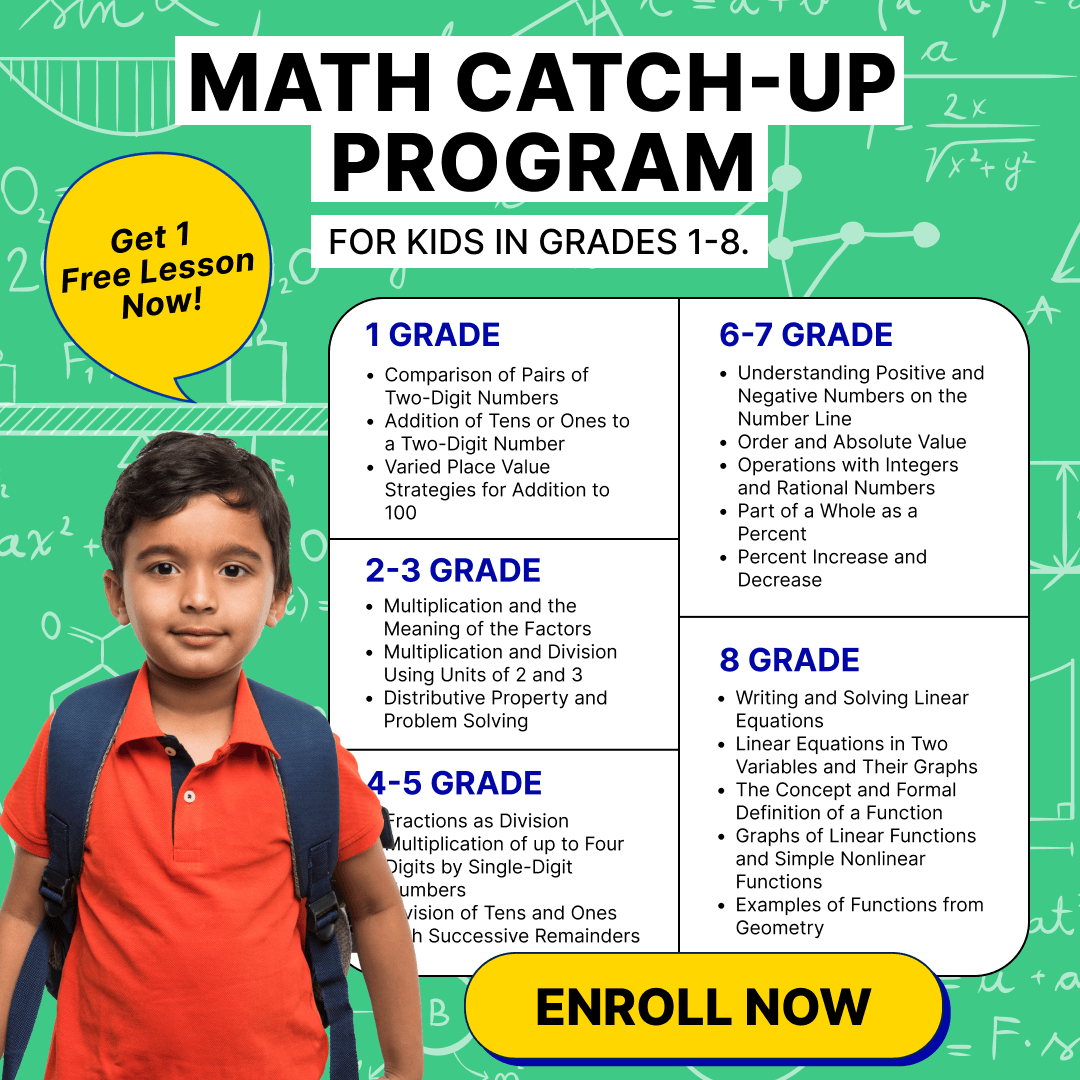 Learn Math Simple - Fast - Effective

Overcome math obstacles and reach new heights with Brighterly.
Kid's grade
Grade 1
Grade 2
Grade 3
Grade 4
Grade 5
Grade 6
Grade 7
Grade 8
Simple - Fast - Effective
Overcome math obstacles and reach new heights with Brighterly.
Select Your Grade