7 minutes read
June 27, 2022
Best Summer Math Programs for Kids
Reviews
Did you ever think your child is good at math but could be even better in an ideal environment? Then you need to enroll them in one of the existing summer math enrichment programs.
Summer is usually packed with activities that are most likely non-educational, and while that is okay, you could also use the period to improve your child's learning results. Math summer programs are perfect for kids looking to get better at math, and here is an overview of the best programs you can get in math summer camps.
What Are Summer Math Programs?
Summer math programs are carefully curated math lessons for kids who are already skilled in the subject but want to push themselves past their current limits. Summer school math programs provide an opportunity for talented kids to explore more complex concepts and improve their critical and analytical thinking.
A summer camp for math and science is a space where kids learn to handle problems using sophisticated problem-solving math techniques. Advisors, tutors, and teachers in a math summer camp usually teach students and help them tackle real problems. These summer programs have benefits, and we will be looking at them shortly.
Is Your Child Struggling With Math?
1:1 Online Math Tutoring
Let's start learning Math!
3 Benefits of Math Summer Programs
The benefits of math summer programs work along with mental and educational growth of a child.
They provide more effective learning approaches
For children who want to improve their understanding of math, summer math camps are the easiest way to do that. In summer math camps, tutors have time to break down math concepts for kids. They give children more than one perspective to view and solve a math problem, teaching them to think outside the box.
Curricula for these summer math programs are detailed and tailored to fit the time frame. They also help polish students' existing knowledge and skills. This approach makes learning more effective and the process of skill acquisition faster.
They cover more complicated math concepts
Sometimes, the material teachers teach in class is not challenging enough for children who are gifted; such kids often need more stimulation. That is where special schools and programs that meet the needs of children who are interested in math come into play.
In summer math programs for elementary students, tutors introduce more complicated math problems and guide students through their solutions. They also use fun exercises to drive those points home and ensure that at the end of the program, kids remember what they've learned.
They teach students to solve math problems creatively
Critical thinking is a big part of solving math problems, and sometimes, because of the repeated nature of teaching, kids fail to acquire this ability. When a child encounters math problems, they have two options: either use the solution they know or find other ones. When they seek non-conventional ways to solve a problem, they develop creativity.
Summer math programs encourage this kind of thinking and even teach it. So, if you're interested in helping your child develop critical thinking, let them spend their summer holidays in a math camp.
Looking at the benefits of math summer programs, you may want to sign your child up for one of the options to strengthen their math knowledge and help them explore their math potential. However, you do not always have to wait for summer to achieve that goal.
Signing kids up for Brighterly can improve a child's math skills faster. Kids can take Brighterly's math classes before, during, and after summer holidays, ensuring continuous learning.
Is Your Child Struggling With Math?
1:1 Online Math Tutoring
Let's start learning Math!
5 Best Online Summer Math Programs
Not everyone can attend a math summer camp, which is why summer math programs online exist. If you will be mostly indoors during summer, here are 5 of the best online summer math programs:
Brighterly
Brighterly is the best option for parents looking for suitable summer math classes for their children. This math learning platform teaches children math topics using fun videos, worksheets, and games. Each child has a tutor assigned to them, and these tutors adjust their teaching strategies based on the child's math knowledge level and curriculum.
Khan Academy
Khan academy has a long list of questions and problems that students have to finish in summer. While kids go through math tasks looking for possible solutions, tutors are available to guide them. By the end of summer, the academy will provide parents with children's performance summaries.
IXL
IXL is a sophisticated math website that tracks students' progress by giving them advanced math questions to answer. It is not free as there are membership fees. There are levels on the website, and you will only move to higher ones after answering most math questions in your present level.
iPractice Math
iPractice Math is a platform that provides math questions with multiple-choice answers for grades 1 to 12. Each math topic has questions that children can answer using an online worksheet. At the end of the session, the platform sends parents report cards that show their child's areas for improvement and achievements so far.
Some of the academies and agencies we've recommended provide free summer math programs online. You can register with the others for a token to give your child better math education. If you want physical camps, turn on your device location and search for "summer math programs near me" in your Google search bar. You will find helpful information.
Conclusion
A math summer camp ensures your child spends their holidays for educational purposes. Moreso, there are so many topics and concepts in math that it's impossible to learn them all at school, and this is why summer math programs exist. Whether you register for an online math class this summer or opt for physical summer classes, your child will be better off by the end.
Math Catch Up Program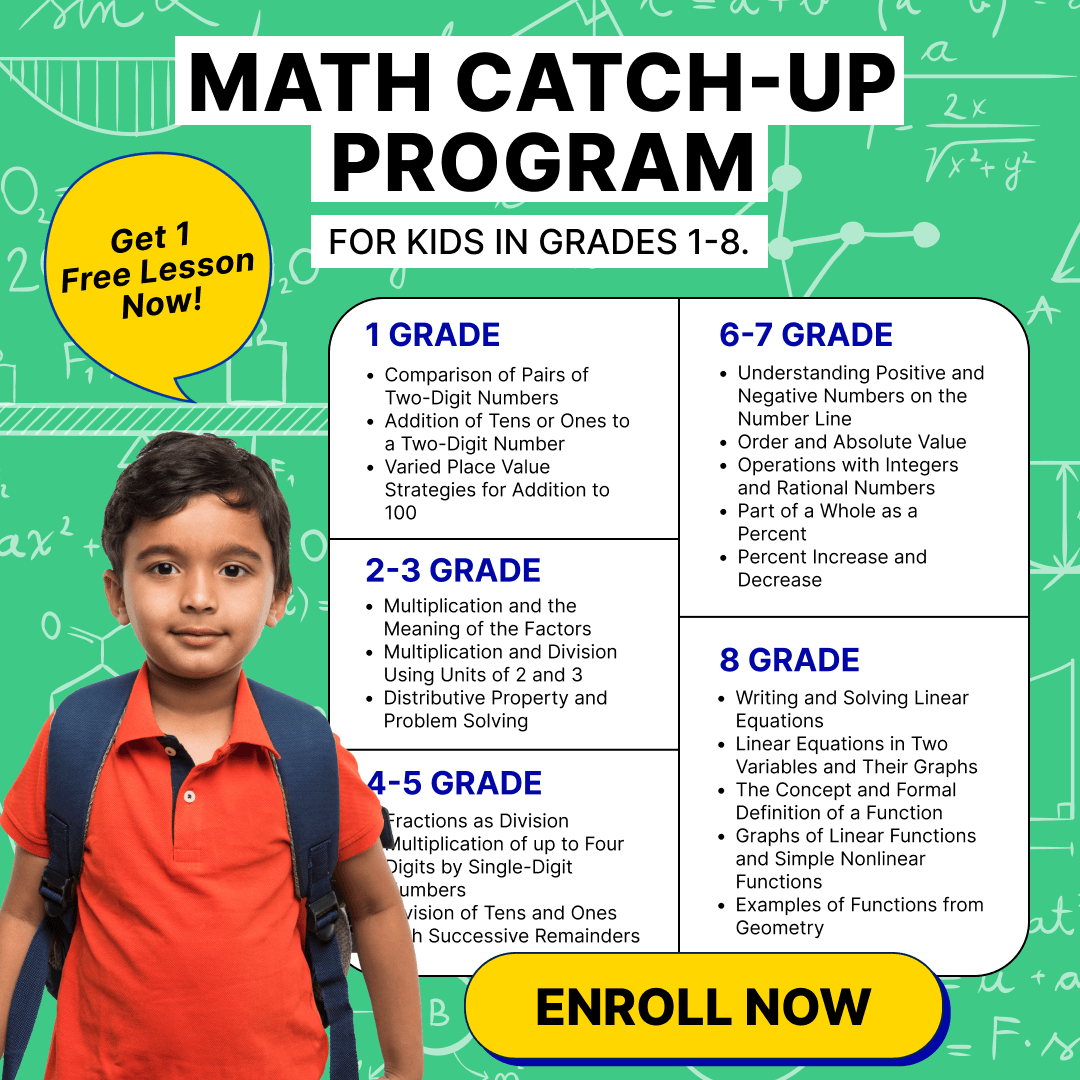 Learn Math Simple - Fast - Effective

Overcome math obstacles and reach new heights with Brighterly.
Kid's grade
Grade 1
Grade 2
Grade 3
Grade 4
Grade 5
Grade 6
Grade 7
Grade 8
Simple - Fast - Effective
Overcome math obstacles and reach new heights with Brighterly.
Select Your Grade