10 minutes read
June 27, 2022
Top Ten Educational Preschool Philosophy Models
Parenting
Parents often consider location, tuition, and schedule when choosing a school to enroll their kids. Apart from these factors, a preschool philosophy of an academy plays a prominent role in parents' choice as philosophies relate to specific learning goals and interactions between tutors and kids. Thus, an enjoyable preschool environment depends greatly on the approach followed by an educational institution.
Ten preschool philosophies
Parents desperately need help choosing the right fit and uncovering the learning doctrines of preschools. This article will highlight ten philosophies for parents to make a better-informed decision when starting their children's education. While you go through approaches, be mindful of your kid's learning style and personality and choose what works best for them.
Montessori
Montessori's philosophy is centered on the notion that play is the child's duty. The primary focus of Montessori pre-schools is enabling children to study at a comfortable pace and fostering children's independence by encouraging them to make their own decisions.
Ensuring that kids learn through the best experience, Montessori covers practical life, language, mathematics, sensory development, and culture aspects. In a learning culture, kids study music, science, and geography.
The Montessori preschool early childhood philosophy allows simulations and manipulatives to boost learning. For instance, in math classes, tutors play the role of a guide; they demonstrate to kids how to use learning aids to solve problems and then step aside for the students to attempt the questions with those tools.
The American Montessori Society outlines four key objectives of the Montessori preschool approach.
Boost kid's imagination and spirit
Heighten kids' self-esteem and desire for self-sufficiency
Foster courtesy, discipline, and kindness among kids, allowing them to become responsible citizens
Develop their critical thinking, observation questioning, and problem-solving skills
Waldorf
Unlike a traditional school, the Waldorf philosophy is structured to mimic the average home, providing an ideal nurturing environment for kids. This philosophy focuses principally on improving creative thinking skills of kids and boosting their knowledge of art and culture. Furthermore, practical activities like gardening and cooking are heavily emphasized.
Interestingly, the manipulatives, tools, and toys that serve as learning aids in this preschool philosophy are carved out of natural materials such as beeswax crayons, ropes, and shells rather than plastic and iron.
The Waldorf philosophy adopts a consistent daily and weekly schedule coupled with a structure that enables tutors to focus on a particular set of students for more than seven years. This model allows tutors and students to form a trusting connection.
Learning in the Waldorf institutions is performed through creative methods such as play-acting, story-telling, singing, and cooking. This philosophy focuses on helping kids grow academically, emotionally, and physically.
Project-based
In schools that use a project-based learning model, students are seen as individuals, while instructors are viewed as guides. Students negotiate, plan, and complete projects in teams while their tutors stand as guides to direct.
Learning in this model is reinforced through field excursions, project work, and real-life connections. This strategy supports skill application and good learning habits by making studies more enjoyable and students more self-motivated.
Is Your Child Struggling With Math?
1:1 Online Math Tutoring
Let's start learning Math!
Reggio Emilia
The Reggio Emilia philosophy adheres to a project-based model to uncover students' interests and leverage them during teaching. According to this philosophy, an instructor chooses topics based on students' interests.
For instance, if kids are interested in dinosaurs, a tutor can initiate activities relating to the history of existence and extinction of dinosaurs. Over time, as kids start showing interest in other animals or things, a tutor may switch the curriculum as such.
This pedagogy emphasizes the ability of kids to think critically and creatively. The principal focus of this approach is providing children with a variety of expressive, linguistic, and cognitive experiences to foster the development of their innate skills.
The Reggio Emilia philosophy uses the following principles to ensure collectivity in achieving goals:
Emerging education:
Children's interests and those of their families guide the selection of study topics, such as puddles and dinosaurs for example, as kids' interests change, the topic changes as well.
Projects:
Concepts, ideas, and hobbies are studied in detail by children. These ideas are termed adventures, and their duration ranges from a few days to the entire school year.
Development of representations:
There are variations in the ways new ideas and concepts are presented in the classroom, for example, through music, drama, art, or print. Teachers ensure that all students who learn differently have an opportunity to absorb what is being taught.
Collaboration:
The use of conversation, comparisons, bargaining, and other crucial interpersonal skills to address issues is promoted in groups of all sizes. The approach emphasizes a healthy balance between a child's feeling of belonging and identity in whatever group they belong to.
Community
Preschool programs are standard at community centers and daycare facilities. Community preschools are similar to religious ones; they do not have a distinct philosophy. In some cases, a community preschool may combine multiple philosophies. So, before enrolling your kid in a community preschool, ensure you inquire about the philosophy.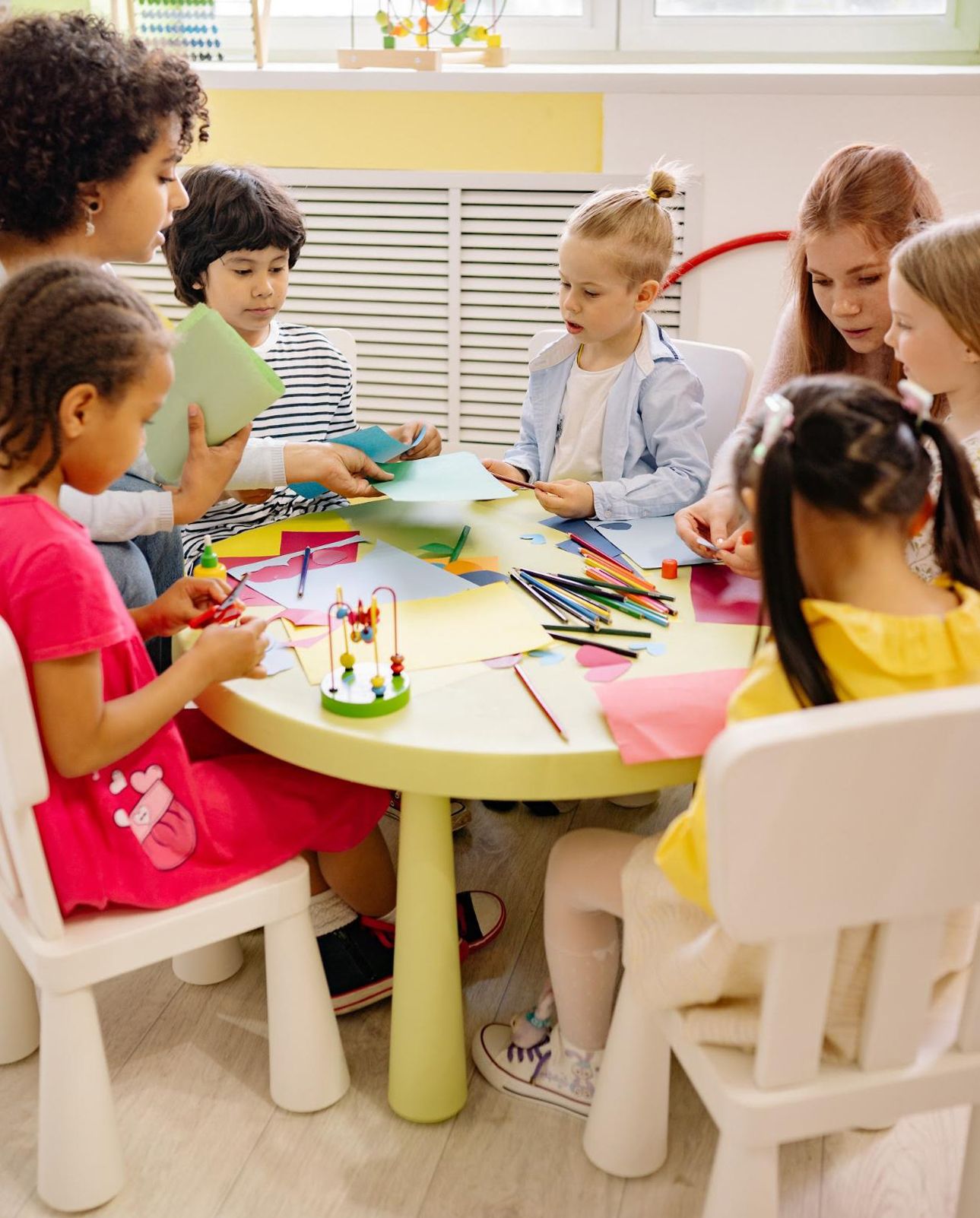 Religious
Churches and religious institutions' preschool programs adopt distinct philosophies. They may integrate religious programs into their curriculum depending on the ideology.
The Religious preschool educational philosophy includes faith-based elements in their tales, music, and classroom activities. Though most religious preschools welcome students from different religions, some accept only kids practicing the religion the school upholds. Check out religious preschools if you want your kid to learn about religious practices and activities early.
Language Immersion or Bilingual Preschools
In a bilingual or language immersion preschool, lessons are taught in two or more languages. In this preschool, kids learn in languages like Korean, Chinese, French, Spanish, Italian, German, etc.
Since young children pick up new languages quickly, many preschools take advantage to help kids learn them. A school adopts a schedule where students are expected to speak a particular language each day. For instance, kids may speak English on Mondays, Thursdays, and Fridays and Italian on Wednesdays and Tuesdays.
Academic Preschools
Academic preschools emphasize reading and preschool math abilities. This philosophy centers on preparing kids for kindergarten and subsequent classes.
Preschools with this philosophy design a schedule of activities similar to what students will face in kindergarten, thereby making classes constant and predictable. Furthermore, this philosophy devotes much time to teaching students recognizing colors, time measurement, problem-solving, reading, and arithmetic skills.
International school
Countries usually establish schools in other friendly countries, strengthening cross-border ties. Most people choose to enroll their kids in these schools to make them kids learn foreign languages. Those looking to expose their children to various cultures and racial diversity will often pick international schools.
Such schools use the host country's language to conduct school activities in some cases. However, kids also learn foreign languages since they are used sometimes.
Play-based
Play-based philosophy is the most popular preschool philosophy in the United States. This philosophy in educating preschool children centers on learning through play. The learning process centers on age, and this format of learning enhances a kid's creativity, self-confidence, and willingness to learn.
Is Your Child Struggling With Math?
1:1 Online Math Tutoring
Let's start learning Math!
In the developmental or play-based model, several stations like a reading area, a theater area, and a puzzle table are set up in the classroom. An instructor must guide children to learn while having fun and exploring their creative sides.
According to the play-based philosophy, instructors use creative means to teach kids basic skills and concepts. For instance, kids can learn to measure and count using toys, sand, and other objects. Also, kids can roam around the class freely due to several group activities like story time and circle time.
Parents can rest assured that apart from critical thinking and problem-solving skills, their kids will learn essential skills like cooperation with others, sharing with others, and resolving disagreements verbally rather than going physical. Children develop these abilities by negotiating with their peers over which toy they may play with or which part they can play in a pretend play scenario.
Conclusion
When checking out a preschool for your kid, remember that different schools have different doctrines. Some preschools combine various philosophies, while others use a specific one. It is essential to understand the philosophies and how they fit your child before choosing any.
After-School Math Programs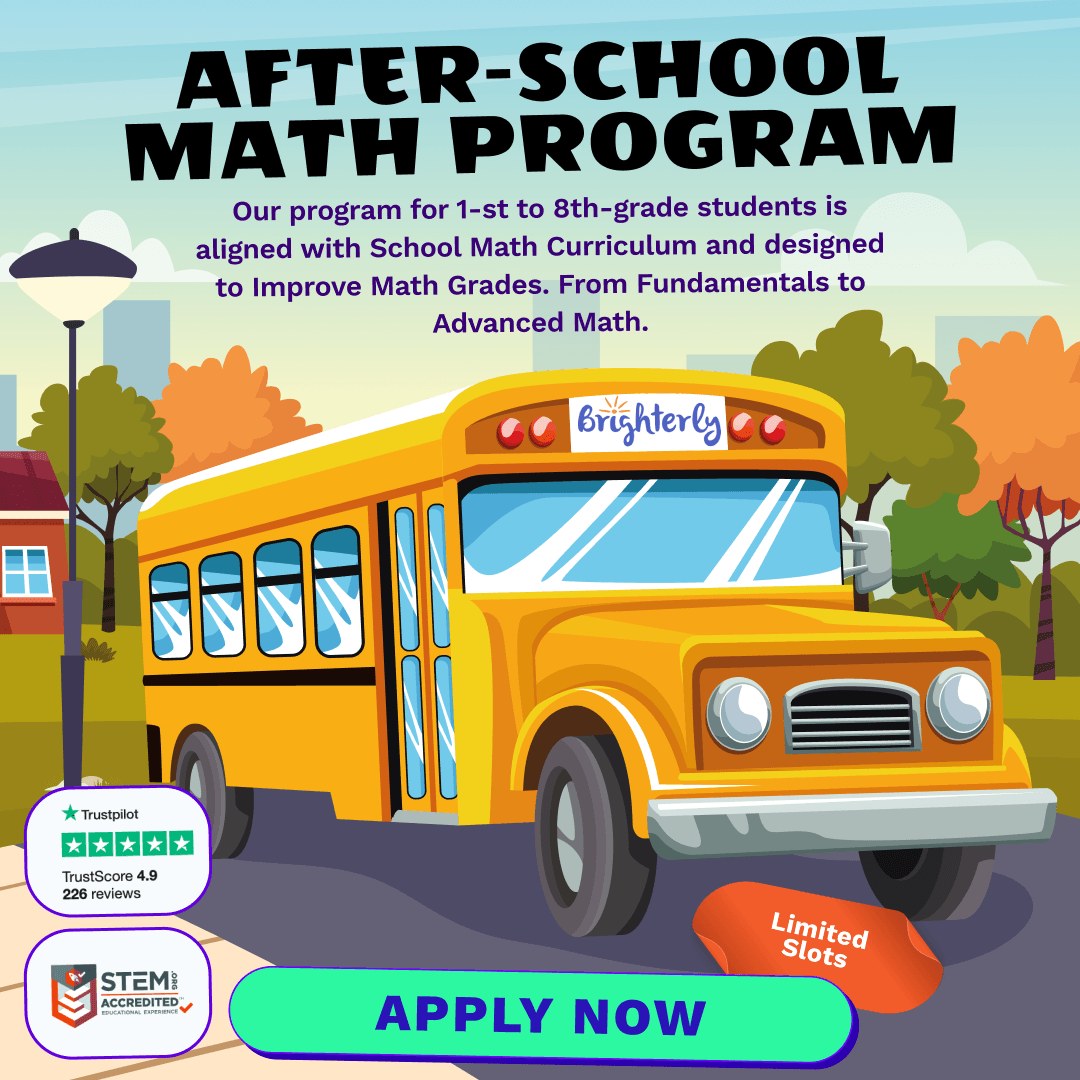 Our program for 1st to 8th grade students is aligned with School Math Curriculum.
Kid's grade
Grade 1
Grade 2
Grade 3
Grade 4
Grade 5
Grade 6
Grade 7
Grade 8
After-School Math Programs
Our program for 1st to 8th grade students is aligned with School Math Curriculum.
Apply Now