11 minutes read
June 27, 2022
How to Become an Online Tutor?
Tips for Tutors
The improvement of internet technology across the globe has enabled the education system to change drastically. Teachers and students don't have to be in a physical classroom for a lesson to proceed. A lesson can be delivered online from anywhere in the world. If you have relevant knowledge and skills and are wondering how you can become an online tutor at home, this article is designed to help you get started.
What Tutoring Is and What Tutors Do?
Tutoring is one of the age-old practices. A tutor is a person who gives instructions to an individual or, in some cases, to a group. The essence of tutoring is to help students in areas where they need exceptional guidance or attention. A tutor will guide students and help them become independent learners and stand for themselves in studies.
What do tutors do?
The work of a tutor is to help students improve knowledge of particular subjects in a non-classroom setting, which can be performed online through a virtual meeting space.
You can offer to tutor an individual or a small group and provide them with a variety of services like development of study skills, test preparation, homework assistance, note-taking strategies, or help in grasping new concepts.
Tutors often assist their students in reviewing materials and completing various assignments they are given in class. The ultimate goal of tutoring is to help students improve their academic performance.
How Much Money Online Tutors Earn
You can make quick money tutoring while sitting in the comfort of your room. The average hourly rate one can earn for math tutoring online is $6.00. 
You can check out tutoring rates per hour and learn about the average online math tutor's salary rates which depend on:
The number of hours a tutor teaches per week
The subject(s) you tutor
Is Your Child Struggling With Math?
1:1 Online Math Tutoring
Let's start learning Math!
Online Tutoring vs Offline Tutoring
The increased availability of the internet allows one to move education programs to online platforms. Thus, online tutoring has become popular due to the service's convenience, possibility of self-management, flexibility, and affordability for students.
Many people are moving away from offline tutoring. Let's look at the differences between the two to help you pick the best option that suits your needs and preferences.
While online tutoring, students and their tutors meet in a computer-mediated environment. This means that communication between a student and teacher can take place at any time of day or night, provided both sides have an internet connection. Lessons are carried out in a virtual classroom where students are guided through modern techniques.
While offline tutoring, students meet with their tutors face to face in a physical setup. Some people prefer this option because the process is well organized and students can engage with their tutors more effectively in one-on-one sessions.
The pros and cons of online tutoring
Pros
Online tutoring requires fewer physical meetings and thus travels to conduct a lesson. Online tutoring also works best for students because they can choose a tutor that fits them best from anywhere across the globe. Students can also learn at a pace that suits them and attend classes when they feel like it. Additionally, kids benefit from wonderful visual aids used in teaching and learn with pleasure.
Cons
On the other hand, online tutoring can be more expensive than offline studying because the technology used can be costly. Besides, organizing lessons for an online group tutoring can be more challenging compared to classes in offline setup.
Despite the convenience of online tutoring, you may experience too many distractions. Destructions may come from a phone, a temptation to start browsing on the net, or a mere notification that pops up on the computer. One can also be distracted by family members if they walk or talk around.
The pros and cons of offline tutoring
Pros
In offline tutoring, teachers are able to better attend to each student's needs in the classroom.
In a classroom, distractions are hard to occur as a teacher's presence alone ensures that students maintain their attention to lessons.
Cons
While offline tutoring, students have to be always present in a classroom. Besides, there is a limited number of teachers to pick from.
Necessary Qualifications to Become an Online Tutor
Individuals who want to become online tutors should meet educational requirements which may depend on a certain employer a tutor wants to work for. Therefore, they often need to have additional certification and training. However, those who plan to work independently can do so without holding any specialized training or obtaining degrees. Their passion and knowledge of specific subjects are enough. Other requirements needed to begin online tutoring may include:
1. Education
Tutors may be allowed to mentor students when they hold an academic degree. For example, you can be an undergraduate and find online tutoring work to teach younger students while continuing your studies.
When teaching online, you will continue to gain more experience and knowledge. The more you specialize in your subject, the more clients you can gain.
Is Your Child Struggling With Math?
1:1 Online Math Tutoring
Let's start learning Math!
2. Training and Certification
Tutors planning to have private students don't need further training but just specialized knowledge to work. However, if you plan to work for some company or reach out to new clients, you'd better pursue formal educational training, for example, to get a teacher's certification.
To be accepted to work for a specialized organization or agency, a candidate needs to undergo additional training required by employers looking for tutors.
To start online tutoring, a person doesn't need to possess any specific tutoring certification. However, certifications increase your chances of getting more online clients or landing high-paying jobs.
Certification is proof that one has advanced knowledge in handling and teaching technical subjects. It is also proof that a tutor possesses techniques and methods to impart knowledge to their learners, which may attract more people looking for online tutors.
You can research the online tutoring industry and know which certification you need.
3. Online Tutor Skills
Tutoring requires patience with every student. Online tutors need to have strong listening skills, good writing abilities, and reading comprehension skills for effective lesson planning and providing suitable content for their students. Thus, they may convey knowledge to their learners effectively.
Communication between a tutor and their learners needs to be practical, unambiguous, and concise. Other skills one must have include:
A passion for teaching and learning
An ability to conduct lessons in an engaging and effective way
Skill set to build rapport with students
Being smart to create engagement and trust
Computer proficiency in handling video conference software and using online course websites for delivering proficient lessons
Problem-solving skills to engage with students who may have special needs apart from learning
How to Become an Online Tutor for Elementary Students
You can become an online tutor for elementary students if you have some spare time, provided you have a PC and an active internet connection. It would help if you could meet the following requirements:
Select your subject topic: The subject should be the one you are comfortable with or the one of your formal education, like a diploma or degree.
Enhance the skills: You can enhance your skills in various pathways and acquire a tutoring certification in subjects that are in high demand, like sciences, English, and math.
Earn certification: Many parents want a tutor who has a certification. A certification will assist you in advanced learning where you can use new techniques.
Pick a suitable medium: After choosing a comfortable topic that you're passionate about, find an appropriate medium to conduct your tutoring. There are many sites and platforms you can sign up with. But consider their pros and cons before and settle for the best.
These steps can also apply to those asking themselves the questions about how to become an online tutor for elementary student's in math or how to become an online tutor with no experience.
Working as an online tutor for a specific website, you will not need to find students on your own. But if you decide to work as an independent tutor or freelancer, you will be restricted to adhering to some working hours or time schedules.
How to Become an Online Tutor as a College Student
Some intelligent college students may start tutoring from high school by helping their friends and peers prepare for the exams. They may even continue teaching their peers in college.
Such students may want to get online tutoring jobs as they continue studying to use their experience and earn some money, for example, to pay college tuition fees. Additionally, some companies may give job opportunities to college students.
Many companies want tutors to meet specific basic requirements like holding a diploma or degree. Thus, college students may find a job when they have passion and experience for teaching or majoring in certain subjects, even with a high school diploma certificate.
Conclusion
If you plan to become an online tutor, don't hesitate and waste time making a decision. People across the globe are spending more to educate themselves online. The steps above will help you launch your career. As you move on tutoring online, you will continue to sharpen your teaching skills and enjoy the process because it's an incredible way to make extra money while doing what you love.
Math Catch Up Program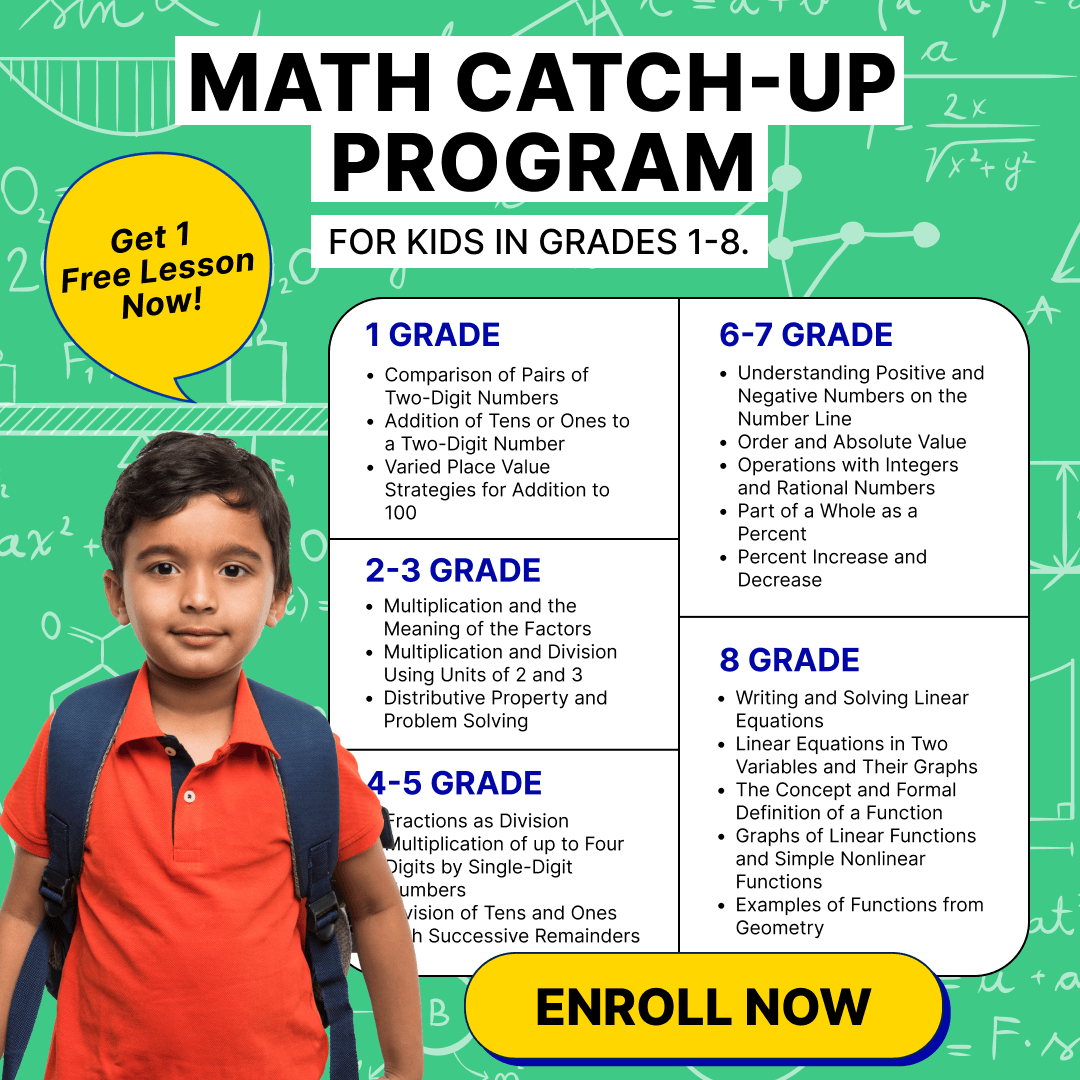 Learn Math Simple - Fast - Effective

Overcome math obstacles and reach new heights with Brighterly.
Kid's grade
Grade 1
Grade 2
Grade 3
Grade 4
Grade 5
Grade 6
Grade 7
Grade 8
Simple - Fast - Effective
Overcome math obstacles and reach new heights with Brighterly.
Select Your Grade