14 minutes read
May 20, 2022
Virtual Learning Tips for Parents
Parenting
Are you getting concerned about the impact of technology on learning? Virtual learning tips for parents provide comprehensive guidelines for helping your child study effectively online.
Notably, the internet is key in offering many resources for parents. This article brings you the best tips for distance learning for parents, as well as tricks and advice from the web.
What Is Distance Learning?
Distance learning is a process of delivering education outside a traditional classroom. The process enables educators to teach students who are not physically present at school. Students can access classes from anywhere in the world. Unlike in traditional in-person classes, the distance between both parties is not critical.
How does it work? Distance education emerged as a viable and popular alternative to traditional classroom instruction after the creation of the Internet.
Depending on the school, classwork can be conducted online, through the mail, via television broadcast, or even over the telephone. Typically, distance learning programs require students to be self-motivated and independent learners who are able to work under minimal supervision. Learners can complete assignments and exams according to the given schedule. Distance learning programs are available at all academic levels and in nearly every subject area.
Is Your Child Struggling With Math?
1:1 Online Math Tutoring
Let's start learning Math!
Virtual Learning Tips for Parents
Navigating a full day of virtual learning after a child has been attending school can be challenging for children and parents. Here are a few tips for virtual learning for parents to help make the transition easier.
1. Set up a Dedicated Workspace
Kids need consistency when it comes to their schoolwork. A designated space with minimal distractions for doing homework will help keep kids on track.
Even better, you can dedicate an entire room as a study hall. If that is not possible, try assigning each child a specific area in your home where they can set up their laptop and school supplies.
If you own a small home or limited space, consider organizing a temporary workspace in a guest room or even turning your dining room into a classroom by bringing in an extra table (or two) during the school day. Just be sure that this space allows students to focus without distractions like television or gadgets.
2. Create a Routine and Schedule
One of the remote learning tips for parents is to create a routine and schedule that can help provide an order for your family, which is especially important during virtual learning.
Establish regular time for meals, classes, and other activities for each day of the week. There will be fewer surprises along the way and you will know how to anticipate the unexpected.
Parents need to make sure that their child has enough rest and sleep. Children need between 10 and 12 hours of sleep per night depending on their age. It will help them be more productive during classes.
3. Communicate with Your Child's Teacher
Emailing or calling your child's teachers is a great way to stay updated on their progress in class. Get clarification on any questions you may have about assignments.
Conversations between parents and teachers are more productive when planned ahead of time. So, it's important to keep the lines of communication open and set aside some time at least once a week to talk about your child's progress.
4. Create a Detailed Daily Plan
Kids need order in their lives, so make sure you establish a daily schedule. Let them know when school starts each day, when breaks and meal times occur, and when classes end.
Kids will need time for homework and other activities, so include those too. It is also important that you discuss the schedule together with your children so that they understand why these times are convenient.
Finally, post the schedule somewhere in your home where everyone has easy access to it.
5. Encourage Weekly Feedback Sessions
When students are learning in the classroom, teachers have many ways to tell how their students are doing with lessons and concepts. Those methods may no longer be available to teachers when students are studying at home.
Therefore, in case of remote learning, parents must connect with teachers regularly to update them on their child's progress. Weekly check-in meetings can allow teachers to see how students are doing and make changes based on the student's current needs.
6. Learn to Identify Barriers Virtually
Barriers may always appear, but for sure, you cannot remove a barrier if you do not know it's there. Maybe your child is lacking math skills or has troubles writing essays.
By identifying challenges early, you can develop a plan to fix everything before a small problem turns into a major issue.
If you need help identifying barriers, talk to your child's teacher or guidance counselor to pinpoint specific areas where your student may benefit from additional support or intervention.
7. Choose the Right Device
Not all devices are equally effective! Some laptops may not have a webcam or microphone, which is a problem for students who need these features for schoolwork. Other computers might have older operating systems that won't run the latest apps teachers use.
It is vital to get an appropriate device so that children are not missing out on any lesson because they lack access to necessary technology.
8. Let Your Child Take a Break
While working from home, it is important to have breaks. The same goes for your kids. Make sure that you and your children schedule a lunch and a couple of other short breaks throughout the day. Such approach will help you to stay focused and not get burned out.
Sometimes, you need to take a break too. Maybe your toddler is in the background or perhaps you need a little coffee break. It will be better for everyone since you are not able to give full attention to your child if you are getting increasingly frustrated.
9. Celebrate the Wins
Virtual learning is hard; hence, a remote learning guide for parents is vital. The main reason is that it is not as easy to get feedback as in a traditional classroom where a teacher is watching your child very closely.
It is also important to celebrate wins with your kids because you never know when they will need your encouragement. Sometimes, these wins are small but essential.
For example, if the teacher says something positive about your child's performance, tell them how proud you are and what a good job they did. Words of encouragement will help motivate children to keep doing their best even when things get tough.
10. Personalize the Learning Process
When a child has an individualized plan, they are more likely to succeed in their learning. It is especially true of students with special needs who may find virtual learning at home more complex than other students.
Ask yourself what type of learner your child is: visual, kinesthetic, or auditory? What kinds of activities motivate them? Then, personalize their learning by offering tasks that meet your child's needs.
11. Use the Right Resources
How can parents support learning at home? First, be sure your children have access to reliable technology. For having a positive experience with virtual learning, kids need the right tools.
If you still do not own a laptop or other device necessary for online classes, it is time to invest in one!
You should also ensure that your child has an adequate internet connection so they will not miss out on any lessons due to poor service quality.
Do not force your kid to sit in front of the computer all day watching long lectures. Try using educational apps and games instead.
12. Sync with Your School's Calendar
When you sign up for virtual learning at your child's school, make sure you know all of the dates and deadlines. Ensure that you do not miss anything because of a time zone difference if your teacher and school are not local.
More importantly, make sure you are aware of any upcoming parent-teacher conferences, exams, field trips, or other events that may be part of your child's educational experience and may influence a kid's final grades.
13. Encourage Self-Direction
One of the best skills you can help your child develop as they learn online is self-direction. Taking charge of the learning means a child can make their own decisions about what they need to know, how to get the information they need, when to ask for help, and more.
If your child gets instructed frequently on everything they need to know, they may not have developed a self-direction skill before. But for more adult learners, self-direction is a critical factor for succeeding in virtual learning. So, it is never too early to start developing this ability in kids.
14. Don't Micromanage
You must not micromanage your kids in the learning process as it can make them frustrated and unhappy. The learning process must be a fun activity for them. So, allow children to use their creativity and explore things.
You might think that you are helping, but in some cases, you are making it worse. Trust the kid's abilities, try to understand what they are capable of, and let them function independently.
However, please don't leave a kid alone without any guidance or supervision. You must be there to help but not meddle in the learning process.
Is Your Child Struggling With Math?
1:1 Online Math Tutoring
Let's start learning Math!
Tools for Distance Learning
The internet is an essential tool for education. You can access numerous online resources, whether for managing a remote classroom or completing your homework. The following four tools will make distance learning easier for everyone.
a) Google Classroom
Students can use Google Classroom through the web or the mobile app. Once you are in Google Classroom, you need to set up your class roster and create an assignment.
You then name your assignment and add instructions for the students. The instructions should explain in detail what a student should do and include any links to videos or resources kids may need to complete the assignment. Students can submit the completed work in Google Classroom app and get feedback or a grade from their professor.
b) Zoom
Zoom is a video conferencing tool that allows users to meet face to face from anywhere in the world, whether at home or in the classroom. Zoom makes it easy for teachers and students to interact in real time, creating a learning experience that feels like participation in an actual offline class.
The tool is also simple enough to use for all ages – from elementary schoolers logging in for their first online lesson to high-school seniors taking their final exams over Zoom.
Zoom offers several plans that vary with a range of services, and the choice of a plan depends on how frequently you plan to use the platform. Additionally, there is a free plan for basic meeting needs (up to 100 participants).
c) Brighterly
Brighterly is an education platform for learners offering a one on one lesson. The lessons are interactive, and tutors use a variety of approaches to make sure the learning process is not boring and the children are involved in all lesson activities.
After the first trial lesson, Parent Advisor contacts the parents to give detailed feedback and conduct a further learning plan based on the abilities demonstrated by the learner. Homework is given to emphasize on topics covered for every class.
d) Kahoot!
Kahoot! is a gamification platform that allows teachers to create online games and quizzes. Students can join and participate in the games using their mobile devices or computers. It is possible by entering the quiz code in the Kahoot!
As soon as one student submits an answer, it is displayed whether the answer is correct or not and the next question follows.
Questions can be multiple-choice, true/false, or open-ended ones. In addition, images and videos can be included in each question slide.
Conclusion
With the advent of online education, your child no longer has to be geographically close to a school to study. However, parents who have never attended virtual schools may be unsure how to prepare their children for this new phase in their education.
The tools and tips for distance learning for parents outlined in this article can help them better recognize the needs and skills of their children to begin preparing kids for a future in technology-enhanced learning now.
Book 1 to 1 Demo Lesson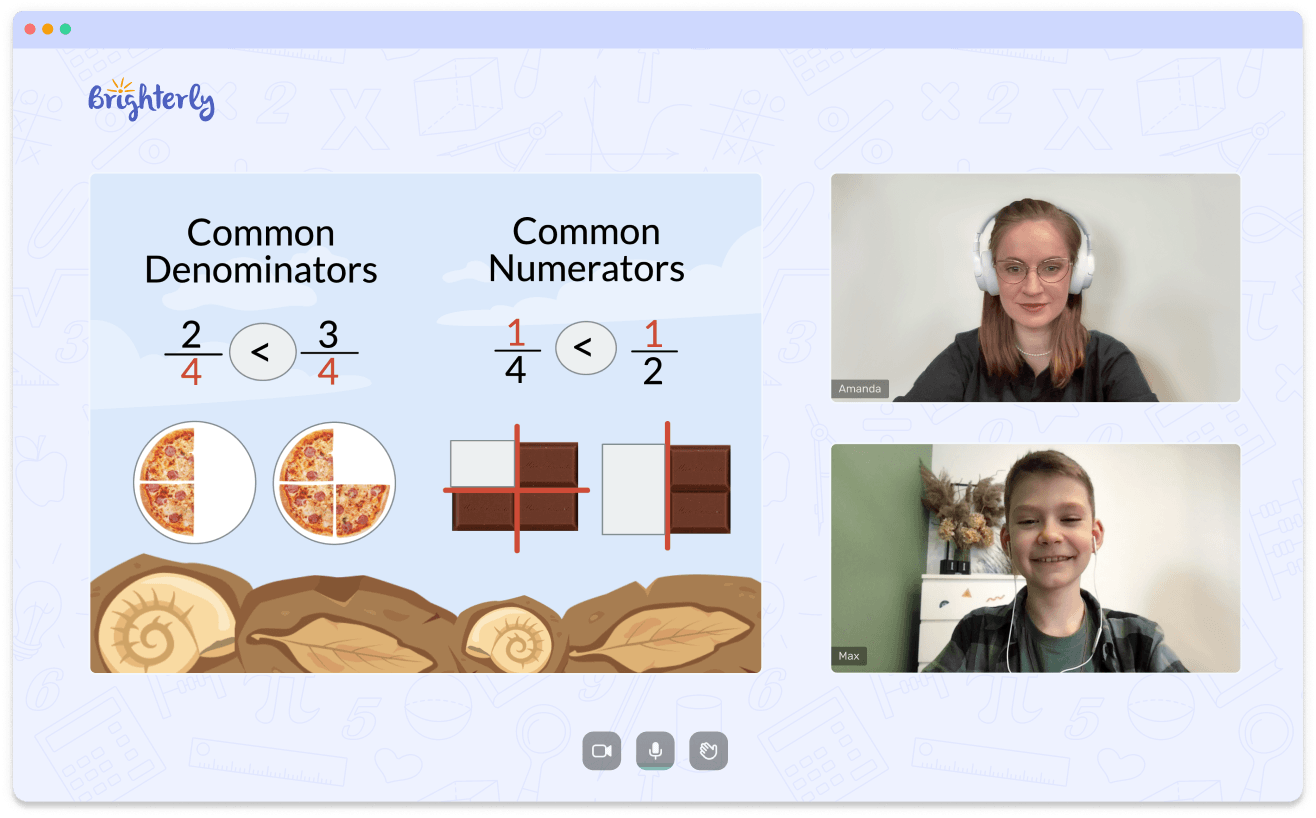 We help children understand Math concepts instead of memorizing.

We will adapt to your child needs to improve math performance.
Kid's grade
Grade 1
Grade 2
Grade 3
Grade 4
Grade 5
Grade 6
Grade 7
Grade 8
Is Your Child Struggling With Math?
Book 1 to 1 Demo Lesson
Get started