>
>

Decimals on a Number Line Worksheet
Decimals on a Number Line Worksheet
As kids progress from basic counting to adding decimals, they may struggle a bit. With the best math resources, you can help your students master the concept quickly. The decimals number line worksheets simplify the idea for kids.
Benefits of decimals on number line worksheets
Worksheets' numerous questions on the number line worksheet will help a kid grasp decimals quickly. Like other math resources on Brighterly, these worksheets have questions for students that are of different difficulty levels, which ensures your kid can always find a suitable worksheet for them. Continuous use of the worksheet will enhance skills like analytical and abstract thinking.
Is Your Child Struggling With Math?
1:1 Online Math Tutoring
Let's start learning Math!
Seasoned tutors design the decimals on number line worksheet using their knowledge of how to make students learn. Studying with the worksheet will boost kids' number fluency, which will be crucial as they advance in their careers and internationalization.
You can download the printable version of the decimals on a number line worksheet 4th grade, and other graders can use them from the Brighterly website to aid learning. Having the paper format of the worksheet will help independent and repeated learning, which brings mastery.
Need help with Decimals?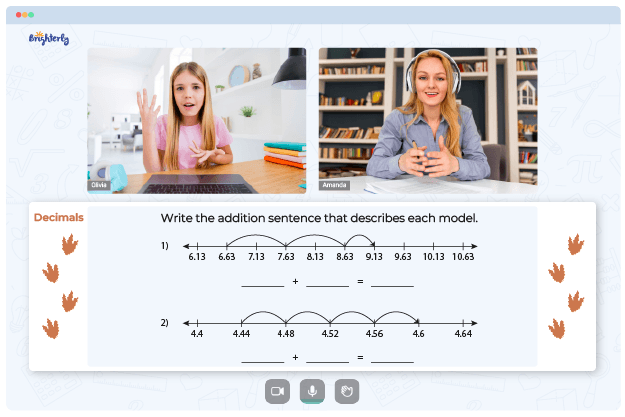 Does your child need additional support with mastering decimals lessons?

Start lessons with an online tutor.
Kid's grade
Grade 1
Grade 2
Grade 3
Grade 4
Grade 5
Grade 6
Grade 7
Grade 8
Is your child finding it challenging to grasp the fundamentals of decimals? An online tutor could be the solution.
Book a Free Lesson