>
>

Kindergarten Addition And Subtraction Worksheets
Kindergarten Addition And Subtraction Worksheets
Many kids are aware of the mathematical "take away" and "add" concepts by the time they join school. Most probably, they find it difficult to grasp the type of computation involved in subtraction and addition. An excellent way to change this situation is the use of free-to-download kindergarten addition and subtraction worksheets.
These tools typically incorporate colorful animated objects such as apples, school buses, pumpkins, and cars, which eases the process of teaching students about single-digit addition and subtraction worksheets. There are also mixed addition and subtraction worksheets kindergarten kids can use if they are more advanced learners.
Benefits of Addition and Subtraction Worksheets
Addition and subtraction worksheets can include puzzles and color by number activities. All you have to do is download and print math worksheets for kindergarten addition and subtraction and start teaching your kindergartener these skills.
Is Your Child Struggling With Math?
1:1 Online Math Tutoring
Let's start learning Math!
The worksheets will help a child learn:
Add up and subtract numbers.
Match up numbers to corresponding images.
Free Printable Addition and Subtraction Worksheets
Here is a selection of free downloadable addition and subtraction worksheets for kindergarten level:
Printable Addition and Subtraction Worksheets
Adding and subtracting worksheets kindergarten are the tools kids usually enjoy. They learn about these two concepts in a fun and exciting way, while the images make it easier to follow and interpret information.
Struggling with Addition?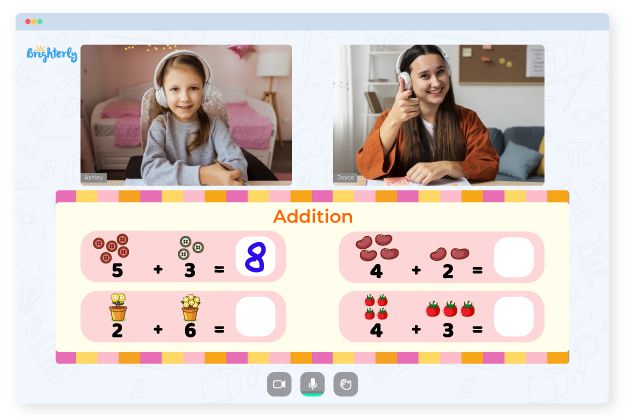 Is your child finding it hard to understand the concept of addition?

An online tutor could be the answer.
Kid's grade
Grade 1
Grade 2
Grade 3
Grade 4
Grade 5
Grade 6
Grade 7
Grade 8
Does your child struggle to grasp addition lessons? Try learning with an online tutor.
Book a Free Class