>
>

Kindergarten Measurement Worksheets
Kindergarten Measurement Worksheets
Measurement may be challenging or exciting for kindergarteners, depending on a tutor's approach. To ensure a positive learning experience, your kids need measurement worksheets. This article uncovers everything you need to know about measurement worksheets kindergarten kids need.
Free measurement kindergarten worksheets
Naturally, kids love to measure; children's inquisitive nature makes them compare objects to know which is bigger, taller, shorter, etc. Brighterly's worksheets on measurement for kindergarten explore this nature to create a teachable moment.
Brighterly's worksheets are a rich combination of pictures and colorful designs which make learning more exciting.
Kindergarten measurement worksheets are all-encompassing. They comprise questions and concepts that require the knowledge of standard measurement units and those that don't. They ensure students are not confined to using rulers and measurement tapes.
Is Your Child Struggling With Math?
1:1 Online Math Tutoring
Let's start learning Math!
Over time, as your kids learn with measurement worksheets, they will not only become experts in using measuring instruments, they will be able to measure objects without using any tools.
Worksheets boost kids' critical thinking skills by presenting them with real-life examples and ideas.
Worksheets usually include pictures of animals, blocks, fruits, etc. Through the photos, kids will know that a giraffe is the tallest animal on land and a whale is the largest one in the water.
Printable measurement worksheets for kindergarten
As an educator or parent, you can offer Brighterly's measurement worksheets for kindergarten free tools to your students or children. All you need to do is download the PDF version of a worksheet and print it out.
Printed worksheets reduce the stress of revising topics since they are designed for kids to learn independently. However, you must start by guiding your kindergarteners on how to use worksheets. Kids will learn quickly since the worksheet's system is captivating.
Measurement Worksheets
Problems with Measurement?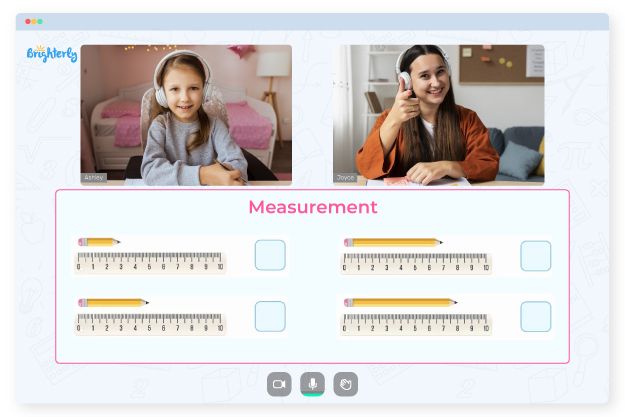 Does your child need extra support with mastering measurement lessons?

Start lessons with an online tutor.
Kid's grade
Grade 1
Grade 2
Grade 3
Grade 4
Grade 5
Grade 6
Grade 7
Grade 8
Is your child finding it hard to understand the fundamentals of measurement? An online tutor could be the answer.
Book a Free Lesson