>
>

Measuring Inches Worksheets
Measuring Inches Worksheets
As children get older, they must learn more precise and quantitative means of performing measurements in math. Thus, kids should perfectly know a standard unit of measurement to estimate and measure objects accurately. For this reason, children should be taught how to measure length using units like inches or centimeters.
Parents and tutors are advised to use worksheets so that kids can understand concepts better. Here is everything you need to know about a measuring in inches worksheet.
Measuring Inches Worksheet from Brighterly
Brighterly is an online math learning platform with tutors who dedicate time and effort to helping kids understand complicated math concepts. The tutors believe that kids can learn using different methods. Whether using games, brainteasers, or worksheets, the professionals can work with your kid according to their grade and level of understanding.
Is Your Child Struggling With Math?
1:1 Online Math Tutoring
Let's start learning Math!
Tutors can use a measuring in inches worksheet to help introduce kids to inches in a more convenient setting. First, measuring to the nearest inch worksheet introduces kids to the concept of measurements before explaining terminologies like inches. They come with exercises and other activities kids can practice after getting familiar with inches. Professionals understand how much good a measure to the nearest inch worksheet can do to kids, so they always encourage their students to learn using worksheets actively.
How to Use Measuring Inches Worksheet in a Fun Way
Worksheets are always fun for kids regardless of age and abilities. Even if your kid is in the third grade, you can always get measuring in inches worksheets for 2nd grade, thus allowing a child to repeat and solidify the existing knowledge before moving forward. Tutors provide students with a measuring in inches worksheet in PDF that contains pictures and activities. Also, tutors always recommend a measuring in inches worksheet with an answer key so that kids can practice questions and see how they performed after studying.
Measurement Worksheets
Trouble with Measurement?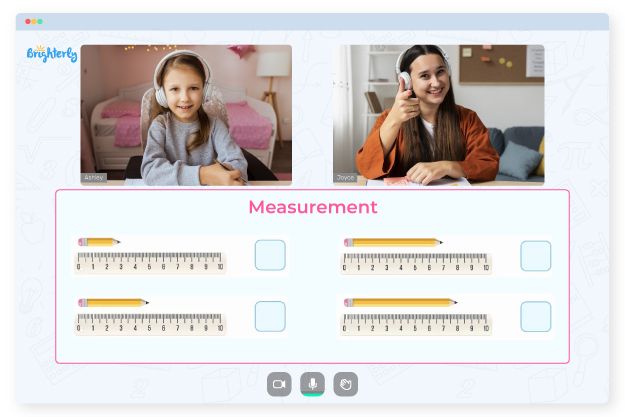 Is your child having difficulties in mastering measurement?

Consider studying with an online tutor.
Kid's grade
Grade 1
Grade 2
Grade 3
Grade 4
Grade 5
Grade 6
Grade 7
Grade 8
Does your child need help with measurement fundamentals? An online tutor could help.
Book a Free Class