>
>

Money Worksheets 3rd Grade
Money Worksheets 3rd Grade
In 3rd grade, kids begin to learn about money. Prior to this stage, money might have merely been an abstract concept to them. Now, they'll begin to learn about it and how to use coins or bills. As you may expect, this won't be an easy transition. This is why you need our 3rd grade money worksheets.
About the Counting Money Worksheets 3rd Grade
The money worksheets for third graders are an excellent resource to gently nudge kids into learning about money. These worksheets cover all the bases: identifying denominations, counting coins, comparing notes, and even adding and subtracting money. More importantly, your child will develop logical and critical thinking skills.
Is Your Child Struggling With Math?
1:1 Online Math Tutoring
Let's start learning Math!
Benefits of the Money Worksheets Grade 3
The third grade 3rd grade money worksheets come with a wide range of benefits and perks for young learners. It creates a strong math foundation for them, which would come in handy as they advance to higher grade levels.
They'll learn the intricacies of handling money and their perspective will shift. Instead of viewing money as an abstract idea, they'll learn its importance and be able to utilize it in real life. 
The cognitive skills they'll develop through these worksheets will also be useful in their academic and personal lives. 
More Money Worksheets
Need help with Money in Math?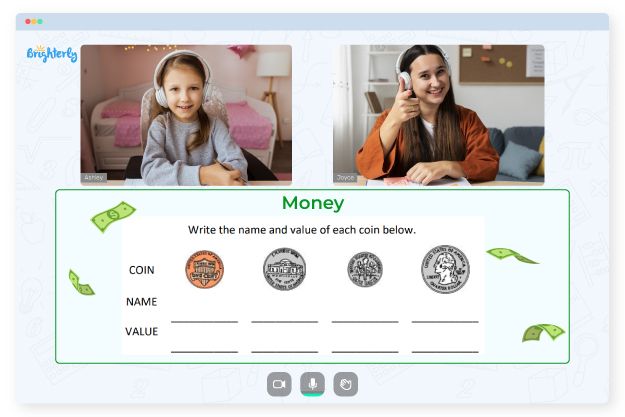 Is your child finding it difficult to understand the basics of money in math?

Start lessons with an online tutor.
Kid's grade
Grade 1
Grade 2
Grade 3
Grade 4
Grade 5
Grade 6
Grade 7
Grade 8
Does your child need additional help mastering the concept of money in math? An online tutor could be of assistance.
Book a Free Class