>
>

Counting Money Worksheets
Counting Money Worksheets
During lectures and playtime, kids will show their fascination for money and the things it can buy. But without external aid, they won't learn how to correctly estimate the amount needed to purchase a specific item like candy or books. Printable counting money worksheets introduce kids to proper methods of counting money while also teaching them summation.
Free Counting Money Worksheets
Counting money is a skill that needs a grasp of fundamental math operations and the ability to convert currencies. Money worksheets enhance students' familiarity with currencies and their values. Practical tests in counting money worksheets will help children overcome the fear of solving math problems.
Money counting worksheets guide students in learning how to count banknotes and coins accurately. With these worksheets, children will learn how to convert cents into dollars or how much money they will need to purchase sweets at the grocery store.
One of the most significant advantages of using Brighterly's counting money worksheets is that students can practice money-related exercises. Brighterly's free counting money worksheets come with questions presented in different forms, like fill-in-the-blanks, matching, and so on to ensure that kids enjoy learning monetary calculations.
When kids start counting money, worksheets act as their safety net. They don't have to practice with real money and risk losing the notes due to carelessness or oversight. Kids just use illustrations of cash in the worksheets in place of real money while calculating. Worksheets also teach students to count in their heads and combine several currencies to get a net value.
Is Your Child Struggling With Math?
1:1 Online Math Tutoring
Let's start learning Math!
The Importance of Using Counting Money Worksheets
The use of simulations and interactive activities in the studying process encourages students to learn. Interactive money worksheets are cheap resources that help kids reach the level of interaction that is synonymous with top-quality math education. Counting money worksheets are practicals for learning financial math; children can progressively go through each concept in depth.
The use of worksheets will help kids remember money counting theories and shortcuts. It will also encourage kids to apply the concepts they have learned to real-life scenarios. Worksheets will teach to substitute physical cash with numbers and count the numbers as if kids were counting money.
Money worksheets help kids comprehend basic math principles and concepts. Kids start from solving simple money-counting problems to tackling questions with a higher level of complexity. Students will also learn to count funds without seeing physical notes or coins, which becomes the introduction to digital money.
Printable Counting Money Worksheets
Teaching kids to count money — especially in different forms like dollar notes, cents, and nickels — may be difficult but not impossible. With Brighterly's counting money worksheets in PDF format, you can help kids in an enjoyable and participatory manner.
In addition to Brighterly's activities and games, tutors or parents can use props to help their kids visualize the process of counting. For example, they can photocopy banknotes or print pictures of cash and carve them out. When combined with Brighterly's worksheets, such hand-made materials become valuable teaching aids.
Money Worksheets
Need help with Money in Math?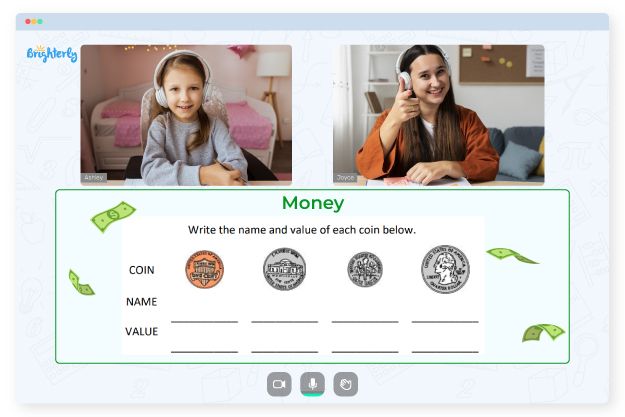 Does your child need extra support with money in math?

An online tutor could help.
Kid's grade
Grade 1
Grade 2
Grade 3
Grade 4
Grade 5
Grade 6
Grade 7
Grade 8
Is your child struggling to understand money in math? Consider lessons with an online tutor.
Book a Free Lesson