>
>

Money Worksheets 2nd Grade
Money Worksheets 2nd Grade
Counting money is one of the first real-world math activities kids face. The list of topics covered in second grade money worksheets will continue from where first grade math topics stopped. The complexity of worksheets continues to rise accordingly. 2nd grade money worksheets offer bigger numbers and increase the number of coins and bills in the students' tests.
Free 2nd Grade Money Worksheets 
Brighterly's free money worksheets for 2nd graders help kids learn, understand, and apply the concept of money in various situations. Money worksheets teach kids money management, a vital life skill relevant worldwide. Budgeting, making wise financial decisions, and numerous operations with money will always be necessary in professional and everyday life. 
Helping kids understand, identify, and calculate money may be difficult, especially at the start. That is why you need quality math resources like Brighterly's money worksheets. When it's time to practice counting money, these worksheets for 2nd grade students may help by providing visual cues and examples to guide students. With interactive simulations centered on identifying, estimating, and calculating money, these resources simplify understanding of the concept of money for kids.
Is Your Child Struggling With Math?
1:1 Online Math Tutoring
Let's start learning Math!
Benefits of 2nd Grade Money Worksheets 
Brighterly's money worksheets are valuable in the classroom and at home. They teach 2nd grade students to enjoy math while improving their understanding and handling of money-related operations. Benefits are the following:
Cost-effectiveness
Second grade money worksheets are cost-effective. They make math fun and engaging for kids without putting a hole in their parents' pockets. Students may also revise and practice the questions in the worksheets to prepare for competitive tests.
Interactive way of learning 
A significant advantage of money worksheets for 2nd grade is that pupils have an opportunity to practice money-related problems. Children may learn the topic faster due to numerous types of questions and exercises in money worksheets. The activities include filling in the gaps, matching, etc.
Printable 2nd Grade Money Math Worksheets 
You can download Brighterly's money worksheets for 2nd grade in PDF format online. Printable money worksheets for 2nd grade kids are packed with different levels of problems, both complex and simple. Worksheets include step-by-step strategies, allowing kids to get better at answering money-themed questions.
Money Worksheets
Need help with Money in Math?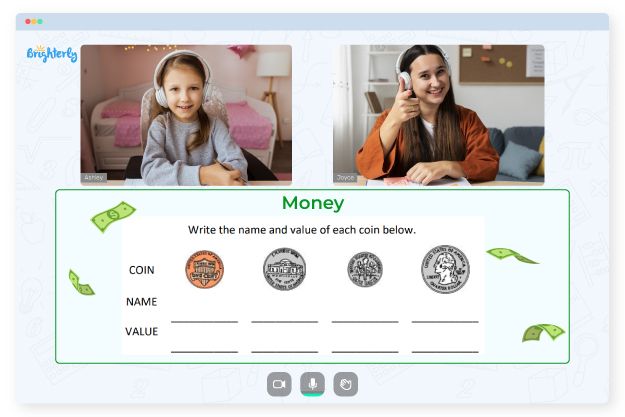 Is your child having difficulty keeping up with money in math?

Consider lessons with an online tutor.
Kid's grade
Grade 1
Grade 2
Grade 3
Grade 4
Grade 5
Grade 6
Grade 7
Grade 8
Does your child need help understanding money in math? Start learning with an online tutor.
Book a Free Lesson