>
>

Money Worksheets For Kindergarten
Money Worksheets For Kindergarten
The use of coins and money worksheets will assist youngsters in improving their counting abilities. Kindergarteners will learn to count and perform essential addition and subtraction operations using kindergarten money worksheets. A money worksheet for kindergarten students will teach children to count money while boosting their perception of value and financial exchange for goods and services.
Free Kindergarten Money Worksheets
Using Brighterly's kindergarten money worksheets, your kids will get an overview of the value of money in daily life. These beginner money worksheets for kindergarten, which look like brightly colored drawings, teach pupils to identify coins by their names, appearance, and worth. By counting coins and completing word problems, your kids will improve their math skills and get valuable experience necessary for life.
Leave your email and we will send you worksheets
worksheets sent successfully
Sorry, please try again later.
By clicking on Download worksheets, you agree to our Terms of Service and that you have read our Privacy Policy and Refund Policy.
High-quality money worksheets for kindergarten kids primarily assists youngsters in recognizing the values of coins. In addition, worksheets will strengthen kids' knowledge of the fundamentals of addition and subtraction.
The Importance of Kindergarten Money Worksheets
Brighterly's money worksheets for kindergarten kids make children more confident in performing money operations as adults won't always be nearby to solve their problems. In worksheets, money is introduced in its simplest form. Worksheets cover the exchange concept in barter trade to make kids understand what money does. As children begin linking cash and coins with items they can purchase, they begin to realize the role and function of money.
Is Your Child Struggling With Math?
1:1 Online Math Tutoring
Let's start learning Math!
A money worksheet for kindergarten students that doesn't make studying fun won't help children. Worksheets should be enjoyable as kindergarteners prefer practical and colorful manuals to their textbooks and thus, spend more time on the former. These resources ensure math is perceived as a fun subject, laying the foundation for kids to remain interested in math even after advancing from preschool.
Kindergarten money worksheets are readily available online. Their accessibility makes it easy for parents or tutors to quickly find them and supervise kids as they solve exercises in worksheets. As kids can practice worksheets repeatedly, tutors or parents can track the improvements.
Leave your email and we will send you worksheets
worksheets sent successfully
Sorry, please try again later.
By clicking on Download worksheets, you agree to our Terms of Service and that you have read our Privacy Policy and Refund Policy.
Printable Kindergarten Money Worksheets
Brighterly's preschool money worksheets for kindergarten students improve kids' appreciation of money and other forms of exchange. These worksheets serve as helpful tools for discovering a child's understanding and retention rates.
Printable worksheets allow kids to practice and learn all about money without worrying about making mistakes. Parents can download worksheets in PDF format and encourage their kids to study at leisure time to improve math skills.
Money Worksheets
Need help with Money in Math?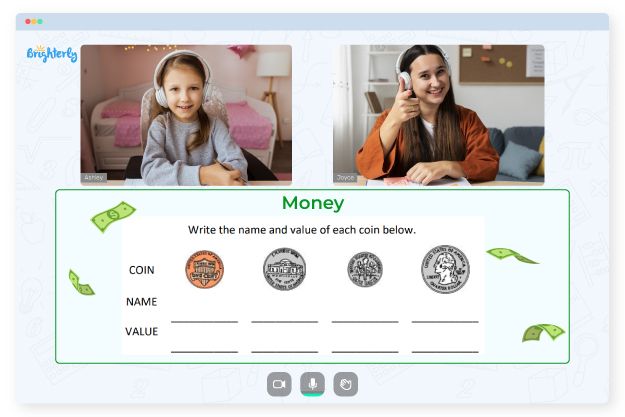 Does your child need extra support with mastering the fundamentals of money in math?

Start lessons with an online tutor.
Kid's grade
Grade 1
Grade 2
Grade 3
Grade 4
Grade 5
Grade 6
Grade 7
Grade 8
Is your child finding it hard to grasp money in math? An online tutor could be of help.
Book a Free Lesson