>
>

Money Worksheets 1st Grade
Money Worksheets 1st Grade
As kids advance to higher academic levels, they need to learn the financial aspect of mathematics. Money plays a crucial role in our day-to-day lives, and as a result, kids must understand how to use money for performing basic transactions. 1st grade money worksheets are gaining popularity as they quickly help first graders learn the financial aspect of math.
Free 1st Grade Money Worksheets
Brighterly offers a collection of first grade money worksheets designed to assist kids in learning how to count money using coins. When kids become conversant with counting money, they can start tackling advanced money questions.
Professional teachers with 1-on-1 tutoring skills use Brighterly's free money worksheets while teaching math. The resources reduce the likelihood of your kids getting bored with studying. As your kids solve the problems under the supervision of a tutor or parent, they will gain confidence in their abilities.
Is Your Child Struggling With Math?
1:1 Online Math Tutoring
Let's start learning Math!
Why 1st Grade Money Worksheets Are Important
Kids should be acquainted with money because it's a part of their daily lives, for example when they go to the shop with their parents or friends. The use of money worksheets for 1st grade classes should help kids fine-tune their adding, subtracting, and counting skills.
Counting money worksheets for 1st grade kids are essential basic tools for teaching financial independence. Money worksheets for grade 1 kids help them develop a sense of confidence when working with numbers. Furthermore, as kids practice, their money management skills are developed and improved.
Problem-solving is a helpful skill that can be built with the help of first grade money worksheets. When students practice these worksheets repeatedly, they will begin thinking critically and looking for solutions to money problems more effectively.
Money Worksheets
Problems with Money in Math?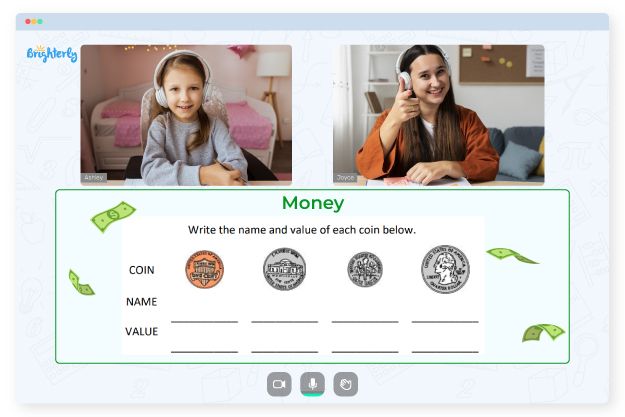 Is your child having difficulties with money in math?

Try learning with an online tutor.
Kid's grade
Grade 1
Grade 2
Grade 3
Grade 4
Grade 5
Grade 6
Grade 7
Grade 8
Does your child need help mastering money in math? Start lessons with an online tutor.
Book a Free Class