>
>

Single Digit Multiplication Worksheets
Single Digit Multiplication Worksheets
If your kids have had an experience with addition and subtraction and are getting to start studying multiplication, a single digit multiplication worksheet will make the process easier for them. Single digit multiplication worksheets are usually designed to be in a vertical exercise form.
To solve the questions in single-digit multiplication worksheets, kids need to know the multiplication table. Inversely, the same multiplication worksheets single digit help your child learn times tables to develop multiplication and division skills. It allows children to try their hands at simple multiplication and gradually improve.
Types of Single Digit Multiplication Worksheets
Here are some different but exciting formats of single-digit multiplication worksheets: multiplication single digit worksheets containing card multiplication games, buzz multiplication, and other multiplication problems.
Is Your Child Struggling With Math?
1:1 Online Math Tutoring
Let's start learning Math!
Each variant is a useful approach to teach your kids multiplication, but all types of these sheets are equally effective as single digit multiplication worksheets. You may pick a number from the collection of numbers from 1 to 9, and the corresponding worksheet will lead students through different ways to memorize the times table. Practice with worksheets helps them visualize and understand simple multiplication.
Benefits of Using a Single Digit Multiplication Worksheet for Kids
Practicing with one digit multiplication worksheets keeps your child focused and active, builds their confidence, and makes them better understand the multiplication concept. These worksheets help a kid improve their academic performance and excel in mathematics and other related subjects.
Downloading single digit multiplication worksheets PDF is a helpful studying method for students as they are provided with many exercises to solve and build their critical thinking flair. These math problems include step-by-step exercise solutions and can be solved repeatedly anytime. Worksheets uncover mathematics' logical and deductive aspects to help students in real-life situations.
More Multiplication Worksheets
Struggling with Multiplication?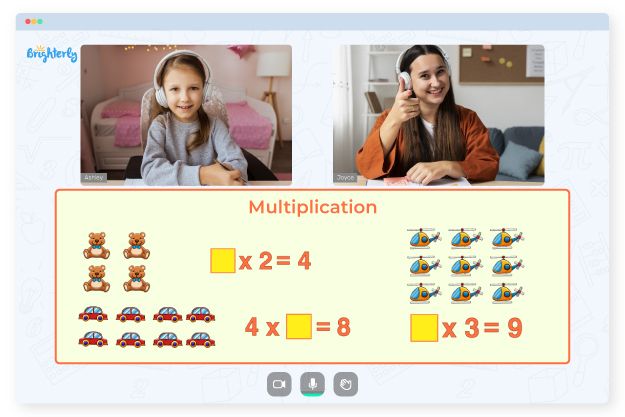 Is your child finding it hard to grasp the fundamentals of multiplication?

Try studying with an online tutor.
Kid's grade
Grade 1
Grade 2
Grade 3
Grade 4
Grade 5
Grade 6
Grade 7
Grade 8
Does your child struggle to understand multiplication concepts? Start lessons with an online tutor.
Book a Free Class