16 minutes read
April 10, 2022
Best Homeschool Math Curriculum for Struggling Students
Parenting
Helping a child who struggles with math can be exhausting. Even if a kid attends conventional school, they still need educational support from parents to catch up to their peers at school. Parents usually want to ensure their homeschooled child gets the best math education possible. If you are one of such parents, continue reading to choose the best homeschool math curriculum for struggling students.
Before we start
Following the math curriculum designed for traditional schools might be an exhausting task for a parent trying to homeschool their child. There are so many curricula out there that finding the right one might be just as stressful as trying to break it down into dedicated lessons. You have to do a thorough selection process to find the one that suits your child.
If you want to get the right curriculum for your kid without wasting time, talk to our homeschool tutor today.
Our adaptive curriculum follows the nationwide common core math standards and suits your child's learning needs.
Benefits of Online Math Programs for Struggling Students
Many parents are usually skeptical about online learning programs because they feel their kids need to be in a physical classroom to learn appropriately. They believe classroom interactions help kids build social skills and other essential life competencies. However, online math programs for struggling students have some clear upsides, and the following sections will describe them.
The lessons are individualized
Online math programs for struggling students contain lessons that are tailored to fit your child's  needs. Now, kids can study at their own pace and time. Since no two kids are the same, online math lessons can help children with curriculums, suitable resource materials, and videos to learn independently.
Often, teachers build their classroom lessons around the level of knowledge of an average student. However, this system doesn't favor students with learning or retention challenges. With online classes, struggling kids have the liberty to watch or record online sessions to rewatch and learn as many times as they want.
There is no social distraction
Peer interactions are essential for learning, but aspects like bullying, flirting, and student rivalry can also be distracting. Studying with online math programs, children face minimal distractions. There will be no classmates to make corny jokes or pick on your kids when they make mistakes. So, children can learn as they should and build their sense of independence. Students struggling with math can work under guidance of online tutors to achieve their math goals.
Helpful internet tools are available
Struggling math students can get numerous educational resource materials from online math programs. There are always references like hard copies, e-books, and videos that your child can use to complement their online learning efforts.
The Best Homeschool Math Curriculum Programs
Finding the best homeschool math curriculum for struggling students can be challenging, especially when children learn differently from others. So, whether your child has dyslexia or faces difficulty in understanding math concepts, rest assured that a few of the following homeschool options will fit their needs.
Brighterly
You can use the platform for learning if your child is homeschooled. Brighterly has the best math curriculum for struggling students as it fuses fun games and exciting exercises to make the learning experience more enjoyable for kids. Your child will meet talented teachers who personalize the modules to each kid's level and requirements.
Brighterly caters to children aged three to eleven years old, from the Pre-K to Grade 5 level. While it is a professional tutoring service, lessons are also engaging and fun. There are different math course packages, so you can choose one which excites your child most. Try out a free demo before choosing a course option.
Math-U-See
Math-U-See is one of the best homeschool math curriculums for struggling students since it provides a comprehensive K–12 math education with a particular set of talents. The course of study consists of 13 levels, starting from an introduction to mathematics and ending in calculus. The curriculum integrates content from previous levels using tools that make math less complex.
With the Math-U-See curriculum, your struggling child will learn more arithmetic topics at a comfortable speed. The Math-U-See curriculum benefits your kids by using video lessons, textbooks, and internet resources in the learning process. You can use interactive strategies at every level to keep the kids interested in studying.
Singapore Math
A second homeschool math curriculum for struggling students is the Singapore Math curriculum. This curriculum focuses on the philosophy that if kids do not have solid mathematical foundations, they will battle with complex math concepts. The curriculum encourages kids to improve critical reasoning by memorizing and thinking about ways to solve mathematical problems.
You get textbooks, workbooks, and home instructor's guides in the Singapore Math curriculum. Since instructor's manuals are available, kids acquire a solid foundation with this curriculum and can always go back to previous lessons. The program ensures that kids devote more time to mastering a particular mathematical concept before moving on to the next idea.
Horizons Math
Horizons Math is an engaging curriculum that can form an excellent foundation for homeschooled kids to catch up with their peers. The curriculum helps your child learn basic math and introduces fun activities to etch lessons in your child's mind. The program helps kids understand algebra principles since it provides a well-balanced, structured method of studying.
Horizons Math boasts two vivid, well-organized manuals with 80 classes per book, giving 160 courses annually. It contains daily lesson plans, answers for teachers, hands-on exercises, and printable worksheets for kids while offering constant practice to build your child's math skills.
Khan Academy
Khan Academy understands that learning styles and approaches are unique to each child. Some kids need special attention, while others can quickly grasp math concepts. Khan Academy gives proper representation to math, physics, history, economics, etc. The academy boasts a reliable collection of lessons in different subjects to close their students' learning gaps.
Khan Academy has free math programs for struggling students of all ages. Its instructional videos and customized learning dashboard offer a wide range of subjects to help prepare your kids for their K-14, LSAT, SAT, and Praxis examinations. With strong foundations already in place, there's no limit to what your child can achieve with the Khan Academy curriculum.
The Khan Academy team always strives to make it easier for teachers to know what their students are doing and how to support them. Also, parents and teachers can conveniently tell whether their children are having difficulties with lessons or just trying to learn more about a particular concept. The best part is that the classes are entirely free.
Saxon Math
Saxon Math is a learning framework that works from the ground up to a greater level of comprehension. The developers of this homeschool math curriculum for struggling students understand that a child's ability to understand new mathematical ideas relies on their past math knowledge. With this curriculum, you can introduce and link numerous principles of mathematics that your child has learned throughout the school year to create a sturdy foundation.
Occasionally, the kid takes tests and evaluations. These tests are necessary to check how many concepts the kid understands and remembers. Such approach encourages kids to take their time to grasp and practice one math concept before advancing to the next. This way, children have more opportunities to practice and understand math.
RightStart Math
So many kids struggle with math even before getting a diagnosis that proves they have dyslexia. Kids with dyslexia cannot learn via rote memory or sequential skills; so, they can have difficulty remembering formulas and basic rules to follow when handling math problems. Dyslexia can affect other areas of your child's life, not just the ability to study math. With the RightStart Math curriculum, dyslexia and math struggles will be things of the past.
RightStart Math is a primary and middle-school math curriculum that uses visual representations to explain counting, math facts, measurements, etc. The curriculum uses an educational tool named the AL Abacus to appeal to the children's senses and visuals. It also offers games the kids can play to understand math concepts of various levels and develop a love for math.
VideoText Math
VideoText math curriculum can help kids improve their math skills since children are more likely to relate to video representations of courses. VideoText Math offers unique math lessons that encourage children to learn independently. While watching, you can pause the lecture and ask your child or student questions to know if they are following up. If you have any doubts, you can call the hotline, drop your name and number, and an instructor will get back to you.
Kids tend to remember things they see faster than what they hear. With VideoText, instead of kids memorizing answers, they get to see the various processes they can use to arrive at a particular solution. By watching cartoons explaining math topics on TV, kids can learn and study independently.
The curriculum breaks math into Algebra and Geometry and also encourages the use of videos, internet resources, and printable materials. VideoText Math is also ideal for a 1st grader struggling with math. You only need a gadget with access to internet services, and you are good to go.
Life of Fred
Life of Fred is not only a curriculum but a fantastic math narrative. The math curriculum uses stories to teach arithmetic concepts. The tales revolve around the exploits of Fred and approach each adventure like a mathematical equation. All the books concentrate on one math idea in a way that can entertain your child while educating them. Children can browse through the hardback volumes to get a feel of mathematical concepts.
You can also use Life of Fred as a math supplement for your kids. Children do not need any guide or syllabus with this math curriculum. They can just continue with Fred's story and understand the concept of math better. No matter your child's age, there are always new volumes for them to read one after the other. The storytelling and principles build on one another create a cohesive storyline that helps kids struggling with arithmetic.
The Art of Problem Solving (AoPS)
The tutors at AoPS help children excel while having fun with arithmetic. Since AoPS is a community, children can interact with fellow students to assist them with their math problems. The Art of Problem Solving helps kids gain independence in math since they can now work their way around more complex issues. It also has the best homeschool math curriculum for struggling students which pushes kids to their limits. The curriculum encourages kids to appreciate math and also study more.
AoPS courses allow students to work through challenges comfortably until they come to breakthroughs in understanding. Instructors guide students through challenging tasks, and students work together to develop innovative solutions to problems. The courses also use movies, textbooks, internet resources, and math worksheet exercises to help students memorize math concepts.
This curriculum provides online and hard copy versions of advanced math textbooks for your children. It also helps kids prepare for SAT and other types of examinations. The Art of Problem Solving provides two more complex modules – the first one is the online math program called Beast Academy for pupils aged 6 to 13. The second module, AoPS Academy, offers small, in-person classes for children who are in grades 2–12 at local schools.
Beast Academy
Beast Academy crosses the learning divide by making kids understand from an early age that math is a beautiful and interactive subject. The Beast Academy notes that understanding of complex math topics helps kids develop a solid foundation for tackling math problems. Beast Academy helps kids become the future generation's intellectual leaders.
Beast Academy uses comic books to teach math for struggling students so that kids can enjoy and connect to the lessons. This curriculum provides kids with visual explanations that are used in the learning process. Even though the professionals at Beast Academy know that an entertaining curriculum can also be challenging, they bring their A-game by using comics to introduce math concepts.
Homeschool Math for Struggling Learners VS Traditional Classroom
Parents and kids usually wonder which option is better: homeschooling or conventional classrooms. In a traditional classroom, your kid cannot get the same attention level from a teacher responsible for a class of 10 to 20 pupils. With homeschool math for struggling learners, your kids do not need to try to catch up with their peers since they can learn at their own pace.
As a parent, you know your kid better than any other person; so, you can design classes around their interests and passions to develop children's love for math. Instead of relying on the teacher to introduce every concept to your child according to the state's math curriculum, homeschool math allows you to customize your kids' learning experiences.
Homeschooled kids can express themselves in any manner they want. Traditional schools sometimes subject kids to competitiveness, boredom, and bullying that can place unnecessary pressure on them. Since there is no need for homeschooled children to conform to the norms of the peers, their self-esteem can improve significantly.
Learn Math with Brighterly!
Brighterly is an online math platform that provides high-end courses to challenge your kids. The tutors know how to help struggling math students since they readily incorporate fun and games into the learning process. Instructors interact with the kids to see what works for them.
Compared to the conventional method of giving exercises and evaluating students, these instructors take the time to boost the morale of your kids. This strategy reassures the children of the stress-free nature of the Brighterly's learning environment. The math tutor works with parents to give a child everything they require for the best math experience.
Conclusion
Not every child can cope with the requirements and practices of conventional schooling systems. Some children need the safety that only online math programs can provide. Additionally, you may merge both traditional schooling and homeschool math for other kids. The use of curricula and strategies mentioned in this article can help you better understand how to help students struggling with math.
Math Catch Up Program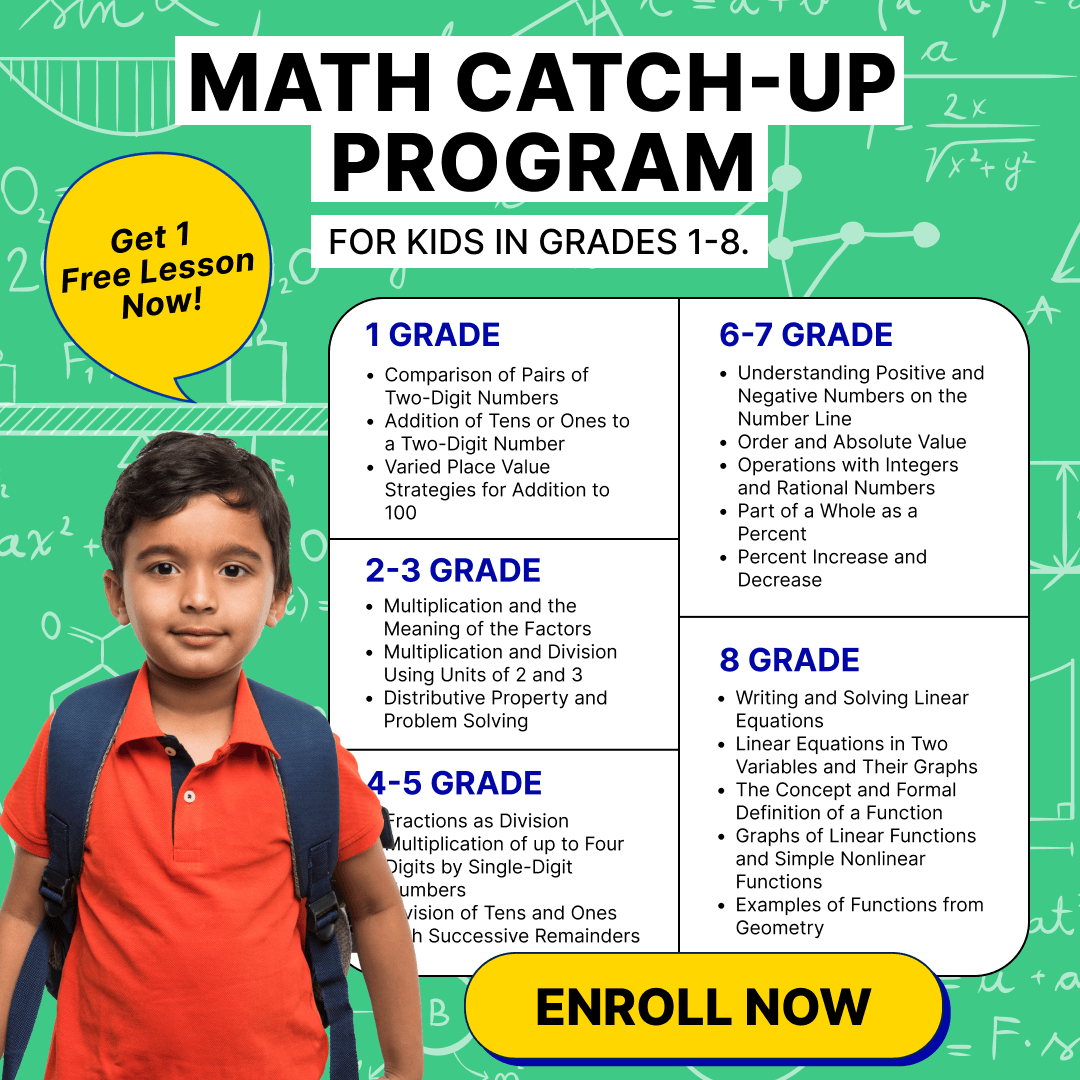 Learn Math Simple - Fast - Effective

Overcome math obstacles and reach new heights with Brighterly.
Kid's grade
Grade 1
Grade 2
Grade 3
Grade 4
Grade 5
Grade 6
Grade 7
Grade 8
Simple - Fast - Effective
Overcome math obstacles and reach new heights with Brighterly.
Select Your Grade