7 minutes read
June 14, 2022
How Much Does Homeschooling Cost?
Parenting
Homeschooling is a promising option parents can pick for their children. It is an opportunity for many families to get quality education on their own terms. Parents can pick a curriculum that suits their children's needs and foster a love of learning. One can enjoy many benefits, but how much does homeschooling cost? Please check the answer in this article.
What Is the Average Cost of Homeschooling?
Is homeschooling expensive? The answer is it's neither cheap nor easy. The average cost you can spend for one child could range from $700 to $1,800 yearly. You can multiply this sum by the number of your children to get the total cost. The expenses will include several things which you need to factor such as:
School supplies, like pencils, notebooks, lab equipment, and more
Extracurricular activity expenses, like music lessons, sports, art lessons, math lessons, field trips, and more
The cost of a curriculum, which will depend on your choice and a child's needs
Testing fees, which depend on the guidelines of your state homeschooling regulators
Cooperative fees for those who belong to a homeschool cooperative
Costs of Homeschooling vs. Public or Private School
If you consider enrolling your children in homeschooling, one of the first things you need to consider is the cost of homeschooling versus expenses on a public or private school. Several questions should linger in your mind to help you make an informed choice. Are public schools a cheaper option? Does homeschooling cost money? Will you break the bank to homeschool? How much does a homeschool teacher cost?
When deciding between homeschooling vs. a traditional school, ensure that you consider all the costs you will spend per child, your student's needs, and the environment they will thrive in.
When you plan to enroll your children in a public school, the expenses will cover things like field trip fees, school supplies, extracurricular activities, meals, and clothing. You will end up paying well over $10,000 per child yearly.
Is Your Child Struggling With Math?
1:1 Online Math Tutoring
Let's start learning Math!
On the other hand, expenses on private school will include uniforms, field trips, school supplies, laptops, and books. This means the cost will rise, and parents will pay for every child between $12,350 and $16,050 on average depending on a given school. Additional expenses may cover application fees, extracurriculars, room & board, and summer programs.
At the end of the day, when you compare the cost of these three options, you will discover that homeschooling is cheaper than public or private schooling because you will avoid expenses on needless equipment, teachers' pensions, and principals' salaries.
If you choose homeschooling, you will only spend money on what you need and nothing more. Instead of hiring a teacher, a parent may conduct the teaching themselves, which will save money otherwise spent on tuition fees. Further, you will not incur the cost of rent as your children will be learning at home. Another amount you will save includes bus fare and a ton of equipment required for public and private schools.
The Hidden Costs of Homeschooling
As homeschooling continues to gain momentum, you may be wondering how much homeschooling costs or if there are hidden charges. You need to be aware that there are additional expenses that you need to factor into your budget to avoid surprises. Here are some of the costs that may raise your budget:
1. Supplies
The cost of supplies to use during homeschooling may cover many areas. You will need notebooks, markers, and pencils. Unlike the school setup where kids utilize school equipment, you will probably have to buy a microscope or other things for conducting lab test activities at home. You will also bear all the suppliers' costs for hands-on projects like those necessary for sciences and art and crafts, which will increase the overall cost of homeschooling.
2. More Food
When your children study at home, they will require at least three meals a day. It takes some effort, planning, and a lot of cash to organize their meals. Somehow, children enjoy home meals more than school lunches, and they become hungrier when studying at home.
Kids will need morning snacks, breakfast, and more snacks at any given break from lesson and dinner. The necessity to feed your kids more frequently when homeschooling them can increase your household budget.
3. Curriculum
There are many free homeschooling curriculums that parents can find online. However, many families prefer to purchase the one that suits their needs. You may end up spending over $1,000 on a single curriculum. Suppose you have children at different grade levels and they all require their own curriculum package; thus, you will have to spend more yearly.
Is Your Child Struggling With Math?
1:1 Online Math Tutoring
Let's start learning Math!
How to Save Money on Homeschooling?
Many parents claim homeschooling can be expensive, but it doesn't have to overrun a family budget if you can recognize the main areas to lessen costs. Here are some ways you can reduce the expenses:
Take advantage of inexpensive or free resources such as podcasts, YouTube, or educational websites with children's content.
Print only the pages you need for a lesson or portfolio purposes and digitize the rest by downloading PDF versions.
Research for a free or low-cost curriculum that fits within your family budget.
Incorporate life skills into your curriculum, such as cooking, checkbook management, cleaning, changing a tire, and more.
Shop for pre-used educational supplies; you may find a student workbook and a teacher manual in places like Facebook groups.
Find out if there are any available free online tours or virtual field trips and register.
At an early stage, determine your wants versus needs to help you homeschool within your family budget.
Purchase resource books or references; they are more versatile to help you create unit studies for homeschooling.
Maximize the use of free tools and learning programs available at your local libraries.
Find out if any state tax deductions or credits are eligible for you and claim them.
Conclusion
Schooling your children guarantees experiences and activities that they wouldn't get in a public or private school due to limitations set by those institutions. The cost may increase depending on which activities, materials, and services you require. But you will spend little compared to an average private or public school annually. Considering the long-term cost of homeschooling, it will not be much since you are entirely in control of your children's learning.
Winter Break Math Camp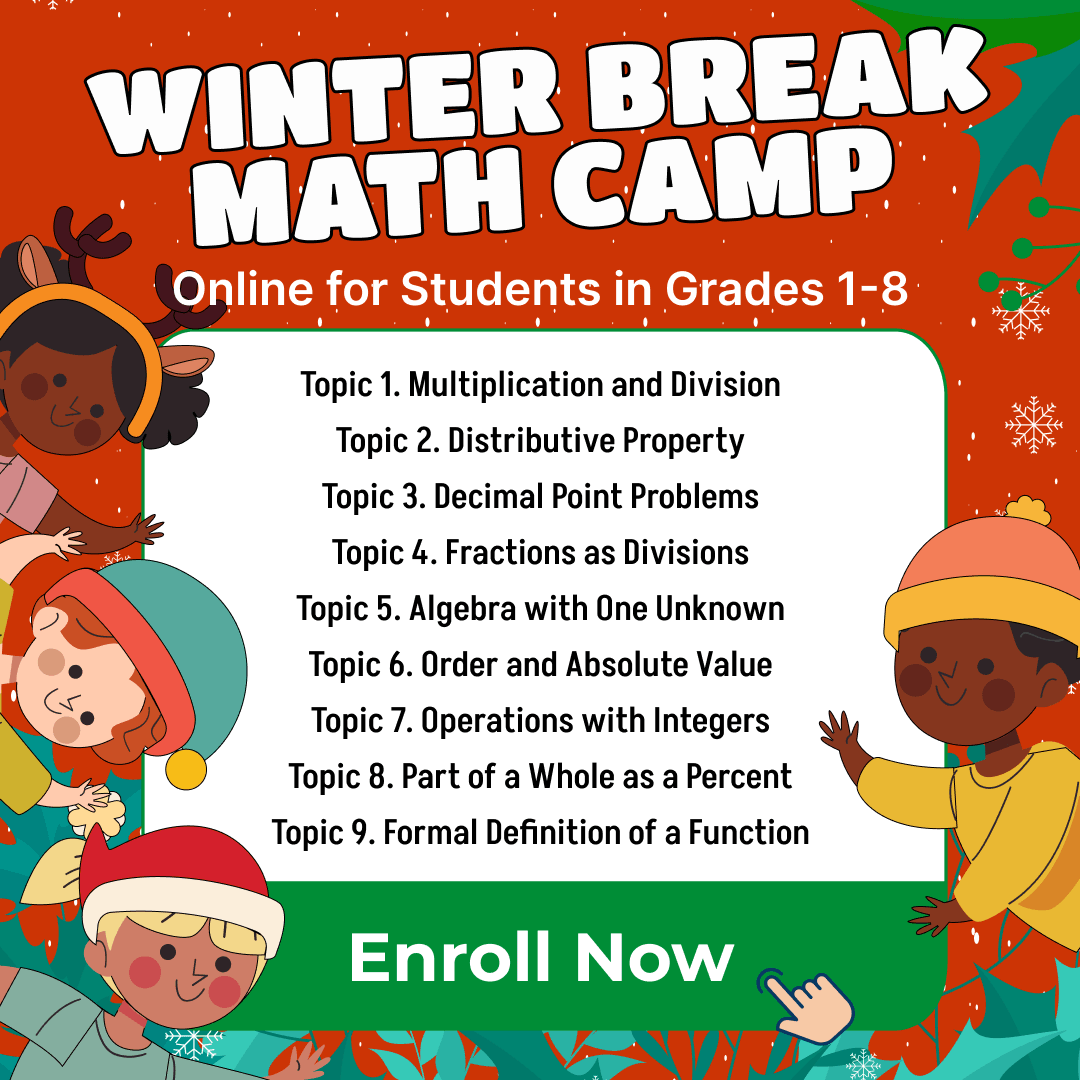 Boost Math Skills this Winter Break at our Camp, Perfect for Students in Grades 1-8!
Kid's grade
Grade 1
Grade 2
Grade 3
Grade 4
Grade 5
Grade 6
Grade 7
Grade 8
Winter Break Math Camp
Enhance Math Skills with Our Program, Perfect for 1st-8th Graders, Aligned with School Curriculum!
Apply Now