25 minutes read
November 20, 2023
Some of the Most Exciting Math Projects Ideas for Students
Teaching
At the end of the term, many teachers exhaust the remaining math concepts they would love to feed into the fragile brains of the kids in the classrooms. There, one tends to rely on re-teaching of lectures to kill time. Provide math projects for the kids instead of giving them extra homework.
Also, note that when children do the same kind of math projects, they can solve other algebraic problems in a fun way. The following is an exciting list of school project ideas for kids comprising 15 unique ideas to keep them entertained and help them practice math through play. The math project ideas take their child back to a new mode of learning that is very different from the kind of topics for school projects method they already seem accustomed to.
15 Attractive Math Project Ideas
Mathematics is not about understanding certain things but knowing how to employ them during calculations of routine everyday activities requiring this type of thinking. Math activities like measuring length and volume and counting weight and size have been listed below for better comprehension of these principles.
In one way or another, there should be an activity for your children, whether a math project for kindergarten or primary school. The aim is to teach them to interpret many events or things in their environment that will enable them to interpret numbers. These fifteen children's mathematics project ideas for school will help your kid enjoy their learning. Here are the examples of such projects:
Math Bingo
At the same time, it helps to know that in their game,  adults also do something like playing bingo rather than simply being destructive. This is like bingo, only that it also captures your kids' attention. This game allows you to select which specific Math skill you need your children to have. Your kids will love this math game in no time. You can use Math Bingo as a teaching tool for any given skill, such as addition, subtraction, division, multiplication, or addition.
Before playing:
Write down twenty arithmetic questions, for instance, 8 + 5, 2 + 1, and 5 + 9.
Write your answer and ensure it is done on the same page.
Use a web generator or make your 5×5 bingo cards.
Put the solutions from your list on the cards randomly and write the answers.
Each pupil must have their bingo card. You can also choose to laminate the cards for later use. Students can put coins or pebbles next to the correct response in such cases. Such fun project ideas activity may be significant as one of the vital math project ideas for children.
Paper Plate Clock
After making the paper plate into a clock, a small hole should be carved in the center of it. The students must put numbers 1- 12 into the corresponding spaces provided. They can cut the appropriate-sized clock hands on colored paper and fasten them with a split pin.
With this math project, you can teach your kids correct time-telling. Alternatively, you can let children write on another plate with different colors and glue it to the underside of the top plate to form an edge. You ensure that the kids can catch up fast since it is entertaining.
Assess the Height or Weight of the Objects
Guessing games are a favorite among children. For example, they can find that an object that appears long may be short. You may estimate heights or weights instead of estimating both if you prefer. It does not matter whatever option you choose, but it should be that your kids know how size and length differ.
Take several different objects and put them on one table. Request learners to come up with the guesswork of every mass or height of an item per time and document them in one column on a sheet of paper. Call out each student separately and obtain precise observations that should be entered in the second column. Another idea is to have an additional column next to each object and then pass the sheet around the room so that students can estimate how heavy or long each object is.
Is Your Child Struggling With Math?
1:1 Online Math Tutoring
Let's start learning Math!
Math Hopscotch
Outdoor work with middle school mathematics projects will be an excellent idea for sunny days in good weather conditions. Mark hopscotch in the playground, sidewalk, or the school compound to look like a calculator setup. Form the kids into a queue and present one of them with an elementary school project ideas task such as "1+8", "3+7," and so forth. Students are expected to jump off every item on the equation as they should go down the line, ending up with the correct answer.
In any other math assignment, you can yell out various numbers and instruct youngsters to leap on any equation that equals that quantity. You could ask children to hop on one foot for even and extraordinary numbers. These math undertaking ideas are an excellent way to train kids in fundamental calculations, even when spending time outside.
Pizza Slices and Fractions
For a few children, fractions can be hard to understand. Engagement in math tasks like pizza slices can greatly assist kids in visualizing fraction thoughts. Make a list of instructions with five excellent fractions. Students should make a pizza out of production paper or the interior of an empty pizza container and label each fraction on pizza slices.
Then, write different fractions on paper and place them into a container. After a kid discovers a fraction, they must color the corresponding component in the pizza creation. This math project can help you take a look at a kid's knowledge of fractions.
Scavenger Hunt
You can use scavenger hunts as math initiatives for middle school children. To do that, divide the kids into groups and offer each of them with measuring tools like a ruler, tape, and so on. After the division, instruct the kids to search for items of precisely equal length.
For younger students who no longer have basic size information, you may draw several strains on paper and inspire kids to find the same length of things. You may execute these math project ideas both outdoors or within the classroom. Ensure that you prepare materials ahead of time and place them in a stable and accessible region.
Graph and Survey Projects
When you want to engage in middle-class mathematics tasks using graphs and surveys, ask each student to ask you a question that they would like to question their friends on. For example, the children might ask their peers to choose the coloration they select among black, green, yellow, and white.
Allow students time to wander the classroom, quizzing every other and accumulating data. Let the kids collect facts and create a bar chart of the usage of constructing blocks or Lego to signify their findings. They can make labels for each bar with the use of sticky notes.
Venn Diagrams and Sets
7th-grade fun math projects like Venn diagrams and sets are fascinating yet puzzling if the kids do not understand them. Since both ideas overlap substantially, you need to take a while to explain and construct a stable basis for the youngsters. Start by explaining that Venn diagrams constitute sets (indicated with circles).
After that, have the youngsters construct a Venn diagram using cardboard and colored paper. The cardboard might be the history, and the youngsters will carve the colored paper into circles to represent the sets. Each youngster must consequently identify a particular number among units by shading the circles. At the end of the task, the class should have cardboard cutouts displaying the intersection of units, union of units, and distinction of sets.
Mathematical Records About the "Me" Mission
The "Me" assignment is standard college teachers' most popular math project idea. Students carry out basic mathematics tasks to proportion fun and fascinating details about themselves and their families with their classmates. However, you should not restrict this concept to math projects for middle school.
Students will generally recollect fundamentals they discovered in preceding grades, like addition and subtraction, and use them within the "Me" tasks. Teachers can also discover more about students' families and mathematical backgrounds with these interesting math topics. 
Organizing a Get-Collectively Project
If you have ever been part of a group organizing parties, you are adequately privy to the time and effort to rent things, get decorations, and prepare meals. To cover those math tasks necessities for 6th-grade mathematics, strive to have the youngsters pretend to be event planners and have them place orders for all the meals they may be serving. Alternatively, you can settle for take-outs.
While executing the project, you can use menus from a nearby restaurant or search online for pricing records. Students can quickly multiply costs while ordering similar things for several individuals. Then, they can use addition and subtraction operations, to sum up the whole bill's quantity and subtract it from their typical budget. Finally, they will divide the invoice with an accomplice to co-plan the party. Such math projects for kids may be a tremendous method to evaluate the inexperienced persons' grasp of all four decimal operations.
Comparing and Contrasting Temperatures Projects
Comparison of integers and rational numbers will not be a project if your children can perform the subsequent tasks. Each pupil investigates a listing of cities, states, or areas for these math tasks and compares the lowest and maximum temperatures recorded in the locations. Evaluating and contrasting temperatures can help the children show their comprehension of absolute values and ability to compare integers.
After completing the look, the youngsters may also list towns with the lowest to the highest temperature. To amplify the scope of the primary project concept, you may also ask students to look at the difference between the recorded excessive and occasional temperatures for every town via absolute values.
Is Your Child Struggling With Math?
1:1 Online Math Tutoring
Let's start learning Math!
Pixel Artwork Project
You can engage students in math artwork and creative math activities like pixel art. You need to get a few grid papers and ask kids to create pixel art for the classroom as an amusing project idea. The students then take a fresh piece of paper and write a new wide variety in every grid. Pupils additionally design a key to go together with the grid.
In most cases, you could evaluate students' capability to supply and successfully shade a photograph created with the aid of every other student. For example, the children must color the integers red and other numbers yellow. Afterward, they could change with a classmate to test whether they can thoroughly pick out the concealed photograph by following the critical thing furnished for coloring.
Inequality Project
Inequalities are significant in the real world, and students can draw connections. You need to reveal some state of affairs through a presentation, photo, or concealment and pick out one. This project's primary aim is to ensure the visual representation of the inequality corresponds to the textual disparities.
Some examples of projects for students of those inequalities encompass copies of the maximum height for elevators, the peak limits for amusement park rides, and the most potential for a selected parking zone. If your students are gifted in fixing inequalities, project them to design a task that necessitates the inequality solution earlier than graphing the outcomes.
Riddles, Puzzles, and Mind-Teasers
You can do math tasks for 4th-grade children that lead them to spend the day working on fascinating and challenging arithmetic riddles and brain teasers. Start printing and displaying the responsibilities around the classroom and corridors. Then, have the children move from one phase to another and notice what number of stages they skip.
Tree of Numbers
One of the most fundamental notions in mathematics is the range of numbers. To build the necessary math foundations, kids must draw close, one-of-a-kind types of numbers (fractions, decimals, natural numbers, high factors, and many others.) The Tree of Numbers is a math project involving activities with glue, toothpicks, scissors, crayons, colored and brown production paper, and neutral paper.
The youngsters will cut and construct a 2D tree with the assistance of construction paper. Then, they'll draw octagons on the colored papers, cut them out, and fasten them at the tree. Next, they'll write a specific quantity on the pinnacle and break it down into prime factors, using toothpicks to link the high numbers. Finally, they may write down the same old shape of the high factors at the tree's base, forming the lowest branches.
Check out the Printable Math Worksheets!
Collaborative Projects
Using Team-Based Math Projects to Enhance Learning
Traditional problem-solving can also be enhanced by engaging students in "team based math projects." Working individually or in teams, students explore several linked mathematical problems. The experience engages as each solved problem yields a clue towards finally getting out. Not only does it reinforce mathematical concepts, but it also fosters teamwork, critical thinking, and flexibility. Overcoming challenges teaches students how essential teamwork is, which is beneficial not only for mathematics but also in other parts of learning.
Implementing case studies in group activities affords learners a feel of mathematics. Mixing necessary skills from various team players mimics the behavior pattern in a workplace where people with diversified competencies participate in solving complex issues. Apart from improving their understanding of mathematics, it also prepares them for working together, which is required in STEM and other career fields.
Promoting Peer Collaboration and Problem-Solving
Students can engage in reciprocal teaching situations, taking turns being teacher and learner. Students explain a mathematical concept to their peers, solidifying their knowledge while exposing them to other problem-solving techniques. Through this mutual transaction, students build a sense of communality in class and develop essential interpersonal speaking competencies for successful teamwork. Students share ideas and strategies as they learn about various ways to solve math problems.
Peer collaboration is also promoted through math olympiads– a sequence of exciting competitions that are meant to be complicated. During this process, students get into friendly rivalry whereby they try to answer complex issues before a specified duration elapses. Collaboration creates team spirit, which helps members learn from one another. Under these experiences, students improve mathematically through developing resiliency and working together, which will serve them well in tackling academic and work-related challenges.
Technology Integration
Mathematical Exploration Using Digital Tools
Worth mentioning is that by incorporating digital devices such as tablets and online software applications in their learning process, students dive deep into novel spheres of mathematical research. Interactive simulations and software allow students to view complex maths in action. They may also use GeoGebra or Desmos to play around with certain graphs, understand mathematical relationships between the elements that constitute a geometry project idea, and discover various dynamic connections. This gives students an understanding of theories on mathematics and makes it clear to them what mathematics is about.
Using virtual manipulatives is another technique one could apply to integrate the technology within mathematics teaching. Students can build their algebra tiles or move around them among different shapes in a 3D virtual world. This digital resource will help improve their spatial logic reasoning abilities. These tools are immersive. Unlike many other education technologies, they alter the learning process and make it fun for the technology-oriented generation of students.
Some Coding Projects with Their Mathematics Bases
Including coding mathematics project for kids into the mathematics curriculum bridges the gap between theory and practice. For instance, students can learn and apply algorithms to programming systems such as Scratch, Python, or MATLAB. Students can design mathematics simulations different data visualizations, and solve more complex problems in a structured manner through coding.
Algorithmic thinking forms part of coding exercises and mathematical problem-solving. Computing skills allow students to translate their understanding of mathematical logic into an executable code. However, it enables them to acquire knowledge of coding and understanding of math. Coding projects spark creative thinking in students as they utilize math's beauty through graphics and online interactives.
Competition-Based Projects
Participation in Math Competitions
Such mathematical competition enables students to demonstrate that they can solve mathematics-related problems beyond ordinary classroom learning experiences. As a case in point, children are presented with different challenges, including the math Olympiad event and other local math contests meant to stimulate problem-solving and imagination during such occasions. Such events typically include various parts of maths, prompting the students to leave their lessons' subjects and try some other domains inside maths.
In addition, math competition creates a collaborative environment for entrants. This helps them learn to collaborate to solve problems, share ideas, and compete on a larger scale. This, in turn, develops a love of math in them. Moreover, they create a passion for math in addition to school work.
The importance of nurturing a competitive attitude in math
Competition in math creates certain positive opportunities for the education and personality development of students. It stimulates a desire among people to strive towards perfection. Through peer competition, learners refine their skills of resolving problems, undertake a deeper study of mathematics, and attain creative skills.
Resistance also emerges through competition. Flexibility in quickly taking care of problematic matters, even those unrelated to mathematics, requires mental nimbleness and adaptability. Students acquire self-confidence to view problems as part of growth instead of barriers while facing problem-solving exercises.
Moreover, a student involved in a math competition will learn to set higher goals for himself. Excellence motivates them to develop discipline and dedication to be perfect since they are pursuing perfectionist behavior. This rivalry has also helped students build toughness for difficult times at the university level and during their careers as active and ambitious individuals who can succeed even with less-developed mathematical skills.
Personalized Projects
Enabling Students to Choose Projects Depending on Their Interests 
Incorporating creative project ideas for school selected by students based on their interests makes the learning process more engaging and personalized. Curiosity and motivation are ignited by students' freedom of choice when it comes to project selection, which is inspired by areas that they really consider fascinating. This entails that one may for instance look into the mathematics of tessellation, as an art lover or sports fan delves into game outcome statistics and probabilities.
First, this process is significant for students as much as it makes math meaningful since it facilitates their internalization and ownership of the process. It enables them to develop strong and longstanding conceptions about mathematics on things they consider interesting.
Constructing Customized Learning Styles in Projects
In general, effective math teaching addresses individual learning styles critical in education. Such individual assignments could satisfy various learning styles, such as visual, aural, kinesthetic, or any combination. Such learners might cherish projects based on charts and diagrams as a way of understanding things through vision. Auditory learners may benefit from projects with discussion and explanation, while kinesthetic learners could use hands-on activities and interactive simulations.
Individual funny project ideas make math more accessible while adapting diverse learning styles into work and addressing different ways students absorb information while working, thus, individual projects. This adaptable method provides the necessary conditions for learners to develop full potential and obtain better results in mathematics.
Showcase and Recognition
They are Providing Students with an Opportunity to Present Their Projects
A critical part of facilitating a student culture of appreciation and sharing includes setting up a stage for students to exhibit their math tasks.y A hosting a project showcase within the school community and via the virtual platforms allows students to share with others how they conducted research on their projects, discovered things, and how these discoveries relate to the actual world. They can learn how to communicate well, which in turn gives them a sense of pride as they report on their respective mathematics.
Student learning is another aspect promoted by a project presentation platform. In addition, they are sources of answers, they present different points of view, and they understand various approaches to solving mathematical problems. Such interactive showcases help create an atmosphere for collective learning in mathematics; that is, students encourage each other.
This Entails Celebrations for Successes While Recognizing Input
It is also vital to recognize and celebrate students' accomplishments when doing mathematics projects. This makes them want to work more towards achieving greater accomplishments. On the other hand, recognition encompasses outstanding students and learning as part of the improvement process. Acknowledgment can be done through certificates, awards, or mentioning it during the school assembly.
Recognition of effort in a math project goes beyond grade or score. To sum up, it encourages a favorable approach towards achieving desirable outcomes and acknowledges persistence as an asset when looking for solutions. This creates an atmosphere of students who appreciate their endeavors and uniqueness; they feel successful, which gives birth to their intrinsic motivation regarding possibilities in math.
Teacher's Role
Facilitating the Learning Process
Teachers will only create a conducive learning environment by involving themselves in math projects. The teachers should do more than just deliver knowledge to their charges; they must be guides showing the way forward in the path of inquiry and discovery. This is where project concepts, expectations, and frames of inquiry are created to provide a foundation for what comes next. It also increases learner autonomy and enables their independent thinking.
Besides this, the teacher could also help scaffold the learning process by guiding the learners. Such exercises rely on the preceding texts that foster students' curiosity and enable them to make their research questions explicit. Thus, the way teachers create an involved teaching environment wherein children chat with mathematics and use it in life.
Projects Help in Advising and Giving Assistance
Teachers are more of a guide in math projects, though they offer full-time aid and direction. These experts help the students define a problem they must solve based on their academic objectives and the purpose of each project they have set. That way, teachers can record learners' performances and provide necessary feedback where needed.
Firstly, the role of a teacher is a resource center that students connect to important ones. In turn, teachers develop a friendly atmosphere whereby the children can freely raise issues or seek assistance at any moment.
Apart from ensuring the successful accomplishment of projects, this guidance helps develop problem-solving skills and resilience.
Conclusion
Math can be a tough challenge for youngsters and adults. So, engaging youngsters in math projects can help ease the mastering technique and is especially critical when you need students to keep in mind math standards. Learning the math school project ideas for kids the youngsters love will open your mind to the most exemplary and suitable projects for you and your students.
After-School Math Programs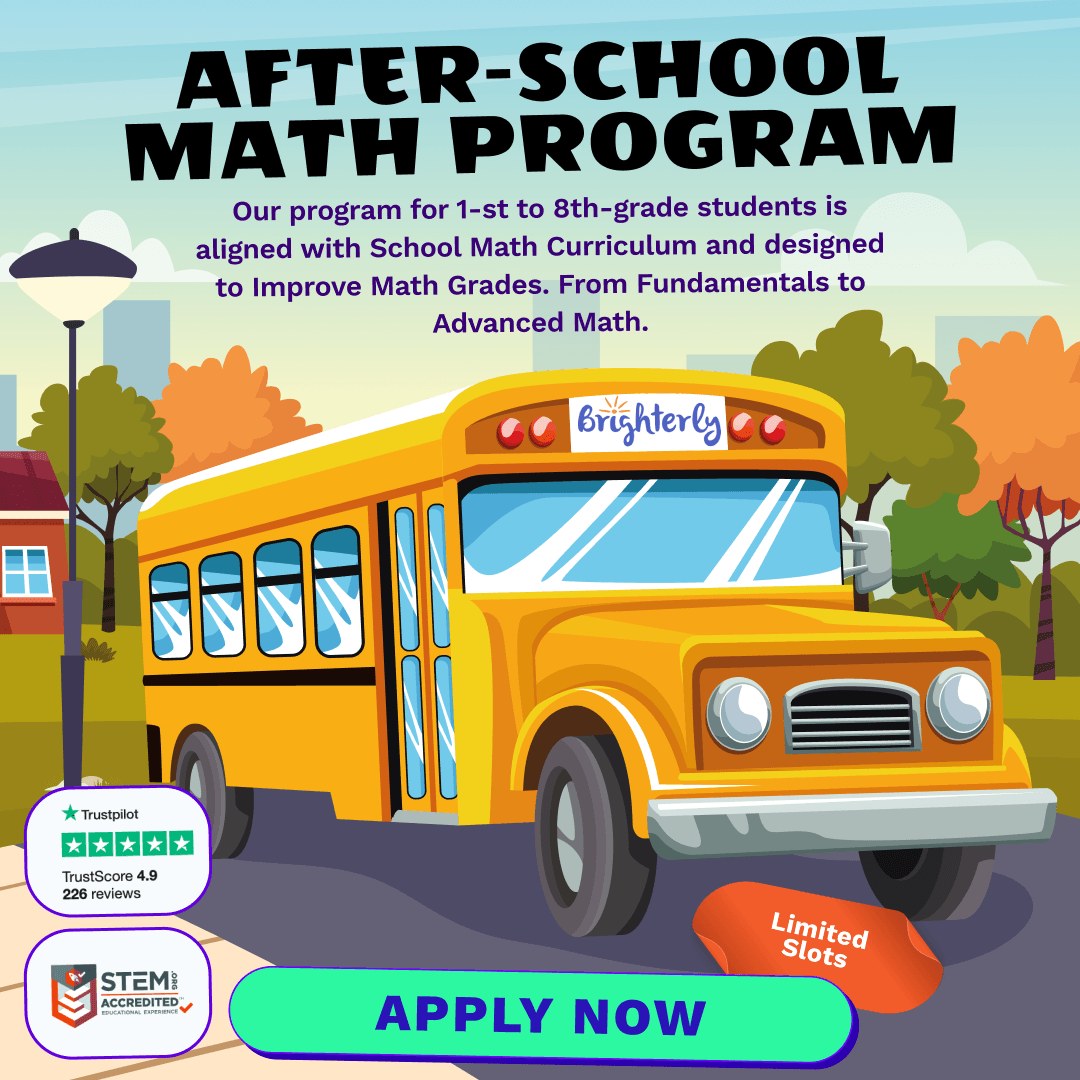 Our program for 1st to 8th grade students is aligned with School Math Curriculum.
Kid's grade
Grade 1
Grade 2
Grade 3
Grade 4
Grade 5
Grade 6
Grade 7
Grade 8
After-School Math Programs
Our program for 1st to 8th grade students is aligned with School Math Curriculum.
Apply Now