8 minutes read
November 24, 2021
15 Thanksgiving Math Activities
Parenting
Thanksgiving is when everyone is grateful for life, friends, families, achievements, and every other milestone. While you are buying vegetables, pumpkins, and turkey for the Thanksgiving celebration, how about preparing math Thanksgiving activities for your kid? This article will describe exciting Thanksgiving math activities preschoolers and older kids can enjoy.
Turkey Cups Counting Game
Thanksgiving math activities for preschoolers should be exciting, and the Turkey Cups Counting Game is one of the most enjoyable Thanksgiving math activities for toddlers through fifth graders. You need a cup, turkey stickers, and five small balls for this game. Begin by sticking pictures of turkeys on the cups, numbering the cups from 1 to 5. Then, have your child drop the balls into the cups according to the numbers you assigned to each cup. For example, your kid should drop one ball into the cup you numbered as 1, two balls into the cup number 2, 3 balls in the third cup, etc.
Count and clip turkey cards
To help your kindergartener memorize math concepts using Thanksgiving math activities for kindergarten, play the Count and Clip game. Get cards with turkeys printed on them, or create the cards by yourself by printing stock images of turkeys on blank sheets. As a recommendation Freepik offers a wide selection of free photos that can be used for any purpose and occasion. Then let your child count the number of turkeys on each card, ensuring they sharpen their motor skills while enjoying their meal.
Is Your Child Struggling With Math?
1:1 Online Math Tutoring
Let's start learning Math!
Printable Thanksgiving math games
If you are too busy to create Thanksgiving game cards, you can download Thanksgiving math activities in PDF to entertain your child. These outline simple games that distract your child from the fact they are studying. They teach counting, addition, subtraction, and other simple math concepts with little input from your end. You can print the cards, teach your child the rules, and then let them go to town with the game.
Thanksgiving Hundreds Chart
When you need Thanksgiving math activities first grade students will enjoy, think about creating charts. Thanksgiving Hundreds Chart contains numbers 1-100 in a colorful grid with colors that are arranged in the shape of an animal, like a turkey. This grid can help your child learn to identify and recognize numbers. Also, your child will learn about colors since they have to color the various objects and shapes in the chart.
Thanksgiving Squares
Thanksgiving Squares are Thanksgiving math activities 5th graders can engage in to test their knowledge of math concepts. Thanksgiving Squares is a puzzle that contains operations like addition, subtraction, multiplication, and division. You can tailor the squares to fit your child's needs.
It involves two sheets: the first shows numbers in a box, and the second one has a picture of pumpkins with numbers beside them. You can cut out the numbered pumpkin images into separate cards. Your child should place a pumpkin card above two numbers in the first sheet whose sum or difference equals the number on their card.
Thanksgiving riddles
Apart from puzzles, riddles can make for splendid Thanksgiving math activities for your child. If you need an example of a Thanksgiving-themed riddle, try this:
I made eight turkey pies for the family, and we ate all but two; how many turkey pies do I have left?
If your child pays attention to every word of the riddle, they will be able to point out that you have two turkey pies left. Such brain teasers help your child develop concentration.
Recognition game
When choosing preschool Thanksgiving math activities, you should value simplicity over intricacy. Start from the basics: play games that teach your kid to count and help them identify numbers and symbols. With Thanksgiving meal ingredients like carrots, you can accustom your preschooler to recognize math symbols. You can cross two carrots to look like a plus (+) and tell your child to identify the math symbol that you created. Then slant the carrots to form the ✕ sign or add peas above and below a carrot to recreate the ÷ character.
Counting games
Depending on a child's skills, you can initiate math Thanksgiving activities for preschoolers. Counting games are ideal for children at this age, and you can integrate them with the holiday by showing how to count carrots, turkeys, and other ingredients required to make the Thanksgiving dinner. Count aloud and along with your child while cooking.
Color games
Color games are among the kindergarten Thanksgiving math activities that will keep your child busy. You can use this activity to ascertain how much your child knows about colors. Have your kids identify different colors of ingredients like beans, potatoes, turkey, pumpkin, etc., while cooking.
The "How many pumpkins?" game
You could play exciting math Thanksgiving activity for preschoolers "How many pumpkins?" Get lots of pumpkins and have your little one count their number. You could offer to help them by writing the numbers on pumpkins when they count.
Subtracting plates
To play this subtraction game during Thanksgiving, set up your dining table and have your child determine how many plates will be needed by counting the number of guests. Have the kid remove the required number of dishes from the rack and count how many are left. This activity will excite your child.
"How many pie fractions?"
Thanksgiving math activities like "How many pie fractions?" can help your child understand fractions. After making your pumpkin pie, divide the pie like you would do a pizza. Then, have your child differentiate a whole from the bits.
Turkey time
To teach your child to understand time better, you could have them set the timer on the oven or carry out some other activity involving time operations. For instance, ask them how long it takes the turkey to roast. As you can see, this particular activity is easy, and your child can enjoy learning without feeling stressed out.
Grocery list
Engaging your children in witty Thanksgiving math activities like making grocery lists can help improve their monetary skills. Prepare your grocery list and have your kids sum up the items' total cost. When they do, take them to the grocery store, and after the cashier must have estimated the price, have them pay and calculate the balance.
The measuring exercise
Cooking entails precise measurements, and incorrect proportions can affect your food. So use the opportunity to teach your child math. While cooking, task your kid to measure your ingredients; they will learn the practical applications of volumes and measurements.
Conclusion
Thanksgiving is a fun time when you meet your loved ones and are grateful for all life's little blessings, such as your kids. Brighterly's tutors offer fun math activities to help your little ones learn even when they are out of school. Learning math with Brighterly is exhilarating, and you should let your child be part of it.
Math Catch Up Program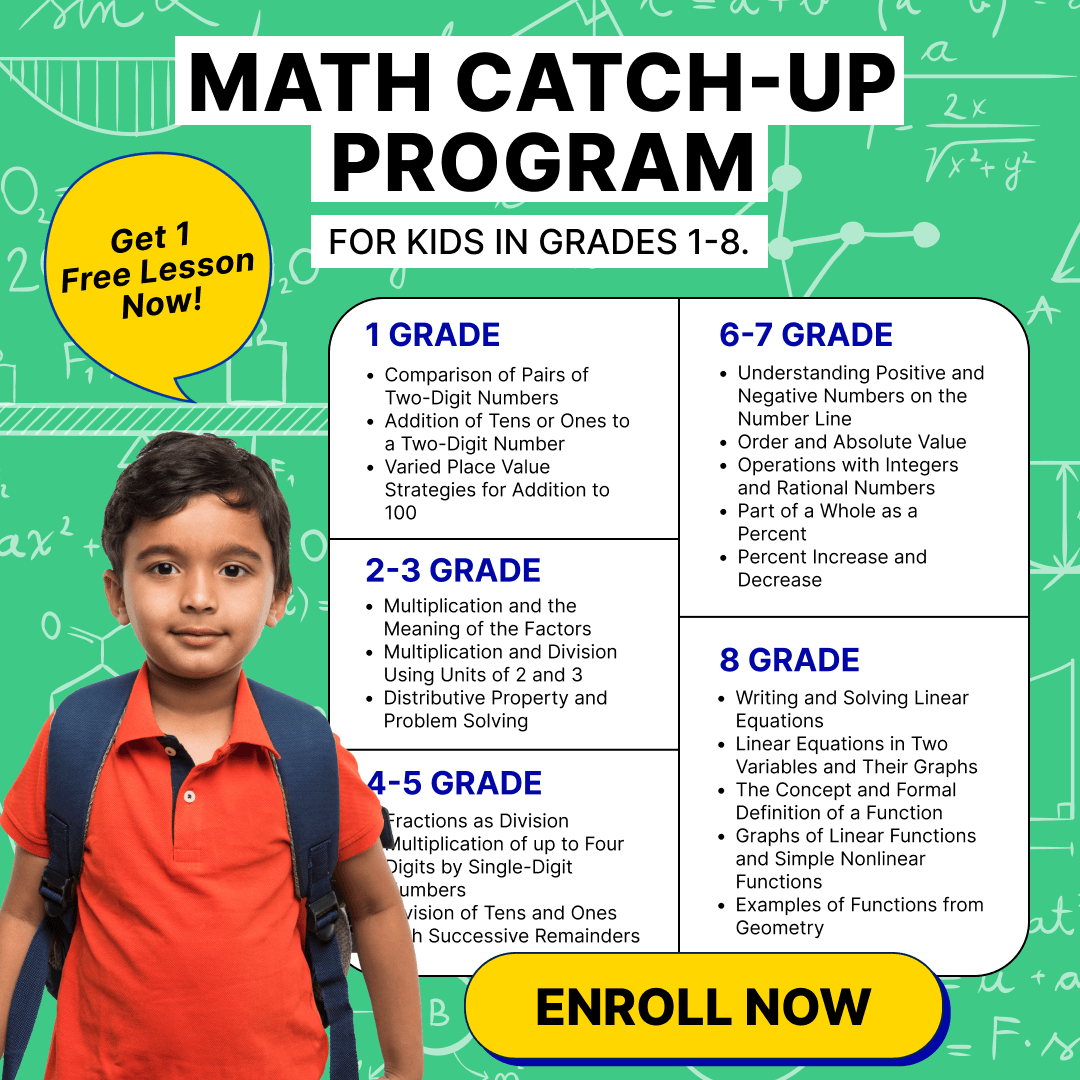 Learn Math Simple - Fast - Effective

Overcome math obstacles and reach new heights with Brighterly.
Kid's grade
Grade 1
Grade 2
Grade 3
Grade 4
Grade 5
Grade 6
Grade 7
Grade 8
Simple - Fast - Effective
Overcome math obstacles and reach new heights with Brighterly.
Select Your Grade