>
>

Number Words Worksheet
Number Words Worksheet
Children learn numbers through play. At Brighterly, you can get fun interactive learning materials from professional tutors. If you want your child to read and write number words better, you can get Brighterly's PDF number words worksheets. These teaching resources contain colorful math drills that help children spell, write, and memorize number words in the correct order.
Benefits of Adding a Number Words Worksheet to Your Kid's Homework
Number words worksheets offer several learning benefits to young students:
Worksheets Visualize Numbers
Children, especially kindergartners and preschoolers, perceive the world as it is. They barely relate to something they don't see in real life (like abstract numbers). But your kid will memorize these concepts faster by using worksheets with fun visuals and hands-on examples of number words.
Kids solidify the topic by writing numbers in words on worksheets, differentiating between them, and doing other visual drills. Moreover, they approach counting more smoothly.
Is Your Child Struggling With Math?
1:1 Online Math Tutoring
Let's start learning Math!
A Numbers-to-Words Worksheet Promotes Counting Skills
Math worksheets improve children's understanding of numbers and number sequences. In its turn, this knowledge helps youngsters write numbers in the correct order and count better overall.
Number Word Worksheets Develop Number Sense
Worksheets help children visualize, count, write, read, and spell numbers comfortably. In other words, these learning resources help children develop number sense and talk math terms.
Eventually, students approach math operations fully prepared. As a result, children who work on number words in worksheets have an excellent chance to outperform other pupils in the class.
This numbers to words worksheet is designed to help students develop skills in reading and writing numerical values as words. The worksheet contains a range of number word problems, which can be used by students of all ages. In each problem, the student must read the given numerical value and then write it down as a word or phrase. This helps practice numeracy and language skills, as well as boosting problem solving abilities. Additionally, by actively engaging in this type of exercise, students become more confident when dealing with numbers in any context.
This number word worksheet offers an enjoyable way to practice these important skills. Each sheet is printable and can be used multiple times for extra practice. The answers to each number word problem can also be checked, which ensures the student is confident with their answer. This numbers in words worksheet is a great tool to equip students with the knowledge they need to face any numerical challenge.
Download Number Words Worksheet in PDF
Tired of googling for free teaching worksheets? You don't have to do this anymore as you can download a free printable numbers-in-words worksheet at Brighterly.
Choose the resources you like, click on them, and download them. You can access free worksheets unlimitedly without signing up or subscribing to any services.
More Numbers Worksheets
Troubles with Numbers?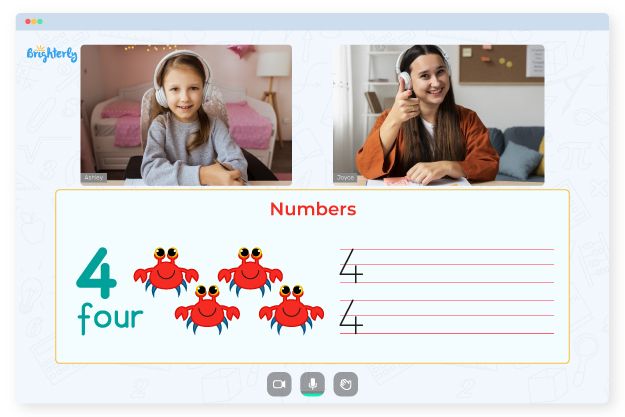 Does your child struggle to understand the basics of numbers?

Try lessons with an online tutor.
Kid's grade
Grade 1
Grade 2
Grade 3
Grade 4
Grade 5
Grade 6
Grade 7
Grade 8
Is your child having trouble grasping numbers fundamentals? An online tutor could provide the necessary help.
Book a Free Lesson