>
>

Math Worksheets 2 Digit Divisors
Math Worksheets 2 Digit Divisors
Math can be challenging when students are at a loss or lack the proper math foundation. So, how can you make the process easier for kids?
Educators use math worksheets to make learning more accessible and exciting for every child. Keep reading this article to see how math worksheets 2 digit divisors can seamlessly help your child master division.
Why Brighterly's Tutors Use Math Worksheets 2 Digit Divisors
Brighterly is an online math platform with tutors willing to help kids love math. The tutors at Brighterly use long division with 2-digit divisor worksheets that allows kids to understand the topic better.
1:1 Math Lessons
Want to raise a genius?
Start learning Math with Brighterly
Let's start learning Math!
The division with 2-digit divisors 5th grade worksheets will help students practice division with the remainder, both in standard form and in the context of word problems. Tutors encourage kids to apply the long division technique to divide 2-digit whole numbers using division with 2 digit divisor worksheets.
In grades three and four, students are encouraged to solve each division issue by dividing, multiplying, subtracting, and bringing down to get the quotient and remainder. Also, a long division with 2-digit divisors worksheet comes in lovely colors that capture kids' attention.
More Division Worksheets
Book 1 to 1 Math Lesson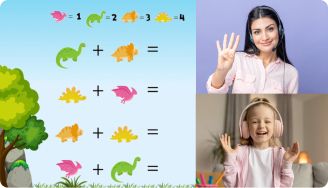 Specify your child's math level

Get practice worksheets for self-paced learning

Your teacher sets up a personalized math learning plan for your child
Grade 1
Grade 2
Grade 3
Grade 4
Grade 5
Grade 6
Grade 7
Grade 8
Book 1 to 1 Math Lesson
Get a free lesson