>
>

2 Digit Division Worksheets
2 Digit Division Worksheets
Division is one of the basic operations students must learn in elementary school. Fortunately, educators now use worksheets to make the learning process easier.
These valuable materials help children have fun during learning. So, here is everything you should know about 2 digit division worksheets.
Why Brighterlys' Tutors Use 2 Digit Division Worksheets
Brighterly is an online learning platform that boasts of professionals who teach kids all about math. The tutors use a handful of double digit division worksheets to easily explain all about the concept to kids. When students have access to the website's resources, they can choose from an abundance of high-quality two digit division worksheets.
Is Your Child Struggling With Math?
1:1 Online Math Tutoring
Let's start learning Math!
The two digits division worksheets are fun and exciting as they contain colorful pictures that will capture a child's attention. As per the tutor's recommendation, parents can comfortably download free straightforward two-digit division worksheets with answers for their children to enjoy.
How to Use Digit Division Worksheets in a Fun Way
The two-digit division worksheets with answers help students memorize division facts easily. They help students hone their ability to absorb the mathematical concept. Tutors will help their students strengthen the foundational skill of division by working with these worksheets.
Thus, 2 digit division worksheets are excellent for assisting students in improving their division abilities.
More Division Worksheets
Struggling with Division?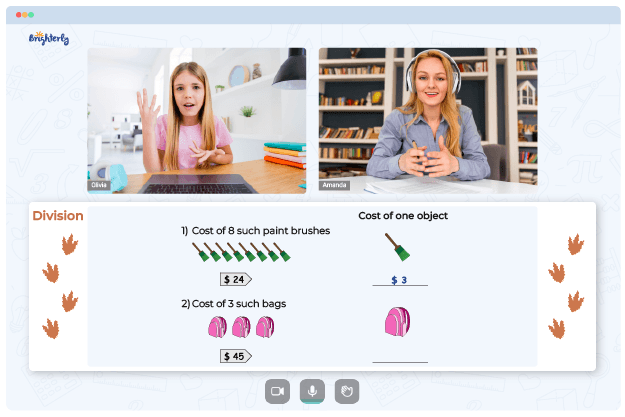 Does your child struggle with understanding division?

Try studying with an online tutor.
Kid's grade
Grade 1
Grade 2
Grade 3
Grade 4
Grade 5
Grade 6
Grade 7
Grade 8
Is your child having difficulties mastering the concept of division? An online tutor could provide the necessary guidance.
Book a Free Class